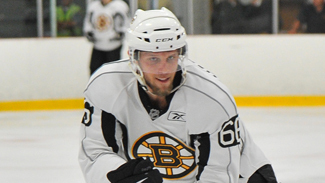 After a successful sophomore season – doubling his numbers from the previous year with the Western Michigan University Broncos with 24 points – 2012 Bruins draft pick Colton Hargrove said he's a bit anxious to get the college season started and see what he can do.
If things go as he hopes, the left winger is hoping a professional signing offer will appear in the next two years.
"I'm not nervous. It's just I'm kind of anxious to see what's going to happen, how my season is going to go and what [the Bruins] are going to say after," Hargrove said.
Don Sweeney and Bruce Cassidy told the Texan they liked what they saw three weeks ago at his third Bruins development camp, Hargrove said. After five days at the camp, held In Wilmington, MA's Ristuccia Arena, and so he hopes he can repeat that success.
Hargrove, a 6'1", 212 pound, Texan who was picked in the seventh round, 205th overall, played his second season with linemates Josh Pitt and Nolan LaPorte last year, and he said the chemistry they found led to the jump in his statistics. The three players combined for 31 points and 66 points.
"I think I just got more comfortable with the system," Hargrove said. "We gelled a little better… We know where the other guys going to be on the ice. It's just been a lot of fun playing with them. I think that we'll probably be playing together this year. Hopefully we can maybe double our numbers again."
Having gained experience with Pitt and Laporte, Hargrove felt more comfortable in his large frame. He said the trio do what they can to knock bodies around on the ice.
"It's a really physical line," Hargrove said. "We all like to hit, get engaged into the game by getting hit, making a big play or something like that."
In addition to that physical style of play, Hargrove demonstrated a quick shot at Wilmington. His old USHL teammate and fifth year Bruins development camp veteran Zane Gothberg said his fast release is something he had to keep an eye out for when he saw Hargrove coming at him down the lane.
"[Hargrove's] got a heck of shot," Gothberg said. "You need to be ready for his shot and his release, make sure you can see it coming off the stick."
It was that quick shot that allowed Hargrove to nab a few goals off of star goalie prospect Malcolm Subban. Hargrove managed to score "a couple times" on Subban.
"That was the only way I scored on him, actually, thinking back," Hargrove said. "They were just quick shots. Kind of change the angle on him, and, you know, get these hot off before [Subban] can slide over, get set."
According to Hargrove, the Bruins brass said they expect him to take up more of a leadership role with Western Michigan this year. He'll be an
upperclassman this fall. Last season, the Broncos missed an NCAA tournament bid when they lost to the in-state rival Michigan wolverines. Hargrove said he hopes he can use that as an opportunity lead his team can rebound this year.
"You always hate losing, and you don't want to ever have history repeat itself," Hargrove said.
Love Reading About Hockey?

Subscribe to keep up-to-date with the latest and most interesting hockey news!
| | |
| --- | --- |
| | We hate spam just as much as you |