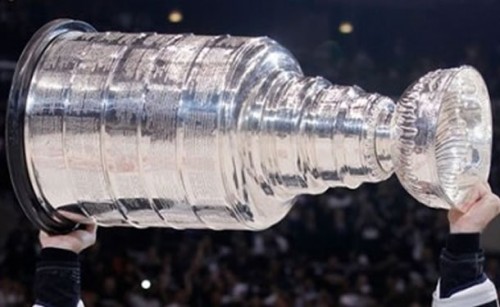 We have arrived! It's round two, and my poor little ticker can't take another beating like it did on round 1. Before I dust off my crystal ball, we'll have a little retrospect and see how my predictions fared in the first round. I will award myself one mark for getting the team right, and one mark for getting the number of games right. If, by any chance, I happen to get both, I'll throw in a bonus mark. No deductions for wrong predictions, since I'm doing this for the proverbial lulz.
WEST:
(1) Anaheim Ducks vs. (WC2) Dallas Stars
Original Prediction: Dallas in 6
Result: Anaheim in 6
Well, at least I got the right number of games, but definitely not the right team. I was hoping for the Stars to feel more inspired, and the Ducks to play more like Bruce Boudreau was coaching them. To the Dallas Stars' credit, most games they lost were incredibly close (clearly not counting the 6-2 game 5 romp). Part marks for me for number of games!
(1) Colorado Avalanche vs. (WC1) Minnesota Wild
Original Prediction: Colorado in 6
Result: Minnesota in 7
The relegation of Minnesota Wild starting goaltender Ilya Bryzgalov to the bench was humongous big, and one prediction that I nailed right on the head; what I was not counting on, though, was how good rookie goalie Darcy Kuemper would be. Inspired by the play of their newly-minted starting goaltender, and on the backs of veterans Zach Parise in game 6, and Dany Heatley in game 7, the Wild managed to win away from home and neutralize Nathan Mackinnon, and more importantly, take the series, robbing me of those two precious marks, although the loss of Kuemper is bound to have an effect on the next round.
(2) St. Louis Blues vs. (3) Chicago Blackhawks
Original Prediction: Chicago in 5
Result: Chicago in 6
The St. Louis Blues used home-ice advantage to the fullest, but reigning Stanley Cup champions, Chicago Blackhawks, would not be denied. Despite incredible play by Ryan Miller and 4 overtime affairs, it appeared as if the Blues had run out of gas by game 6, returning to their late regular season form and allowing the Blackhawks to blow past them by a score of 5-1. This was a heart-stopping series for any regular hockey fans, and, with the Blues loss, one that wrecked many a bracket; not mine, though, as I predicted the right team, but the wrong number of games.
(2) San Jose Sharks vs. (3) Los Angeles Kings
Original Prediction: Los Angeles in 7
Result: Los Angeles in 7
Where most other teams panic on the brink of elimination, the Los Angeles Kings thrive. Having been told by many friends and fellow writers at Hooked on Hockey Magazine that I was crazy for picking the Los Angeles Kings when the San Jose Sharks jumped to a 3-0 series lead, I persevered, stayed strong, and held my prediction. Though I thought it would be a more back-and-forth series, the comeback by the Kings is no surprise to me, as there is certainly experience in the team coming back from the brink in the shape of Jeff Carter and Mike Richards, members of the 2009-10 Philadelphia Flyers that roared back after going down 3-0 to the Boston Bruins en route to a Stanley Cup final loss. Full marks for me and my patience.
EAST:
(1) Boston Bruins vs. (WC2) Detroit Red Wings
Original Prediction: Detroit in 7
Result: Boston in 5
In case you missed it, my formal apology to the Boston Bruins and their fans has been posted. Once more, I beg of you, please don't send your bear after me. I love you?
(1) Pittsburgh Penguins vs. (WC1) Columbus Blue Jackets
Original Prediction: Pittsburgh in 5
Result: Pittsburgh in 6
I'm still shaking a little. The team that scored first lost 5 of the 6 games, with the Penguins looking poised to break that streak in game 6. As was the custom in this series, though, a mad dash by the Blue Jackets to pull them to within one almost gave me a heart attack. This series was fun, but slightly longer than I predicted, with the team that I chose taking it in one game longer than I had foreseen. It seems that I know my western conference just slightly better.
(2) Tampa Bay Lightning vs. (3) Montreal Canadiens
Original Prediction: Montreal in 6
Result: Montreal in 4
To be fair, nobody predicts a sweep. It's the playoffs. Teams are expected to be competitive, and stars are supposed to produce. Also, I did not take into consideration how deep the Montreal Canadiens were, and how little supporting staff there is around Steven Stamkos in Tampa Bay, especially with the loss of Ben Bishop in net. All in all, right team, wrong number of games.
(2) New York Rangers vs. (3) Philadelphia Flyers
Original Prediction: New York in 7
Result: New York in 7
HA! I don't like commenting on divisional rivals, but I told you so! Though Rick Nash still hasn't found the back of the net, Brad Richards and Martin St. Louis seem to have found their groove. Good for me.
My marks: West: 5/8, East: 5/8, Total: 10/16, 62.5%, slightly better than chance percentage. I may have some skills yet.
And so the first round went. Now, let's take a look forward and see how the second round of the playoffs will unfold:
WEST:
(1) Anaheim Ducks vs. (3) Los Angeles Kings
Regular Season Head-to-Head: 4-1 Anaheim: 3-2 Los Angeles (Shootout), 2-1 Anaheim, 3-0 Anaheim, 2-1 Anaheim, 4-3 Anaheim (Shootout)
Led by Hart Trophy nominated Ryan Getzlaf, the Ducks managed to overcome a serious challenge from the Dallas Stars. While they emerged victorious, the Dallas Stars managed to make the Ducks look vulnerable in most of their losses. These playoffs, the Anaheim Ducks appear to be the team who likes to jump in front and sustain pressure the whole game; though it's a risky gamble, it's one that has paid off for them so far at the expense of playoff starting goaltender Frederik Andersen. Look for regular-season starter, Jonas Hiller, to resume his tenure as the number one choice goaltender.
Looking to cash in on the Ducks late power outages are the comeback Kings hailing from Los Angeles. Though they may seem like they have been physically worn down by a lengthy series against the San Jose Sharks in which they forgot to play the first two games, the Kings are not an easy team to push aside, and will give a strong Anaheim Ducks team a run for their money with snipers Jeff Carter and Anze Kopitar firing at all cylinders, plus a fully-engaged Jonathan Quick and a now-present backline led by Drew Doughty, the Kings look poised to take this series
PREDICTION: Los Angeles in 7. Ducks will have a hard time pulling ahead, but they'll match the Kings blow-by-blow, falling just short.
(3) Chicago Blackhawks vs. (WC1) Minnesota Wild
Regular Season Head-to-Head: 3-2 Minnesota: 5-3 Minnesota, 5-1 Chicago, 4-3 Minnesota, 2-1 Minnesota, 3-2 Chicago (Shootout)
Fresh from another playoff win over Patrick Roy, the Minnesota Wild, as a franchise, have managed to eliminate the Colorado Avalanche both on the legendary backstopper's last season as a player, and his first season as a coach, both instances in game 7. Powered by man-on-a-mission Zach Parise, with an incredible 3 goals and 7 assists in Round 1, the Minnesota Wild also bolster a high-powered offence on paper, with Mikko Koivu posting 6 points and 5 different players posting 5 points. Most surprising statistic, though: Dany Heatley is a plus 5. The loss of Darcy Kuemper to an upper body injury is sure to hurt the Wild's chances, or improve them; Ilya Bryzgalov is wildly unpredictable, no pun intended.
Defending Stanley Cup champions Chicago Blackhawks showed that they are no pushovers by taking a hard-fought series over a good, defensively-sound St. Louis Blues. With Jonathan Toews and Duncan Keith leading the charge, posting 7 points apiece, followed closely by Brent Seabrook and Patrick Kane with 6 each, the offensive core looks healthy, with the backline contributing offensively to match the forwards. This proven balance can bury teams, with only Brandon Bollig being the only regular to not put up any points in the first round. Look for Marian Hossa to make a splash and come alive after being held to just one goal and one assist.
PREDICTION: Chicago in 5. Whether it's Kuemper or Bryzgalov in net, the Wild won't be able to deal with the Blackhawks' balance.
EAST:
(1) Boston Bruins vs. (3) Montreal Canadiens
Regular Season Head-to-Head: 3-1 Montreal: 2-1 Montreal, 4-1 Montreal, 4-1 Boston, 2-1 Montreal (Shootout)
Welcome to yet another installment of Boston Bruins vs. Montreal Canadiens in the playoffs. In this, the 34th edition, the Boston Bruins are coming in with the upper hand as Goliath, facing off against a very composed and very deep David in the shape of the Montreal Canadiens. This installment of the storied rivalry is highlighted by the fact that there are two incredible, lights-out goaltenders playing on both sides of the rink, with Tuukka Rask leading the playoffs with a ridiculous .961 save percentage, and a 1.16 goals against average. Of course, Tuukka Rask is not without help, with only two Bruins posting a minus one. You read that correctly, only David Krejci and Brad Marchand have a -1 rating coming into this series.
Looking to poke through the Bruins' tough defence are the Montreal Canadiens; coming off an extended break after sweeping the Tampa Bay Lightning in the first round, the Canadiens rallied around each other, especially Carey Price, to blow past Stamkos and company. The Montreal Canadiens showed incredible depth, with offence coming from every single one of their lines. Who would've guessed a game-winning goal in overtime would come from Dale Wiese? Leading the charge are P.K. Subban, Lars Eller, and Brendan Gallagher, with 5 points each, though Max Pacioretty, Tomas Vanek, and David Desharnais will also look to step up this series after posting 2, 3 and 2 points respectively.
PREDICTION: Boston in 6. Though the Canadiens will ruin Rask's superhuman statistics, Rask will still shut them down enough to pull the B's ahead.
(1) Pittsburgh Penguins vs. (2) New York Rangers
Regular Season Head-to-Head: Series tied 2-2: 5-1 New York, 4-3 Pittsburgh (Shootout), 5-2 Pittsburgh, 4-3 New York (Shootout)
If history is any indication, fans in Pittsburgh have a reason to be very excited. The New York Rangers have never beaten the Pittsburgh Penguins in the playoffs. Last time these two teams met, it was in this very same round, and it ended up in a Pittsburgh Stanley Cup Final loss to the Detroit Red Wings. These two teams, however, are far removed from the 2008 Playoff run, looking vastly different. If game 6 against the Columbus Blue Jackets is any indication, the question of Marc-Andre Fleury being a capable goaltender in the playoffs has been answered; with his performance in the first two periods a resounding yes. Though not the strongest statistically, Fleury has proven to be less of a liability in net for the Penguins, as long as their defensive mistakes don't catch up to them. The loss of Brooks Orpik to lead the blueline is bound to hurt a Penguins squad aching for defense, but if Evgeni Malkin makes good on his promise to start producing in game 1, look out.
As far as sleeping giants go, Rick Nash is the prime example for the New York Rangers; after 7 games, Rick Nash has been held to just 4 assists against the Philadelphia Flyers, though his shot totals are through the roof with 30, trailing only Brent Burns of the San Jose Sharks by 3. It's a little hard to feel sorry for the Rangers, though, as Martin St. Louis and Brad Richards are picking up the slack, with 6 points apiece. Despite Henrik Lundqvist's less than impressive goals against average (2.11), at least to his standards, it is comparatively better than Fleury's, meaning that if the Rangers are to succeed, they must rely heavily on King Hank.
PREDICTION: Pittsburgh in 6. The high-powered Penguins offence will overwhelm the Rangers, but the Rangers will find a way to shut them down from time to time.