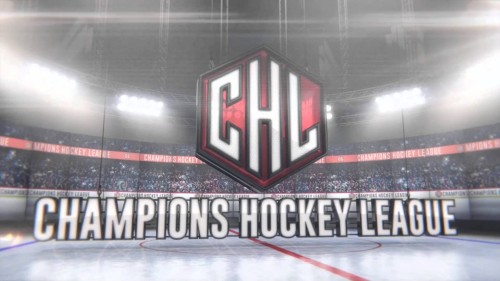 Group C
Red Bull Salzburg – Austria
HV71 Jonkoping – Finland
SonderjyskE Vojens – Denmark
Group C introduces the first team that isn't a founding member, fresh from their playoff championship in the Danish Metal Ligaen, SonderjyskE return to the CHL and take on Swedish side HV71 as well as Red Bull Salzburg from Austria.
Red Bull Salzburg
The first Austrian team to feature in our previews, Red Bull Salzburg had a great group stage last season, topping Group I and only losing one game to Finnish side JYP Jyvaskyla in their opening game, but then they went on to win 5 straight to advance to the knockout rounds where they fell to eventual champions Lulea Hockey in a shootout.
Salzburg will be able to rely on goaltender Luka Gracnar, last season the young Slovakian shotstopper posted an incredible .966% save percentage as well as just a 1.00 GAA, allowing 5 goals on 141 shots across 5 games, leaving him with the best record of all goaltenders in the competition as he also posted two shut outs along the way.
While last season Gracnar split teim in net with Bernd Brucker, his counterpart has since left the club so his biggest competition now comes in the young Fabian Weinhandl, the 28-year old had a loan spell with Italian side Ritten/Renon last season and impressed with a 1.16 GAA across 10 games as well as making 12 appearances in the post season as the Italian side lost in the finals of the playoffs.
Salzburg also have their top scorer back, Thomas Raffl (older brother of Philadelphia Flyers forward Michael Raffl) returns for his sixth year with the squad and will be looking to make it three straight seasons of getting past the 20+ goal barrier, scoring 26 goals last season while also notching 6 goals in 8 CHL games last season.
In the Austrian Erste Bank Eishockey League, Salzburg managed a third place finish with 61 points before finishing as runners up in the playoffs behind champions HC Bolzano.
HV71
It's the second time that HV71 and Red Bull Salzburg will meet in the CHL group stage, with Salzburg getting the better of HV71 last season in both games of Group I.
This time round, HV71 will be looking for an improvement, they managed a fifth place finish in the SHL last season with 92 pooints, before a first round exit in the playoffs to Linkoping in a series that lasted six games.
The teams top scorer, Canadian Erik Christensen returns after a 44 point campaign last season, the former NHLer also registered 6 points in the CHL last season.
HV71 have two capable goaltenders in 33-year old Erik Ersberg who made one appearance in the CHL last season, going on to feature in 17 in the SHL where he posted a 2.33 GAA and a .908% save percentage, but it's likely that newly signed Fredrik Petterson Wentzel will get a lot of action with the 24-year old recently signing from Farjestad. While Wentzel didn't do much to impress anyone in his CHL campaign with his former team last season (4.34 GAA and .824% save percentage in 2 games) it's likely that the 24-year old will be out to fight for the starting job so expect that goaltending battle to be quite interesting to watch.
Theres NHL interest with the team, five of the teams roster are NHL prospects. Bruins 2014 seventh round pick Emil Johansson will be taking the ice for HV71 when the tournament gets underway later this month and he'll be joined by Niklas Hansson (Dallas 2013) Simon Karlsson (Nashville 2011) Filip Ahl (Ottawa 2015) and Kevin Stenlund (2015) on a team that's average age is just a shade under 26.
SonderjyskE Vojens
SonderjyskE will be returning to the competition after being crowned playoff champions of the Danish Metal Ligaen for the third year in a row. Last season the lone team from Denmark finished third in Group J and for a team that wasn't expected to do anything spectacular, that's pretty good even if they only totaled four points, those points coming from a 4 – 3 victory of German side Krefeld Pinguine and an overtime loss to Finnish side IFK Helsinki.
Now SonderjyskE return after another successful season, they finished second in the league behind Henning Blue Fox but beat Esbjerg Energy in the playoff finals to qualify for the CHL.
The team will have to pick between youthful athleticism or veteran ability when it comes to who'll get the nod between the pipes, with last seasons main goalies Jeff Frazee moved on to Esbjerg and Pasi Hakkinen also gone, it'll come down between 33-year old Joni Myllykoski who did make 10 appearances in the league last season or 23-year old Jon Lee-Olsen who made 6 league appearances last season as well as one game in the CHL, and with SonderjyskE unlikely to really make any form of a challenge, you could see the young goalie getting more ice time in this competition to help his development.
Top scorer Cory Quirk returns from a 58 point season, adding an impressive 27 points in their playoff run, he also had six assists in six CHL games for the Danish side.
While the teams CHL top scorer Patrick Asselin is without a contract anywhere and unlikely to rejoin at this late stage, SonderjyskE will be looking to homegrown talent in New York Rangers fifth round pick in 2012, Thomas Spelling.
At 22-years old he's already a star in the Danish league, in 180 games he's already registered a near point-per-game pace with 172 points already, and he's even better in the playoffs with 74 points in 69 games, 30 of those points coming in last seasons successful playoff campaign.
He was also productive in the CHL by registering 4 points in six games and will look to be an offensive leader on the team when the tournament gets underway for them on August 20th.
Fixtures (All times are local times)
Red Bull Salzburg @ SonderjyskE Vojens – 08/20/15 – 19:00
Red Bull Salzburg @ HV71 Jonkoping – 08/22/15 – 19:00
Sonderjyske Vojens @ Red Bull Salzburg – 08/27/15 – 19:30
SonerjyskE Vojens @ HV71 Jonkoping – 08/29-15 – 17:00
HV71 Jonkoping @ SonderjyskE Vojens – 09/03/15 – 19:00
HV71 Jonkoping @ Red Bull Salzburg – 09/05/15 – 19:30