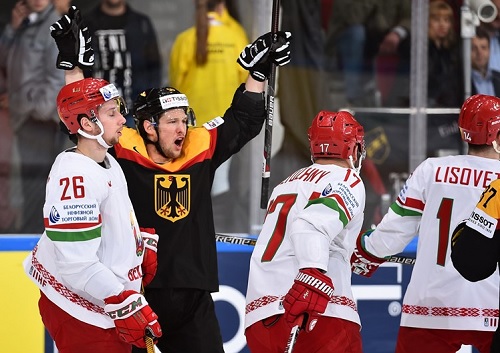 The Germans continued to impress at the 2016 World Championships, following two straight losses to open their campaign, they put up a fantastic performance to defeat Slovakia in game three before another loss to Canada in game four.
Now they're back to winning ways as they brushed aside Belarus in a big 5 – 2 win that moved them to fourth place in Group B with seven points on the tournament.
It wasn't long into the contest before Germany celebrated their opening goal, Patrick Reimer fired a low shot from the point that beat Belarus goaltender Vitali Koval with less than 5 minutes played.
Just over a minute later the Germans were back on the scoreboard, this time as Edmonton Oilers forward Leon Draisaitl finished off a pretty play by Germany, tapping in the puck back door after some nice set up play from Brooks Macek and Marcel Noebels.
Midway through the first, Belarus went on the penalty kill for the first time as Alexei Kalyuzhny went to the box for holding and Germany wasted no time capitalising, Philip Gogulla wound up and fired a slapshot that Koval initially stopped, but Felix Schutz was there to knock in the rebound giving Germany a 3 – 0 lead going into the second period.
Belarus managed to pull a goal back in the 28th minute through Andrei Stepanov. With Patrik Hager in the box giving the Belarussians a powerplay, Stepanov picked up the puck in his own end from his goaltender, danced his way over the blueline and beat Thomas Greiss as he went in all alone to claw the game back to a two-goal deficit. The three goal lead was re-opened minutes later though as Brooks Macek fired a slapshot that beat Koval as Draisaitl was screening in front to give Germany a comfortable 4 – 1 lead heading into the final 20 minutes.
Another German sent to the box as Marcus Kink sat for cross-checking early in the third but this time they managed to kill it off, but Belarus did manage to get their second of the night with a bit of help from a fluke from Thomas Greiss. Yevgeni Lisovets fired a hard pass up the middle to Andrei Stas who tipped it down into the German zone, but as Greiss went to play the puck from his net, it deflected off his stick and between his legs into his cage to make it a two-goal game once again.
Germany weren't down after the unfortunate goal, keeping Belarus off the scoresheet for the rest of the game, and with 9 seconds left and an empty net, Philip Gogulla fired in the Germans fifth of the night into the yawning cage to give Germany their second win of the tournament.