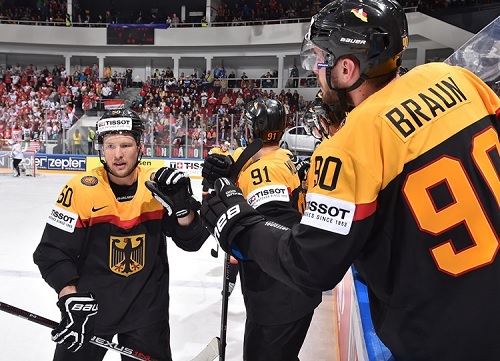 It's been a great preliminary round for Germany despite a slow start, coming into game seven against Hungary they had picked up three wins and three losses, including a shock win over the United States in game six that saw them through to the quarter-finals for the first time since 2011.
With their place in the knockout rounds booked, Germany looked to end their group stage on a high as they took on a struggling Hungary side who's only win had come against Belarus.
Hungary, despite their struggles, opened the game strong and with a four-on-four opportunity midway through the first, Istvan Sofron deked around Thomas Greiss to give Hungary the lead which stuck until 20 minutes later in the third period.
Daniel Koger put the Hungarians shorthanded on a boarding call which set up Patrik Hager to tie the game up at one late in the man advantage. Hager stole the puck in the Hungarian zone and tried to set up teammate Philip Gogulla but his pass was deflected off a defenseman and into the net to tie the game up at one.
Just 82 seconds into the final period Germany took the lead with their second unassisted goal of the contest, this time Denis Reul jumped on an attempted clearance to fire a one-timer past Miklos Rajna to give Germany their first lead of the night.
Minutes later though, Hungary struck back to pull it back to level, this time as Kevin Wehrs fired a hard slapshot from the point, through some heavy traffic and upstairs past a screened Thomas Greiss.
With time winding down the Germans finally broke through against and with less than three minutes to go, Constantin Braun looked to have broken Hungarian hearts with his slapshot, then as Hungary looked to force overtime with an empty net, Marcel Goc tipped a pass up ice and into the net to give Germany a 4 – 2 victory to close out their group stage, finishing third in Group B.