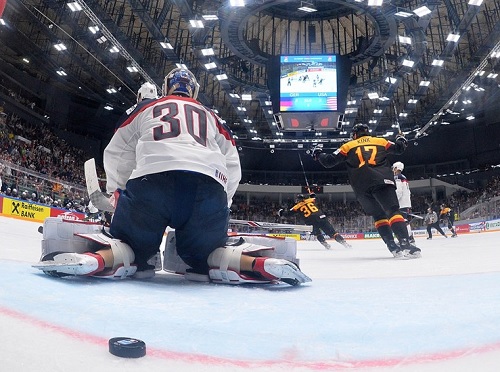 Germany provided possibly the biggest upset of the 2016 IIHF World Championships this afternoon as they took on Team USA in Group B action, emerging as surprise victors despite being heavily outshot.
At the end of the game, the USA had 33 shots to Germany's 14, but Thomas Greiss was strong throughout, recovering from his blunder against Belarus that saw him play the puck into his own net.
The game was still young when Germany went onto the powerplay, they dumped the puck into the zone and outworked the US defence to win the battle as Daryl Boyle fed a wide open Felix Schutz in the slot, Mike Condon made the initial save but as the puck trickled behind him, Patrick Hager was there to tap in the loose puck to give Germany a one goal lead.
Germany's lead didn't hold for too long as the US started fighting back and eventually found their break in the 10th minute J.T. Compher fed a beautiful pass across the crease with a streaking Jake McCabe there to tap in the puck to tie the game up at one.
Minutes later though, Germany were back in business as Christian Ehrhoff put the underdogs ahead again as his slapshot found its way through traffic and into the cage to give the Germans a 2 – 1 lead at the end of one period of play.
It took all of 26 seconds for the US to respond in the second period, consensus number one pick in the upcoming NHL draft Auston Matthews, showing just why he's a future star with a dirty wrist shot that went above the pad and under the glove of Thomas Greiss and into the net to tie it all up at two.
The score stayed the same right to the death, but it was with just over 30 seconds left that the Germans shocked the hockey world, Korbinian Holzer let an innocently enough looking wrist shot from the blueline go but it found its way past the players in front of the net and past Mike Condon to give Germany a huge 3 – 2 victory over the United States and their first trip to the quarter-finals since 2011.