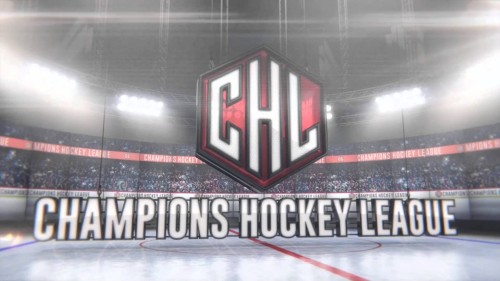 It's almost time to get down to the final four in this year's edition of the Champions Hockey League, after the tournament began back in August with 48 teams, only 8 remain as the Quarter-finals are set to get underway on Tuesday.
Last years' champions Lulea Hockey are still on course to defend their title while the 2014 runners up Frolunda Gothenburg are still looking to go one better, and it all begins Tuesday when the final eight fight over two-legs for a spot in the final four.
There's only one team still standing who don't come from either Finland or Sweden, Swiss side HC Davos will be looking to dismantle Swedish side Skelleftea AIK. It'll be a tough test for Davos though, their Swedish opponents finished fourth last season, losing in the bronze medal game to Finnish side Oulun Karpat, coming into this round though, Skelleftea will be without 33-year old Janne Pesonen who is out indefinitely with an undisclosed injury, Pesonen led the team in CHL scoring with 9 points and added 19 points in 17 SHL games for the team who are down in fifth place in the Swedish Hockey League.
There's NHL interest with Skelleftea with three prospects in their line-up, the best of them in Marcus Pettersson who was a 2nd round pick of the Anaheim Ducks in 2014, while Detroit Red Wings prospect Axel Holmstrom is having a good year, the 7th round pick in 2014 has put up 14 points on the year while Colorado prospect Anton Lindholm (2014 fifth round) also will suit up to take on Davos.
Swiss side Davos sit 4th in the NLA right now and will be looking to guys like Perttu Lindgren and Marc Wieser to lead the charge against Skelleftea but it'll be a tough ask of them to solve Markus Svensson who has been one of the best goaltenders in the tournament so far, posting a 96.70 save percentage in his five appearances this year.
Theirs two all Finnish affairs in the quarter-finals, Espoo Blues face Karpat Oulu while TPS take on Lukko Rauma.
Last season Karpat Oulu went all the way to the bronze medal game where they took home the medal. Back in the Finnish Liiga, Karpat lead the remaining teams, their 49 points are good enough for third palce, while Espoo are struggling down in 14th place with 10 wins on the year.
Karpat went undefeated in Group J, allowing only one goal as they took on Austrian side Vienna Capitals and German outfit Krefeld Pinguine, while their Finnish opponents Espoo picked up just one win in Group F, edging French side Grenoble by one point thanks to an overtime loss against Czech side HC Litvinov gave them four points over Grenoble's three.
After a shaky start, it's been a relatively smoother ride for the Blues, defeating Adler Mannheim in the Round of 32 before taking a game one lead against Swedish side HV71 that helped them to a 4 – 2 win over all to advance this far. Karpat began their knockout round brilliantly, easing past Dusseldorfer EG with a 5 – 0 win over the two legs, but after dropping their first game in the next round, a fantastic 4 – 1 win in game two was enough to see them past Czech side Sparta Prague with a 6 – 5 win.
Espoo will be without captain Kim Hirschovits who left the club due to it's ongoing economical struggles, the rest of the forwards will have a difficult task ahead of him to solve Karpat goaltender Sami Aittokallio who's excelled in the competition this year, in 7 games he's averaged less than a goal a game and will surely be one of the deciding factors of this round.
One to watch in Karpat for this round and the rest of the season is 17-year old forward Jesse Puljujarvi, while his 1 assist in the tournament hasn't exactly been much to write home about, the 6'3" forward is a lock to go inside the top 10 of the 2016 NHL Entry Draft this coming summer.
Espoo on the other hand have a player to watch for next year, they just added 16-year old defenceman Urho Vaakanainen to their line-up, he's a first round prospect for the 2017 NHL Draft but probably won't figure that heavily in this late stage of the competition.
The other all Finnish meeting puts Group K runners up Lukko against Group G winners TPS with the winner going on to face the winners of Espoo and Karpat.
Lukko's high scoring offence helped them through the knockout rounds, scoring 12 times across the four games, including 8 against Red Bull Munich, before four more against Djurgardens to advance to this stage. Toni Koivisto has been dynamic for the side so far, his 10 points are good enough to tie him in second place for points, while teammate Janne Lahti is also up there with 9 points. TPS have had point scorers of their own in Dave Spina (9 points) and Eric Perrin (7 points) but they'll have to make do without veteran blueliner Henrik Tallinder for game one, the former NHLer misses the first clash through suspension.
It's a rematch of last year's gold medal game when Lulea Hockey take on Frolunda Gothenburg, with Frolunda forward Oscar Fantenberg wanting revenge after they came so close last year. This year both teams topped their Groups, Frolunda went unbeaten in Group N while Lulea dropped one game on their way to topping Group K. In the first knockout round it took a goal to separate both teams from their opponents, while the second round saw them advance with much more ease to set up this matchup against each other.
Last season in the CHL, Mathis Olimb was Frolunda's best player and the tournaments best player, when he left for Finnish side Jokerit in the Summer they needed to replace him, American winger Ryan Lasch stepped up, leading the team in scoring with 28 points in 23 SHL games, while his 11 points in 8 CHL games are good enough to lead the entire tournament.
Both teams have solid goaltending, Frolunda goalie Lars Johansson and Lulea netminders Daniel Larsson and Joel Lassinantti have been great between the pipes in the tournament so far, posting less than 2 goals a game which should make for a great defensive matchup between these two rivals.
Anaheim Ducks fans will want to keep an eye on Frolunda defenceman Jacob Larsson, last summer the Ducks selected the 18-year-old in the first round of the NHL Draft, he's registered just a single assist in the tournament so far, but considering his age and he's playing against men, the only way is up for the Ducks prospect.
December 1st
Karpat Oulu @ Espoo Blues
Lukko Rauma @ TPS Turku
Skelleftea AIK @ HC Davos
Frolunda Gothenburg @ Lulea Hockey
December 8th
Espoo Blues @ Karpat Oulu
TPS Turku @ Lukko Rauma
HC Davos @ Skelleftea AIK
Lulea Hockey @ Frolunda Gothenburg