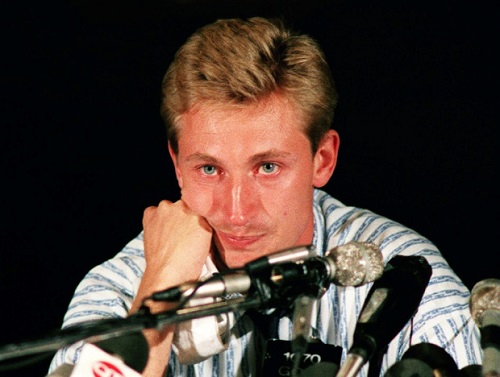 Yesterday – August 9, 2013 – marked a big milestone for hockey fans, and Edmonton Oilers fans in particular. 25 years ago, on August 9, 1988, Edmonton lost The Great One in a now infamous trade. The Gretzky trade had a phenomenal impact in its immediate wake, and has had an equally significant lasting effect on hockey trades and attitudes towards trading.
25 years ago, the Edmonton Oilers sent Wayne Gretzky over to the Los Angeles Kings. The Kings got Gretzky, Mike Krushelnyski, and Marty McSorley; Edmonton received Jimmy Carson, Martin Gelinas, first round draft picks for three years (1989, 1991, 1993) and a whopping $15 million US dollars (a figure that would be nearly doubled today, if we consider inflation).
To say Gretzky is a big deal to hockey fans is an understatement – not many, despite their prowess at the game, are referred to reverentially as The Great One. Everyone knows who #99 is. In Edmonton, however, a city where there's a Wayne Gretzky Drive, a statue of Gretzky hoisting the Stanley Cup, and where many still have stories about running into Gretzky around town back in the day, he's an institution.
(I mean, just between us, sometimes when defending the Oilers against an ardent fan of another NHL team, after a period of wordy arguments and shouted justifications, I'm guilty of putting my hands up and declaring 'GRETZKY. ENOUGH SAID.')
In the 1980s the Oilers were dynamos, racking up four Stanley Cups in five seasons (1983-4, 1984-5, 1986-7, and 1987-8), a statistic that Gretzky played a huge part in. The Oilers won their fifth Stanley Cup in the 1989-90 season, and haven't managed to get their hands on one since.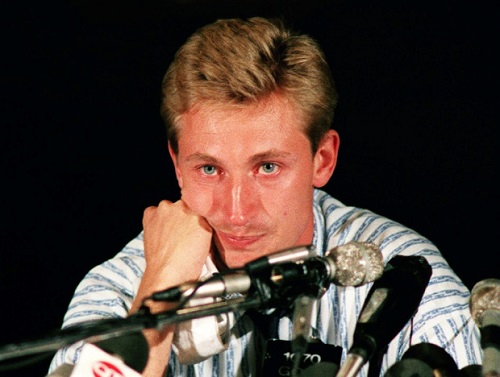 When traded, Gretzky was still a young 27 years old. The team seemed unstoppable. It was almost impossible to consider that anyone would pick apart a team that was so obviously dominating the NHL at the time. They had won four Stanley Cups with the giants Wayne Gretzky, Mark Messier, Jari Kurri, Glenn Anderson, and Grant Fuhr. It didn't seem at all out of the question that they could go on to win four more – the core of the team were still young guys in their 20s with a lot of energy, enthusiasm and skill. Additionally, a player like Gretzky garnered a certain attitude – he seemed phenomenal to an extent that he was utterly untradeable. Don't even think about it, don't even ask, he's not going anywhere, many seemed to think. Obviously, this wasn't the case.
There were a lot of emotional reactions to the trade in its immediate aftermath, especially because of where he was traded. Canada produced Gretzky, it was the place where he started out. Edmontonians bled blue and orange, loved Gretzky viscerally. To think that he was going to be in the U.S. – in California, nonetheless, a place that certainly wasn't what popped into one's head when you thought 'hockey' – seemed to cut Canadian hockey fans to their core. There were even members of Parliament in Canada who proposed legislation that would stop the trade (not a joke. Hockey is serious business to Canadians).
The trade also rattled players in the NHL for years to come as it spawned the frequent refrain at trade deadlines that "if Wayne Gretzky can get traded…" then perhaps anyone could. Players felt more uncertain, realizing that even if they were the best they could be, there were no guarantees that they wouldn't be shuffled around.
The Gretzky trade foregrounded the business side of hockey. Many thought players of Gretzky's caliber were basically guaranteed safety from the trade market because of their skill or their impact on their respective teams. The economic side of the trade is also highlighted when considering the big $15 million payout. Bruce McNall, then owner of the Kings, stated that then Oilers owner Peter Pocklington asked for the $15 million and "some players to make it look like a trade."
Trades nowadays are a lot more explicitly about money, governed by salary caps and players' various contracts. It's no longer merely a question of 'who is the best for our team,' but a much more complex process of who can be afforded, are teams willing to commit to a few perceivably lower caliber players in exchange for bagging a star, etc.
Gretzky's trade also had an impact on players' salaries. After the trade Gretzky became the highest paid player in the NHL, a factor that led to player salaries creeping upwards in subsequent years. Kings player Luc Robitaille, Gretzky's teammate in L.A., interviewed that "the minute that happened, we all knew nobody was worth Gretzky, but everybody knew that they could get a little bit higher." Kings owner McNall also commented on the trade's effect on player salaries, stating that "all I heard from the other owners is how I ruined their pay scale. All of a sudden they have to pay [more for] all of these players. I said 'No, you don't.' Do they draw? Do they draw like Wayne does?"
The Gretzky trade had a lot of media coverage when it occurred, with headlines announcing his departure splashed across countless newspapers. No one can forget the infamous press conference, where an emotional Gretzky chuckled "I promised Mess I wouldn't do this" as he wiped away tears. The impact can still be seen years later, however. Nearly every sports network from SportsCentre to TSN has had a special feature on the Gretzky trade at some point. Even as recently as 2009, there was a documentary by Peter Berg entitled Kings Ransom for the ESPN 30 on 30 series.
Gretzky's '88 trade had an enormous impact on the hockey world, an impact that extended beyond Gretzky's skill and status as a player to encompass changes in how players were assessed, how the business side of trades became foregrounded, etc. The sheer amount of media coverage even 25 years after the fact proves the importance of that particular trade.
The Oilers certainly aren't experiencing the kind of successes today that they did during their dynasty in the 1980s. However, they have a lot of potential (and no, this isn't just my blue-and-orange tinted glasses skewing things). There are a lot of young guys and #1 draft picks. There are a few lines of these young guns that, while they're not always consistent, are nearly unstoppable when they manage to flick that switch and bring everything together. There are some players that seem to be able to magically find each other across the ice with their backs turned and their eyes closed. The Oilers have a lot of players that are fantastic individually, and it's just a matter of them getting accustomed to each other and learning how to work together the way that they did back in the 80s.
We're the city that nourished 99, y'all. Oilers dynasty 2.0? It's going to happen eventually (I'm going to assume that you all just nodded in assent, and perhaps raised a fist triumphantly, already imagining the Oilers' future victories). It's been far too long since we saw Stanley.