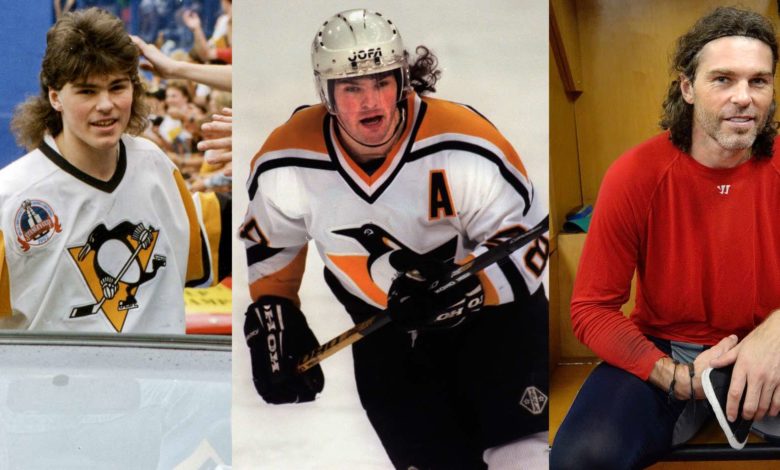 Jaromír Jágr is a legend.
He's nearly universally loved and is one of the most exciting players of all-time.
The keyword in that last sentence is the word "is." Present tense. That's right, Jágr is still playing professional hockey as he approaches 50 years old. He'll hit the milestone in February.
He's not just a marketing tool for the team either. Jágr helped Rytíři Kladno (Kladno Knights) gain promotion from the Czech second division to the Czech Extraliga this past season. He posted 12 points in 19 regular season games before scoring 10 points in 16 playoffs games.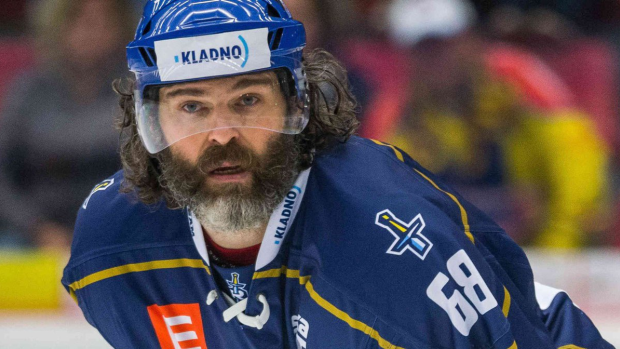 "I have a responsibility to the club, otherwise I wouldn't fly here and I wouldn't be making a fool of myself. But if I quit, the partners and sponsors would leave and the club may be done. I have no choice. People don't understand it, but I don't care. Only God will judge me" Jágr said in a The Hockey News article that has been widely shared around the hockey world.
"I don't know if anyone can understand my role. I don't even want to be in such a position, but I have no choice. As long as my father breathes, I take the club as my responsibility. He held it for 20 years. As a son, I would be embarrassed if I left."
And whether because of pride, loyalty to the club and his father, legacy reasons, or purely for business reasons (Jágr owns Kladno and his father owned it before him) – Jágr doesn't plan on stopping yet.
So while he's still providing fans with highlights, we decided to honor Jágr with some more notable stories and fun facts about him from his past 37 years of professional hockey.
Jágr Creamy Peanut Butter
When quickly became a superstar after breaking into the league with the Pittsburgh Penguins. However, despite missing out on a Troy Polamalu-esque Head and Shoulders deal with his fantastic mullet, Jágr still got endorsement opportunities. Namely, his own brand of peanut butter.
In a video straight that screams 90s, Jágr and Ty Ballou, president of PLB Sports (who also put out the famous "Flutie Flakes"), introduce the new product to Pittsburgh media.
Jágr, being his usual comedic self, jokes about how he rubbed the peanut peanut on his groin and it helped his injury heal quickly.
Ballou, ever the salesman, talks about having distribution rights in the Czech Republic through Jaromir's father, also Jaromir. He also compares the peanut butter to the athlete, saying:
"We think we have the smoothest athlete out there. And we also think we have the smoothest peanut butter as well."
Funny Milestone Moments
When you're in second place all-time in NHL points you're guaranteed to rack up some cool records and milestones along the way.
Such as the moment passed Mark Messier for second all-time in points with an "ass"ist. Yup, a then 44 year old Jágr was playing for the Florida Panthers when Mike Matheson took a shot from the blue line that hit Jágr in the rear, it fell to Aleksander Barkov who potted the goal.
Asked about the legendary point after the game, Jágr replied:
Jagr tells the crowd that he wanted to make a beautiful goal but … "It hit my ass," he said.

— Nick Cotsonika (@cotsonika) December 23, 2016
This wasn't Jágr's only historic moment that had a humorous twist. Jágr's former coach Glen Gulutzan told a story about Jágr's former teammate, Eric Nystrom celebrating the wrong milestone on Jágr's 100th assist.
"For whatever reason, (Eric Nystrom) nicknamed Jags in Dallas. He nicknamed him 'Jimmy.' For the whole year, it caught on and Jags wasn't Jags. It was 'Jimmy.'
"Eric played with him a little bit on his line, at times. In Dallas, he had his 1,000th assist, Jaromir did. So the lights are flashing on the board – '1,000! 1,000! 1,000!' Of course, Ny isn't aware exactly that he got 1,000 assists. He's sitting beside Jaromir and he goes, 'Jimmy, do you have 1,000 points now?!?'
"And (Jágr) looks at Eric, almost disgusted, and he goes, 'I had 1,000 points 10 years ago. That's assists.'"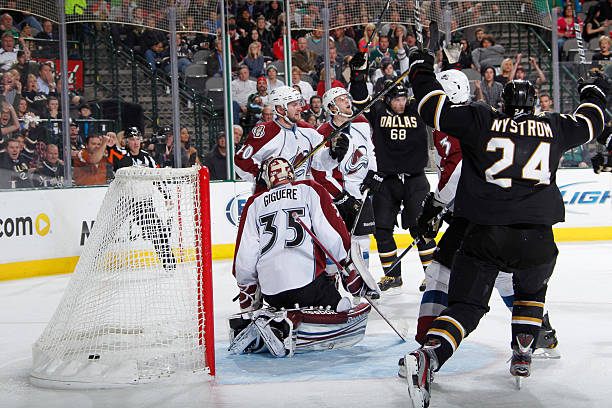 Money Problems
Being rich and famous doesn't mean that you don't have certain vices. It also doesn't mean that you don't have to pay your taxes.
Jágr is no exception.
In an article published in 2003 by the Washington Post, it was revealed the Jágr had accrued over $500,000 in debt on an online gambling site, Caribsports.com. He was the highest paid player in the NHL at the time, but he still struggled to pay off his high gambling debts which began racking up in 1997 and he didn't start paying until 2000.
Although Jagr eventually paid off the website, he had bigger financial issues still at hand.
Despite making $11.14 million per season on a seven year , $78 million contract, Jágr had an issue with paying his taxes on time. In 1999 the IRS put a lien on Jágr after he failed to pay $350,000 in taxes. That figure would jump considerably in 2001, when Jágr owed an astounding $3,270,209 in income tax for the 2001 calendar year.
Thankfully for Jágr (and his home and possessions), he settled with the IRS in 2003.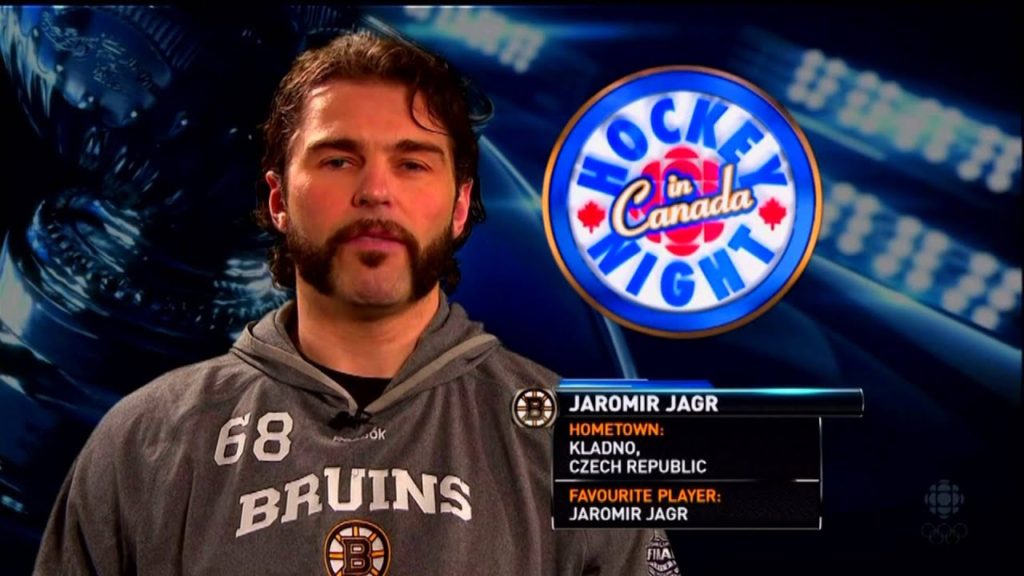 Travelling Jagrs
Rockstars and certain celebrities will have groupies, but aging hockey players?
Maybe groupie isn't the correct term, but Jágr did have a collection of travelling fans based out of Alberta. Each Travelling Jágrs member would wear a different NHL jersey of his (with an extra all-star jersey, Czech national jersey, and Kladno jersey representative).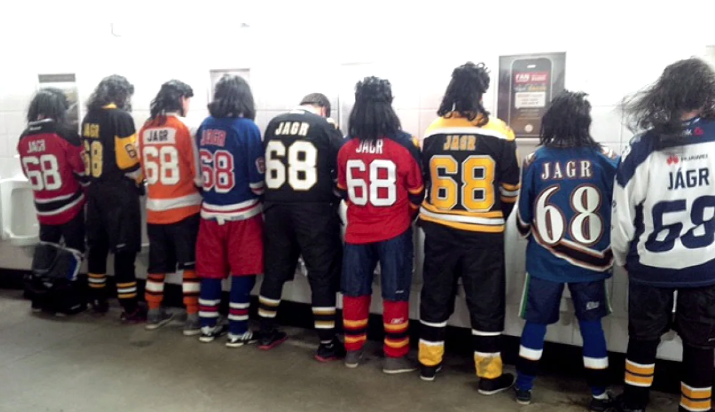 The Travelling Jagrs usually watched Jágr play against the Flames whenever his team would come through Calgary, but they have travelled to multiple games including a Panthers and Rangers game.
Although there has not been a trip to the Czech Republic by the Travelling Jagrs (that I could find anyway), maybe the group will make a trip over to see a Kladno game when Covid-19 travel restrictions in Canada ease up a bit.
And about that groupie sentence at the start of this topic? Maybe that wouldn't actually be too far from the truth. The definition of "groupie" as defined by the Cambridge Dictionary is:
"a person who likes a particular popular singer or other famous person and follows them to try to meet them"
Well, the group definitely like and follow Jágr, and were able to meet him as well.
https://t.co/dslnxEttzO pic.twitter.com/7P3wOePDQO

— The Travelling Jagrs (@68isgr8) November 16, 2020
Jagr Blackmailed
After facing so many hardships does it seem reasonable that Jágr couldn't care less when someone he slept with tried to extort him out of $2,000?
That's exactly what happened nearly five years ago.
Jágr had a night out and ended that night out by sleeping with an 18 year old model. Not something unusual, except for the fact she rebased a photo of the two on them together that was cropped to only show Jágr.
The demand was simple: pay up or the images would be released.
Luckily for Jágr, he couldn't care less and told the model as such.
He reportedly responded "I don't care" when she threatened him with the photo.
Conclusion
Jágr has a lifetime of stories and not even a small amount of his overall experiences could be included here.
For example, there has been an entire play written and performed that entered around Jagr and the 1998 Nagano Olympics that saw the Czechs claim gold. Jágr also had to experience a coach giving up on the team halfway through a game, and a teammate dying beside him on the bench in the KHL.
What are your favourite memories of Jágr? What would you include in our list?