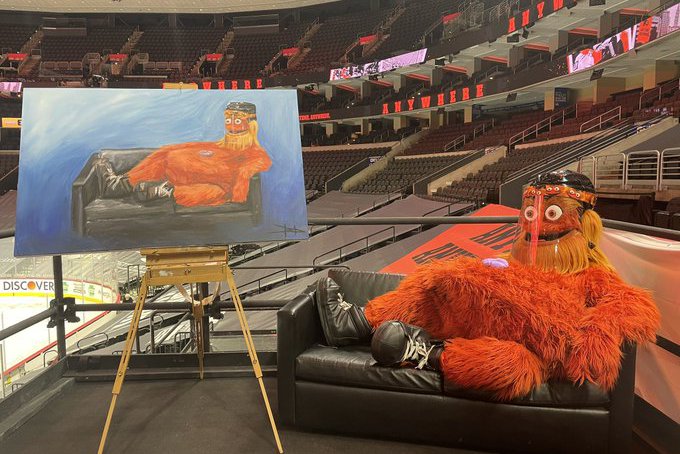 The NHL is a league with a long and weird history.
Take, for example, the photo of Gritty you (probably) clicked on to get here and is now lingering above for an awkward conversation if your family is around. And Gritty is just one example of some of the bizarre incidents in NHL history.
There's been a GM who filled in as an emergency goalie and won a game in a Stanley Cup Final. A drunk goalie won a different game in the Finals. A Toronto executive who bet on a horse race to fund a trade for a defenseman. The first ever ref whistle to stop play was because of cowbells. Heck, one time the NHL even shipped the Stanley Cup to the wrong city because they didn't think the underdogs had a chance to win the Cup in the Finals.
Don't forget the NHL only exists because one man in Toronto was so hated.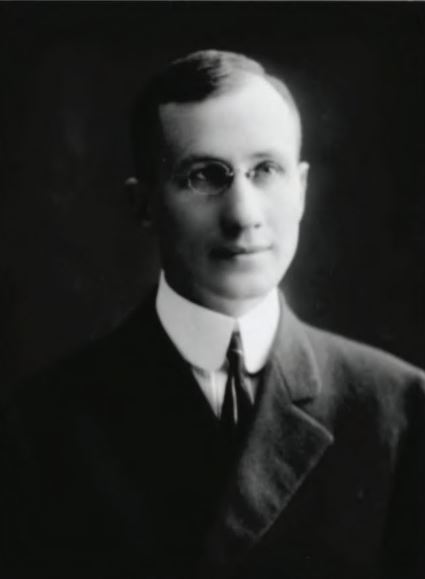 Obviously there's hundreds of other weird and fascinating stories from NHL history that we could get into. Speaking of, I'll throw in some shameless self-promotion, and say you can read about those and more on my Throwback Thursdays segment here. For today, we're just going to go over five unique stats and records from NHL history – although I'm always happy to write more if you, the reader, would like it to be.
Let's end the rambling and get into what you're here for!
1) Two Games, Two Goals, Two Different Teams
Patrick Sieloff is a defenseman who currently plays Hartford Wolfpack of the AHL. He was drafted #42 overall by the Calgary Flames in 2012. He is the embodiment of the journeyman, having played for 11 teams over the past 13 season, putting up only 67 points in those 13 seasons.
His place in the NHL record book is because of his brief NHL career. Sieloff was called up to the Flames for their last game of the season on April 9, 2016 and scored the game-winning goal on his lone shot on goal. That summer he was traded to the Ottawa Senators for Alex Chiasson.
Sieloff was sort of backlisted in the organization for a season after a pre-season intrasquad game hit that essentially ended Clarke MacArthur's career (other than a handful of games over a year later).
A season and a half later, Sielfoff was called up for one game against Florida on March 20, 2018. In that game the Sens fell 7-2, but Sieloff notched one of Ottawa's two goals.
Does none of that seem particularly impressive? Overall his career may not be unique or notable, however with that second goal Sieloff became the only player to score a goal in each of his first two games, with the first and second games being played for different teams. Those are also the only two games of his NHL career.
They say go big or go home, Sieloff both went big (two goals in two games) and went home (AHL ever since that second game).
2) Top 10 Danish Scorer: Frederik Andersen
You might look at the line above and say to yourself "wait, how is Andersen a top 10 scorer, isn't he a goalie?" And you would be correct. He is currently Toronto's number one goalie,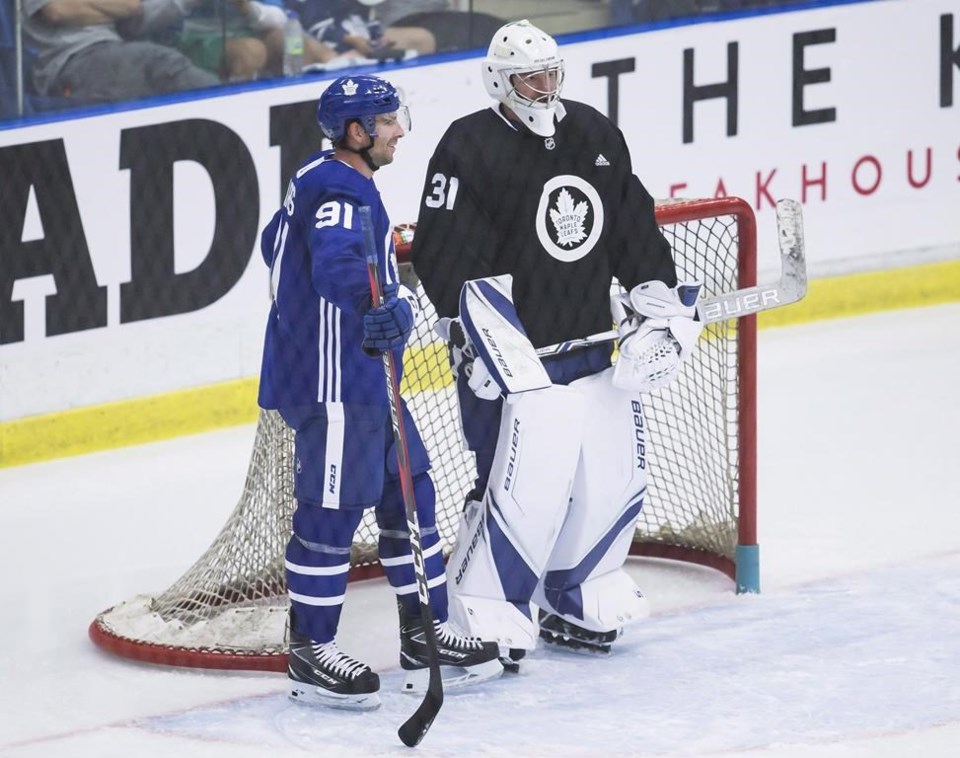 However, what is also true is that fact that Andersen has racked up nine points (all assists) in his almost 400 career NHL games. Those nine points put Andersen as the 10th highest scorer player from Denmark in NHL history.
And just to be clear, there have been more than 10 Danish players to play in the NHL (currently 15).
He'll have to start looking over his shoulder soon however, as San Jose has two Danish rookies on his tail with Alexander True (4 points in 14 games) and the recently suspended Joachim Blichfield (0 points in 5 games) having suited up for the Sharks this season.
3) Overtime Hat-Trick
When you think about overtime goals, you probably think of the mass exhilaration or deep disappointment knowing that with one strike your team has either won or lost that game.
There's a reason it's called sudden death overtime.
Back in 1934, there was no sudden death overtime. Overtime was played for a full 10 minutes regardless of how many goals were scored. So on January 16, 1934, Toronto Maple Leaf Ken Doraty made history by scoring a hat-trick in the extra 10 minutes against the Ottawa Senators, meaning the Leafs won 7-4 in overtime.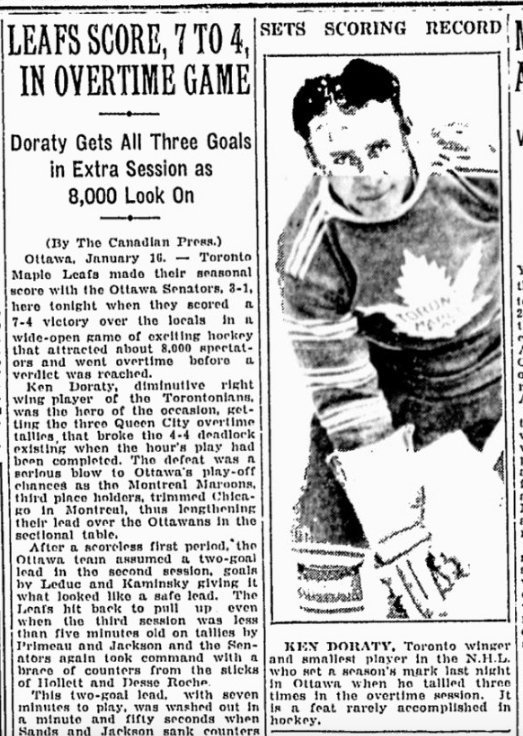 With the current sudden death rules, this means Doraty's record can never be beaten.
For more on Ken Doraty, his overtime hat-trick, and his goal that ended the longest ever NHL game, read a more in-depth article here.
4) A Record-Setting Last Goal
Nathan Horton was an absolute force during his short-lived NHL career. A career that, due to a career-ending back injury, will be remembered more for his long-term injured reserve contract being traded for David Clarkson than his incredible play that led to over 200 goals and over 400 points in nine short seasons.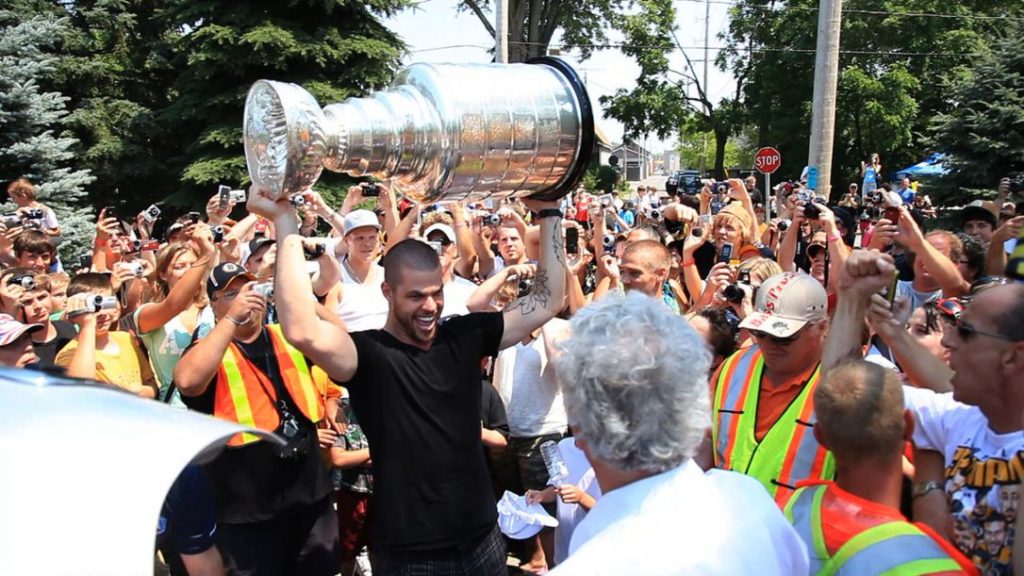 Outside of his 2011 Stanley Cup with the Boston Bruins, Horton does have a couple of records that will probably never be matched – even if they aren't held for good reasons.
Horton and the Columbus Blue Jackets were playing the Dallas Stars on March 10, 2014 and Horton had scored a goal to make it 1-0. About 4 minutes later, Rich Peverley of the Stars collapsed on the bench due to an irregular heartbeat. I won't post the video here, but for anyone who wants to see the heart-sinking moments you can watch it here.
Obviously players, staff, and fans were shaken – and no one wanted to play with Peverley's health status unknown – so the decision was made to finish the game at a later date. The game was moved to April 9, 2014 with the full 60 mins to be played, but Horton to keep his goal and Columbus to maintain their 1-0 lead.
Like I said, this record is built off a series of unfortunate events, and on April 8, 2014 – the day before the rescheduled game – Horton left the game against Phoenix after only playing five minutes. That injury turned out to be a degenerative back injury that ended his career. Meaning April 8, was Horton's last NHL game.
With Horton not playing another game in the NHL, when he was credited with the goal on April 9, 2014 he set a few unique records. Horton scored without taking a shot (a record that is tied with a few players throughout NHL history, with recent examples like Eric Staal and Matt Cullen).
Every Penguins player had a shot on goal tonight… except one. That one? Matt Cullen, who scored a goal. pic.twitter.com/yYEKYs5rxg

— Pittsburgh Penguins (@penguins) December 4, 2016
Horton owns a couple stand alone records as well, being the only player to score in a game in which he did not play, and being the only player to score in a game after his final NHL game.
These are certainly unique records, however I'm sure Horton would rather have a healthy back and a longer career than a couple of weird footnotes in NHL history made possible by a career-ending injury for him and a cardiac event for another player.
5) Leafs Playoff Woes
My final weird stat/fact of the article will make 30 NHL fanbases laugh and one fanbase react like a toddler blurting out "I know, I know."
The Leafs have been around for 104 years. Toronto has won 13 Stanley Cups and been to the semi-finals and conference finals lots of other times. However, even with a over a century of history and 13 championships, Toronto has never won three playoff rounds in the same year.
Yup, it's true.
The NHL only expanded to three rounds after the 1966-67 season leading into the 1967-68 expansion from the Original Six to 12 NHL teams. The Leafs have won two rounds five times since then (and eight times overall in seasons they dind't win the Cup), but have never made it past the third round hurdle, and thus have never made it back to the Stanley Cup Final.
For Leafs' detractors, this is a little bit more ammunition to the "you could only win with six teams" and "you haven't won since '67" chirps.
For Leafs' fans, I wouldn't worry too much about the third round. After all, you need to win one round first.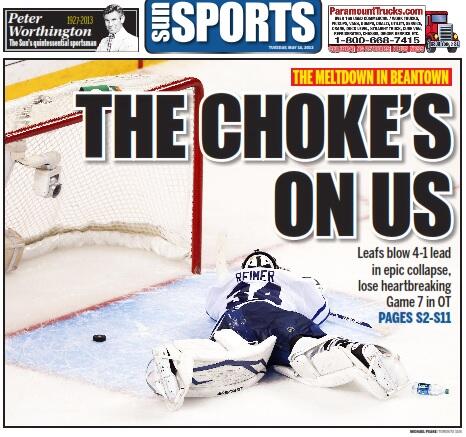 Check back weekly on our website and Facebook page for more articles about the NHL's weird history!