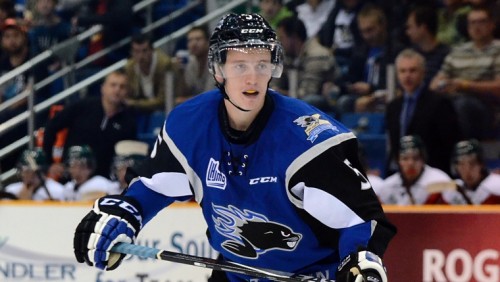 It's that time of year again. The Stanley cup has just been raised, and 30 teams are back on an even playing field for the summer. Every team has needs going into the off season including the Stanley cup winning Chicago Blackhawks. We are 3 days away from the NHL draft and it seems like we're in for quite the weekend. This is arguably one of the most talented drafts in the past decade with generational talents Connor McDavid and Jack Eichel headlining the festivities. Things are about to break open in the hockey world and it's only a matter of time before the first domino falls. If you're one of the hockey fans that live for trades and live action, this could be a great weekend for you. Big names are available, and we could see some of them dealt this weekend at the draft table. Phil Kessel, Dion Phaneuf, Patrick Sharp, Kyle Okposo, Milan Lucic, Jeff Skinner, and Cam Talbot are some of the big names that are on team's radars.
It is no surprise that teams need to build from the draft and that drafting strongly highly correlates with being a successful playoff team. We can look at junior players and analyze their development and what we think they will become at the next level, but we can never be sure until we see their game translate to the next level. Point per game during a junior player's draft eligible season is a strong indicator in how a player's game will translate to having a successful NHL career. Obviously, there are outliers and players that will emerge from the later rounds and have good NHL careers, but your odds of selecting an impact player are much more likely in the early rounds. The Montreal Canadiens own the 26th, 87th, 131st, 177th and 207th overall picks in the 2015 NHL draft in Sunrise Florida. Let's take a look at who the Montreal Canadiens will be considering when it's their turn on the podium at 26th overall.
Thomas Chabot, D, Saint John Sea Dogs 6'2 180 lbs
With an aging blue line transitioning to a younger generation, the Canadiens need to restock their defensive pipeline, specifically the left side with only Jarred Tinordi close to playing in the NHL in the near future. Chabot brings strong offensive potential to the table, but needs to still work on his defensive game even if it has improved this season. Similar to Nathan Beaulieu when he played in Saint John's, the potential is there but time will tell if Chabot can put the pieces together and emerge to have a successful career. Sportsnet compared Chabot's rise in the draft to that of Travis Sanheim who rose up the draft boards and was selected 17th by Philadelphia in 2014. Chabots speed and offensive instincts are what separate him from others in his draft class. Look for the Canadiens to strongly consider Chabot if he's on the board when they are on the clock.
Brock Boeser, RW/C, Waterloo Black Hawks 6'0 190 lbs
One of the most pure goal scorers in this draft, Boeser boasts a fantastic shot and release and plays a strong game at both ends of the ice. Boeser tied for the league lead in goals in the USHL with 35 and finished third overall in points with 68 in his 55 games as a member of the Waterloo Black Hawks. Boeser's Father was in a major car accident where he almost passed away and now has Parkinson's disease. Boeser told NHL.com that he play's to make his dad proud. Boeser's best aspects of his game come from his shot, and hockey IQ that allow him to read situations and pick the right spots at the right time. Boeser would be an interesting selection at 26 and the Canadiens could definitely use more pure goal scorers in their system.
Nick Merkley, RW, Kelowna Rockets 5'11 190 lbs
This is a bit of stretch at 26th overall, but the size of Merkley concerns a lot of teams and some wonder if his high skill game will translate to the next level. Merkley's excellent post season and Memorial cup are making some scouts wonder if his draft stock will increase come draft day. Merkley's elite hockey IQ and playmaking abilities warrant his first round draft stock, to go along with his impressive strength for someone of his stature. NHL Central Scouting ranks Merkley 23rd, so it's not too much of stretch to see him falling or rising to the late teens or high 20's. If Merkley is still on the board at 26, the Canadiens will certainly have an interesting decision to make.
Paul Bittner, LW, Portland Winterhawks 6'4 205 lbs
The Canadiens already boast 6'6 winger Michael McCarron in their system, but their need for more size up front is still outstanding. It is difficult to pick someone in the first round just based off of size and potential, but the Canadiens may look to do that here if Bittner is still on the board. Bittner has power forward tools, but there are alot of question marks if his offensive game was being carried by the likes of Nic Petan and Oliver Bjorkstrand. Much like McCarron when he was drafted, Bittner needs to work on his skating as it takes him quite a few strides to get to his top gear. Bittner's shot and ability to crash the net and bring pucks out of the corner are what make him an attractive commodity at 26th overall if he is still on the board for the Canadiens.
Daniel Sprong, RW, Charlottetown Islanders 6`0 180 lbs
One of the largest question marks in the projected top 30 is Daniel Sprong. He has top 10 skills in this draft class but he doesn't merit selection there because there are still a lot of other question marks in the young forwards game and maturity. Sprong brings a strong shot with a quick release to the table, as well as his elite one on one ability. It is a surprise to no one that the Habs are looking for goals and Sprong`s 39 goals in 68 games this season would be a nice add to the Canadiens pipeline. Sprong needs a lot of guidance in his game away from the puck, and the Canadiens will have a decision to make if they want to take on another interesting project come the 26th pick if he is still available.
This draft class has a lot of intrigue and interesting question marks, but then again, what draft doesn`t? The Canadiens have needs in their prospect system on the backend specifically, but they also have a need to pick up a goal scorer, which may make some of these talented wingers difficult to pass up.