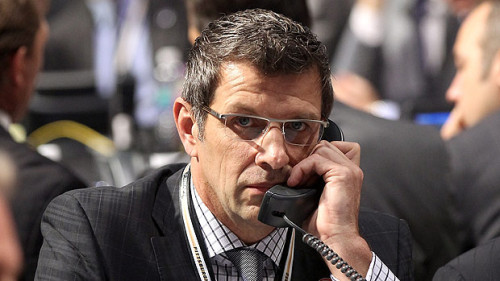 After a quiet July 1st as most expected, it's now time to ask some questions directed towards the Canadiens management.
It came as a bit of a surprise to most, but Brandon Prust is no longer a member of the Montreal Canadiens. Does this have to do with the fact that Prust missed his exit interview or the way he conducted himself in the playoffs? The Canadiens have a certain standard that players are to be held accountable with, and even if the Habs are winners of this trade, we still have to wonder why Marc would make a deal that will surely hurt the other players in the locker room. Similar to the Josh Gorges trade, Marc is clearly not shy in dealing well liked veterans. This is not just a sign of faith towards the young leadership core that the Canadiens embody, but also a transition towards a new core that was beginning to be established last season when the Canadiens let Brian Gionta walk and dealt Josh Gorges to Buffalo. The Canadiens now look toward Brendan Gallagher, Alex Galchenyuk, and Nathan Beaulieu to help lead on a young Canadiens roster. With that being said, there are still many veteran leaders such as Pernell Karl Subban, Jeff Petry, Andrei Markov, Tomas Plekanec, Max Pacioretty and the reigning Hart Trophy winner Carey Price.
Now if you're looking for Zack Kassian to be a big power forward, you have the wrong idea as to the style that he plays. He does not shy away from physical play, but he is not the bruiser that people think he is because of his stature. Without a doubt, Kassian adds more offensive output from the right side than Brandon Prust did, and should fit in nicely on the third line with Lars Eller. What the Habs gain in this trade is a draft pick, a small amount of cap space and offensive output with potential, but they lose the defensive value that Prust brought, specifically on the penalty kill and in shut down situations. The Habs will miss Prust more off the ice than they will on it, but it can't go unsaid that he always left everything on the ice, and if you can't respect that then I don't know what to tell you.
Let's transition over to this, how does one of the assistants, Dan Lacroix or Clement Jodoin not take the fall for the fact that a Canadiens powerplay with so much talent and potential ranked 23rd with only 16.5% efficiency? It comes to a point in time where if you can't create a style of play that works, that it is time to move on and find help elsewhere. This organization preaches accountability, so why not start taking some of your own medicine, even if it means letting go of a friend on the coaching staff? I've heard him preach it before, and Bergevin claims he's not here to make friends; he's here to win, so when does holding the coaching staff accountable come into the equation of what he's constantly preaching? Call it harsh or whatever you want, but it's time to call a spade what a spade is and not beat around the bush. During his press conference this morning, Bergevin said "It's only July 2nd", and although he's correct, there is still work to be done in regards to how the Canadiens play the game and the personnel involved on the ice and off it.
Now let's discuss another topic that was brought up at today's press conference. The last two times Bergevin has spoken at the podium, he has been a little hot headed and short tempered with the media for asking hard pressed questions that the public generally wants to know. Some of the media brought up the idea that the Canadiens are a defensive minded hockey club, and Bergevin was immediately defensive (don't laugh) to that statement saying that it's the way hockey is today and that all teams are playing this style of play. This could not be farther from the truth. When you watch Canadiens games, you can generally see how poorly the Canadiens break out as a unit and how they feed off the dump and chase style, where they try to play mistake free hockey and capitalize off of the others teams mistakes, instead of pushing the play and creating their own opportunities.
Look at teams like the Lightning and Blackhawks, teams with offensive firepower, and how they break out of the defensive zone and into the neutral zone. This is not to say that the Habs have that kind of firepower, because quite frankly they don't, but the roster conducted by Marc Bergevin is one that embodies speed and finesse, yet the Canadiens are stuck in a dump and chase style employed by Michel Therrien. Now I'm not the only one making these sentiments about the Canadiens style of play, but quite honestly when Carey Price is your goalie, the style of play in front of him can basically be irrelevant and the team can still be successful, which is likely why Therrien is still employed by the Canadiens.
If the Canadiens want to take their game to the next level and compete with the Lightning for the Eastern Conference, a few things need to occur. Either Therrien needs to be canned, or he needs to accept that his team actually isn't a grinding one and change the style of play to be more accustomed to the roster he was given. You're telling me you want players like Alex Galchenyuk, Tomas Plekanec, and David Desharnais to throw pucks in deep and chase them? Come on let's get real here. Your roster is built off of speed, finesse and skill, so use that to your advantage.
Secondly, Bergevin needs to go out and make his move. Although Tampa Bay is a powerhouse in the Eastern Conference right now, the East is still as wide open as it has ever been, especially when you have players like PK Subban, Carey Price, and Max Pacioretty all entering their prime years. Bergevin need to go out and acquire that top 6 scorer that the Canadiens need, and address this hole before the Canadiens waste the young years of their core.
This isn't to say Bergevin has done a bad job as general manager, because that wouldn't be accurate at all, but there is always room for improvement, and it's reached the point now where he has a big enough body of work that we can start to wonder what the actual direction that this team is headed in and what the future holds for this Canadiens team.