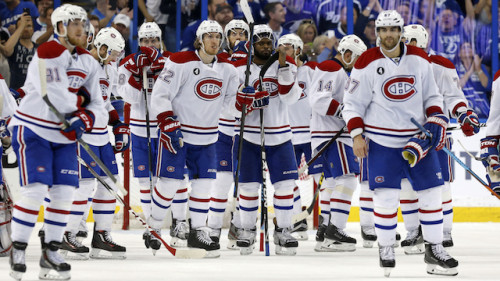 The Montreal Canadiens head into Wednesday, July 1st with a few pressing needs and little cap space to address them. With Alex Galchenyuk still needing to be signed, the Canadiens have around 7 million dollars to play with. Of course, you can be over the cap during the off season, but it is doubtful that Bergevin and his management team will want to put his team in that kind of a position unless it really helps the club. It will be interesting to see if Bergevin decides to take the trade approach, instead of being a spender on July 1st and paying a premium for the marginal talent that is available. Let's take a look at some of the names that Bergevin might target tomorrow to help improve his club.
Michael Frolik, RW
Frolik scored 19 goals and added 23 helpers in 82 games with the Winnipeg Jets in the 2014-2015 season. If we look at Frolik's value, we can argue that he's worth about 4 million a year, but with the lack of depth in the market, it wouldn't be a surprise to see him get closer to 5 million annually. Frolik would be a nice addition to play on a line with Tomas Plekanec and Max Pacioretty. This line would be a force at both ends of the ice, as it would be able to shut down top units and add in offense as well. The question remains how much Frolik will sign for and if it fits into the Habs budget. Renaud Lavoie of TVA Sports reported that the Canadiens are at the top of Froliks list in regards to free agency. With the buyout of Parenteau, the Canadiens have a desperate need to add a top 6 right winger, and Frolik could be that fit for the right price
Justin Williams, RW
The 33 year old right winger tallied 18 goals to go along with 23 assists in 81 games with the Los Angeles Kings in the 2014-2015 season. Williams is one of the players that Bergevin speaks about in the context of the idea that there are players who get you to the playoffs, and players that help you win in the playoffs. Williams has had a history of peaking in May and June, and has a Conn Smythe Trophy and three Stanley Cup rings to show for it. As we mentioned, Montreal has a pressing need to add a top 6 forward, specifically coming from the right side. If Montreal hopes to compete in the wide open Eastern Conference again, Williams could be a nice addition.
Joel Ward, RW
Do you see a trend in the first three targets for the Canadiens? They're all right wingers, where the Canadiens desperately need to add some scoring. Playing in the Captials top 6, Joel Ward put together 19 goals and 15 assists in 82 regular season games and added 9 points in 14 games in the playoffs. Coming in at 6 foot 1, Ward would add some much needed size to the Canadiens top 6, but it will be interesting to see if the 34 year old winger prefers to look for term, or average annual value on his deal. Look for Bergevin to target Ward tomorrow as he could be another big body to play with Desharnais or on the third line with Eller.
Martin St Louis, RW
I don't think Bergevin wants to go down the same road he did with Danny Briere, but if St Louis wants to come home for one last shot at the cup, Montreal could be an attractive option if the price isn't too high. Another small but crafty winger, St Louis could fit in nicely with the Canadiens. St Louis put up 21 goals and 31 assists in the 2014 campaign and it will be interesting to see if he is looking for one last pay day or if he wants another shot at a cup. New Jersey and the Islanders propose interesting options for St Louis, if he wants to keep his family in that general area like some suggest. St Louis would be a nice addition to a Canadiens team that is looking for help on the power play and for goal scoring in general. This would be a bit of a long shot, but we will soon find out what Marty's intentions are.
Matt Beleskey, LW
The scariest option of the 5 wingers, Beleskey could very well be a target for Bergevin on July 1st. The 27 year old left winger had a career year in 2014, posting 22 goals, but also shooting double his regular shooting percentage. Sportsnet's Elliotte Friedman believes Beleskeys camp will be asking for something in the ballpark of 5 million a season, with decent term as well. Beleskey is a prime example of a player who had a career year before he hit Unrestricted Free Agency, and will cash in as a result of a desperate General Manager trying to plug a hole. Look no further than David Clarkson for how that turned out. Bergevin would be smart to stay far, far away from Matt Beleskey come July 1st.
Bergevin would be a smart man to test the waters of the value of Ward, Frolik and Williams on July 1st, but if the price tag comes in to high, to look for value elsewhere in trades. The Canadiens don't have the cap space available to overpay a free agent without it strangling them financially and thus if the price is not right, look for Bergevin to have a quiet July 1st.