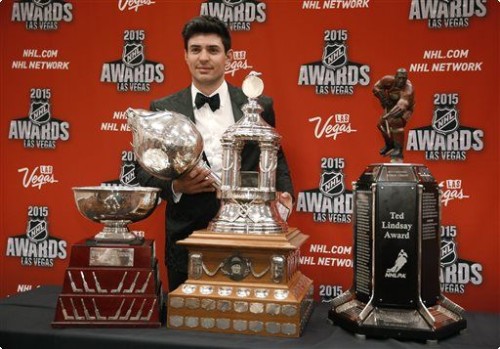 Stanley Cups are very hard to come by. It is arguably the toughest trophy in sports to win, but that's a debate for another time. When you look around the National Hockey League, the talent that you can list is endless. There are greats such as Sidney Crosby, Alex Ovechkin, Erik Karlsson, and PK Subban, but when you look at your team's roster and single out your best player, have you ever thought about what it would be like if you could look at that roster and subtly declare that you have the best player in the world playing for your team?
I used to look at the roster of the Canadiens and wondered when we would have another impact player on the Habs again. When Price was drafted 5th overall in 2005, myself, like many others questioned if this was the right pick. For the past decade, the Habs have constantly been looking for scoring, and when you're fortunate enough to be picking that high because of the lockout lottery, I would have thought the Habs would have gambled on a scoring forward or high quality defenseman. While defensemen are often risky early picks, I don't believe there is even a strong enough word to describe how difficult it must be to select a goalie in the top 10 picks. I had my doubts. You probably had your doubts too. Trevor Timmins didn't. If there is one thing I have learned over the years of watching the Canadiens, it's to not doubt Trevor Timmins. Like a lot of scouts today, Timmins eats, sleeps and breathes hockey. He is one of the few that gets the game, and likes to take chances with his picks when he sees the potential of his players. He certainly was not happy when the organization decided to deal He Who Shall Not Be Named to the New York Rangers in a package for Scott Gomez.
What exactly makes up the most valuable player in the league? We have to consider a few things. The impact that the player has on the team and where the team would be without them are specifically of interest. Where would the Habs be without Carey Price? The odds that they would be contending for the division are highly unlikely, as without Price, the Canadiens would likely be fighting for one of the final playoff spots in the wide-open Eastern Conference. I guess you could begin to consider that if Carey Price wasn't a Hab that maybe head coach Michel Therrien would actually adapt his system to benefit the team, instead of relying solely on his all-world goalie.
Now we ask the question, why is Price that good? You have a goalie with his size and athleticism and you know that you have a special building block in your organization. You look at what is really sought after in today's NHL, and you consider general managers always looking for that big, skilled center. Carey Price is the goalie version of that big and talented center teams look for. The biggest thing that Carey Price has going for him is his athleticism and hockey IQ. Price's direct ability to read plays and be positionally sound makes him the best player at his position. The butterfly technique allows Price to use that athleticism to have a much quicker reaction time. The split second decisions that goalies make are so vital and Price allows himself to go cross crease extra quickly because of his style of play.
But let's get to the point now. So what does it feel like to have the best player in the world play for your team? Let's put it this way. When Carey Price leads the Canadiens onto the ice for warmups, you know the Habs are going to have at least a good chance at taking home two points that night. You are able to see plays develop, and while most fans would panic when they see a two on one circulate, Price has this calming influence in his crease that also creates a calming fixture amongst fans when the team puts him in situations where he has to make big saves. He`s that good, and he's also the goalie for my team.
Enjoy your summer Habs fans.
Love Reading About Hockey?

Subscribe to keep up-to-date with the latest and most interesting hockey news!
| | |
| --- | --- |
| | We hate spam just as much as you |