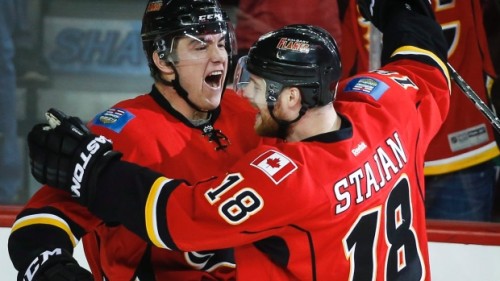 From the outset it looked as though the 2014-15 season wouldn't be kind to the Calgary Flames. They had a relatively young team, a goaltending duo in Jonas Hiller and Karri Ramo that was unproven and a lineup that didn't exactly scream "contender" to the rest of the league.
But the Flames found a way to make it work and, despite a second round elimination at the hands of the Anaheim Ducks, this season was – all things considered – quite a success. Here are a few highlights and lowlights from this past season.
The high: April 9, 2015
Undoubtedly a date Flames fans will remember for a while, April 9 was the date the Flames headed to the Staples Center to face off against their Pacific Division rival Los Angeles Kings. At stake was a playoff spot – something the Flames could have clinched with a win, but could just as easily have relinquished with a loss. As everyone now knows, the Flames clinched the unlikeliest of playoff berths in recent memory, knocking off the Kings by a 3-1 final, securing a playoff spot and a first round matchup with the Vancouver Canucks.
The low(s): Dec. 6, 2014-Dec. 20, 2014, or Feb. 25, 2015
This one is basically a tossup – it ultimately depends on if you look at it from a player's or a fan's perspective – so it's pretty much a 1A and 1B situation. From the organization's perspective, the stretch of Dec. 6 to Dec. 20 was unquestionably the worst part of the season in terms of wins and losses. That's an easy call to make considering the team went eight games without a win – including against such lowly teams as the Buffalo Sabres and Toronto Maple Leafs. Thankfully, the team turned it around Dec. 22 with a 4-3 come-from-behind win against the Kings.
But from a fan's perspective, Feb. 25 was the worst part of the season. That, too, is an easy call to make since it was the day Mark Giordano – the team's heart and soul, the captain, the NHL's defensive scoring leader, a Norris Trophy candidate, etc. – was lost for what turned out to be the rest of the season. Of course, it didn't turn out to be the debilitating negative it originally appeared it would be, but any time a team loses its best player is always cause for concern.
Biggest revelation: Johnny Gaudreau
It wouldn't seem to make sense that the biggest revelation would go to Johnny Gaudreau, the former college kid who was expected to great things as a pro. But when you put up 64 points in your rookie season (2nd on the team and first among NHL rookies) and reach the 20-goal plateau for good measure, it's hard not to acknowledge it. This kind of production would likely have been expected of him in year two or three, but not this quickly.
Biggest disappointment: Mason Raymond
Other players had down seasons (Brandon Bollig comes to mind, though he made up for it in the playoffs), but none underperformed as much as Raymond. He came to the Flames from Maple Leafs, fresh off a 2013-14 season in which he scored 45 points (his highest total since the 2009-10 season) and was rewarded with a generous contract. Considering the expectations the organization had of him, though, his first year in Calgary was rather underwhelming.
Injuries limited his games played, but he also didn't help his cause when he was in the lineup, leading to numerous healthy scratches. By season's end he had only 23 points in 57 games, earning him the dubious distinction of biggest disappointment.