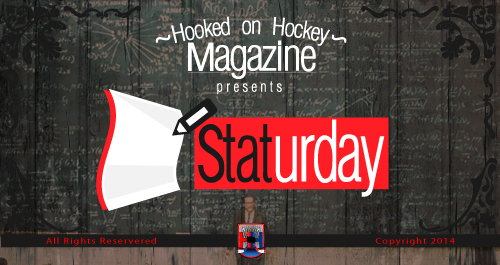 Crunch time is upon us. Not only are teams slugging it out to make the playoffs, but I am in the last few weeks of preparation for my LSAT, and so, I bring to you another short and sweet STATurday, with some short shifts:
Power Outage in Buffalo
It seems that the lights have gone out in Buffalo. At least the red one behind not the Sabres' goalie. For the last three games, the Sabres have managed to put zero in the twine as they slip further from playoff contention. This is compounded with their 5-game losing streak and a stretch in which they've only won three of their last fifteen games. This slide is in stark contrast to their 11-3-1 November, where you may remember the Sabres were actually leading the entire NHL. It could be worse, though. They could be the 2014-15 Buffalo Sabres, which went a splendid 0-14 in January. At least the Sabres are tracking to have their best-ever finish in the Atlantic division since the NHL realignment in 2013-14 (6th is still nothing to rave about, but they're improving).
Twelve Crazy Nights
The Edmonton Oilers are running out of precious time to make the playoffs. With twelve games left in their regular season, they have found themselves eight points out of the last wildcard spot. While it's not an impossible task, it is quite the herculean challenge. Their last game against New Jersey was meant to be a statement game in which they showed they were prepared to fight for their playoff lives. Instead they floundered in a 6-3 loss. To be fair, they peppered a normally shaky Corey Schneider who turned in a bit of a gem, turning aside 36 shots. The Oilers face a surging Coyotes tonight in another playoff-type game, as they begin a three-game road swing. They wrap up March in a 5-game home stand in which they see three teams not fighting for the playoffs (Ottawa, Los Angeles and Anaheim). Their schedule looks favourable for the remainder of the month; but they really do have to put in work if they wish to leapfrog Chicago, Colorado, Minnesota and Arizona for a playoff spot.
On a positive note, McDavid notched his 100th point, and Draisaitl is 11 away from the century mark. The gap in skill shows as the next closest Oiler is RNH with 58 points (secondary scoring?).
Torts McGorts
I previously wrote about how I thought Columbus Blue Jackets GM Jarmo Kekalainen was the hands down winner of the trade deadline, having gone out and acquired Ryan Dzingel for embattled forward Anthony Duclair, and Matt Duchene. Well, the trades haven't exactly blown up the Blue Jackets' playoff prospects, as Duchene only has 3 points since being acquired, while Dzingel only has two. With only eleven games left to hold the Canadiens at bay, the Blue Jackets need to step their game up, especially with their schedule featuring seven games against teams poised to make the playoffs or on the cusp of a playoff spot fighting for their playoff lives and if I was a gambling man, probably John Tortorella's job too. Maybe a little more effort to avoid Tampa in the first round would be great too…
Lightning Strikes Often
Nikita Kucherov is pretty well guaranteed to get the Art Ross trophy. He has a 15-point lead on the next closest scorer, Connor McDavid. Hell, he has a 29 point lead on the next highest scoring teammate (Brayden Point). The Lightning are the only team with three players tracking north of 80 points, and it makes sense. The only team to have clinched a playoff spot so far has 20 more goals than the next highest scoring team (Toronto) and have a ridiculous +90 goal differential (next closest is Calgary at +51). I'd be a bit weary to face them in the first round of the playoffs but stranger things have happened…
Let me editorialize for a second: the Toronto St. Pats uniforms are downright amazing. It wasn't just because they defeated the dastardly Philadelphia Flyers, or because I drink like an Irishman but because I truly believe the uniforms look really sharp. If only they had also kept the brown helmets.
Now, having said that, it was an impressive performance, after being down 5-2 the Leafs rallied, starting with Muzzin scoring two goals, Marincin netting one, then Matthews capping off the night with two more for the Leafs, while former Leaf James Van Reimsdyk scored three in the night. The Leafs made Brian Elliot make 44 saves, which means that they mustered 51 shots against the Flyers. This win gives Steady Freddie his 34th win of the season, bringing him to a tie for second with San Jose's Martin Jones, and just one behind Vegas' Marc-Andre Fleury. If you consider Freddie has seen the second most shots fired against him, that's pretty impressive, and he should be a Vezina contender, but you didn't hear that from me (Vasilevskiy's probably got it to be honest).
Love Reading About Hockey?

Subscribe to keep up-to-date with the latest and most interesting hockey news!
| | |
| --- | --- |
| | We hate spam just as much as you |