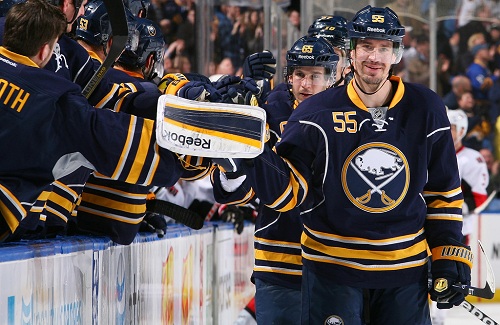 Tonight marked a milestone and an end to an NHL career for two Sabres players as their 2012-13 shortened season came to a screeching halt.
Ryan Miller stopped all three shots he faced in the shootout and earned Buffalo a 2-1 win over the New York Islanders playing in his 500th NHL career game.
"It was a lot of fun," Miller said. "I just tried to take a moment to enjoy everything and take a moment to enjoy a milestone.
Thomas Vanek scored the lone shoot out goal clinching the win for the Sabres. Brian Flynn and Keith Aucoin were the only two regulation scorers in Friday's game.
While this potentially could have been Miller's last game as a Sabre, it veritably was for Jochen Hecht as he announced his retirement from the NHL after tonight's win.
The Sabres' longest-tenured player revealed that he would be returning to play in Germany after the conclusion of his tenth season in Buffalo.
"There's going to be more," Hecht said, "but not in the NHL."
When asked what his favorite memory was, Hecht recalled the Sabres' Game 7 loss to Carolina in the 2006 Eastern Conference final.
"After 14 years in this league, now I know that you don't get a lot of chances," said Hecht. "This was the biggest one for me."
While Germany is where Hecht's future is headed, where does Buffalo's future lie?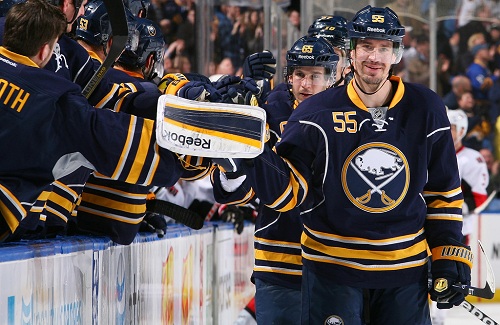 This is the Sabres second consecutive season not making the playoffs. The organization has already begun making changes in an attempt to rebuild, most notably by trading captain Jason Pominville to the Minnesota Wild.
Miller and Vanek both have one year left on their contracts, but what part they will play in Buffalo's "rebuilding" process remains to be decided.
Flynn, Mikhail Grigorenko and Mark Pysyk will continue their hockey season playing for the Rochester Americans. They begin their first-round AHL playoff series against the Toronto Marlies on Saturday afternoon.
Miller was voted Sabres' MVP by his teammates. Marcus Foligno was named Rookie of the Year and Mike Weber was chosen as the team's Unsung Hero.
Three Stars:
1. Ryan Miller
2. Brian Flynn
3. Mikhail Grigorenko
Notes:
• Sabres finished dead-last in the Northeast division.
• Vanek led the team with 20 goals.
• Steve Ott led the team with 187 hits.
• Mike Weber led the team with 92 blocked shots.