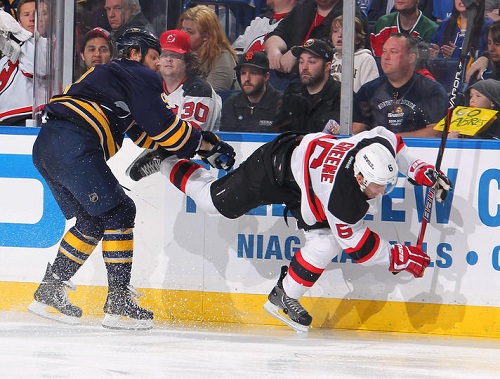 Nathan Gerbe scored the lone shootout goal to give the Sabres a 3-2 win over the New Jersey Devils and their third consecutive win at First Niagara Center on Sunday.
With the recent trade of captain Jason Pominville and Thomas Vanek out with an injury, it was interesting to see whom interim Head Coach Ron Rolston would send out in the shootout.
Gerbe stepped up to the plate and netted a shot on Martin Brodeur's glove side to give Buffalo the victory and put them four points behind seventh-place New York Rangers in the Eastern Conference.
This was a critical pair of points for both teams as they are battling for a spot in this year's Stanley Cup Playoffs. The Devils' loss tonight puts them at 0-3-4 since forward Ilya Kovalchuk suffered a shoulder injury against the Florida Panthers on March 23rd.
New Jersey's slow start allowed the Sabres to get on the board first at 4:22 in. Jochen Hecht threw the puck blindly at the net off Andy Greene's turnover and Patrick Kaleta tipped the puck in past Brodeur. This was Kaleta's first goal since February 8th, 2012.
"It feels good to be able to contribute offensively," Kaleta said. "It's something that I try and take pride in, being a well-rounded player rather than one-dimensional."
Steve Sullivan tied things up with a power play goal with less than two minutes left in the first period after Kevin Porter took a cross-checking penalty during his 2:20 shift. Sullivan's goal marked his first in a Devils' jersey since the Phoenix Coyotes traded him back to the team that drafted him in the 1994 NHL Entry Draft.
Steve Ott regained the lead for the Sabres as he buried one high from the slot at 13:44 in the second. Ott has scored in three straight games in as many wins for Buffalo.
The Devils tied the game again with a shorthanded goal by defenseman Mark Fayne, giving him his first goal of the season. Dainius Zubrus worked his way through traffic and served up a perfect pass to Fayne in front of the net, who made no mistake banging it in past Ryan Miller at 5:46 in the third period.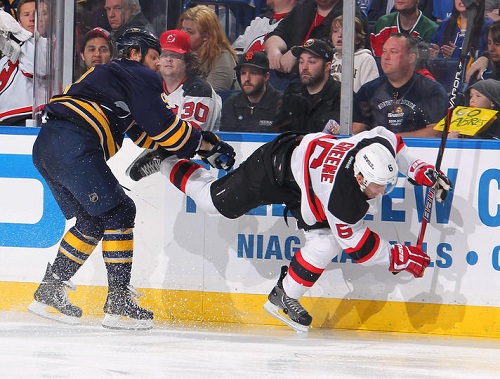 The Sabres have allowed a league-worst seven shorthanded goals in the shortened season. The Devils, on the other hand, lead the NHL with ten shorthanded goals.
"I mean, all of us are guilty of a lot of mistakes out there but Milsy was phenomenal again for us," Ott said. "When you have a goaltender like that backstopping us it makes everyone a little bit more confident on the ice."
Ryan Miller made 37 saves through four periods, including all three shootout attempts. He now has a 2.77 GAA and a .915 save percentage.
"My aunt Laurie with all her wisdom has it right," Miller said. "We just gotta focus on one game at a time."
The Sabres have nine games left. They are now 16-17-6 and head to MTS Centre to face the Winnipeg Jets on Tuesday.
Three Stars:
1. Ryan Miller
2. Patrick Kaleta
3. Steve Ott
Notes:
• The Devils have lost 7 in a row. (Haven't won since Ilya Kovalchuk's been out with a shoulder injury.)
• Vanek has missed the past five games with an upper-body injury.
• Ott has scored in three consecutive games for Buffalo
• Miller has stopped 91 of 96 shots he's faced in the past three contests.