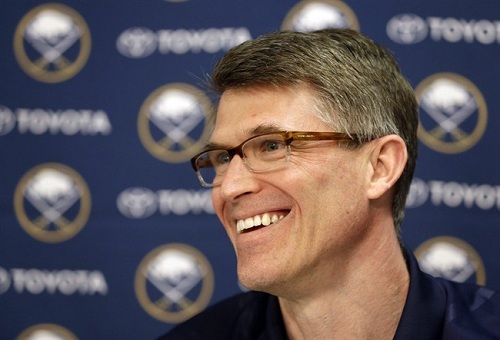 General Manager Darcy Regier announced that Ron Rolston's "interim" label has been erased, as he has been named the head coach of the Sabres on Tuesday morning.
His audition as head coach began when Lindy Ruff was dismissed after a lousy start to his 16th season behind the Sabres' bench.
"My goal coming in was on a daily basis to get better," Rolston said. "Every place that I've been to my job is to make it a better place, so when I leave it's a better place than when I found it."
Rolston led the team to a 15-11-5 record since taking over on February 20th amidst the shuffling of key players like captain Jason Pominville, Jordan Leopold and Robyn Regehr.
As the Sabres embark on their journey of rebuilding, they hope that Rolston's "teaching" approach on and off the ice will help this young team mature into playoff contenders.
Rolston has already worked with current players like Marcus Foligno and Cody Hodgson during his two seasons as head coach for the Rochester Americans.
Prior to coaching in the AHL in 2011, Rolston has made history as one of the most successful junior coaches with USA Hockey's National Team Development Program. He won three gold medals as head coach of their Under-18 team during his seven years with the program.
Rolston's seen action behind the bench at Clarkson University, Harvard University, Boston College and Lake Superior State University, where he won two NCAA National Championships in 1992 and 1994.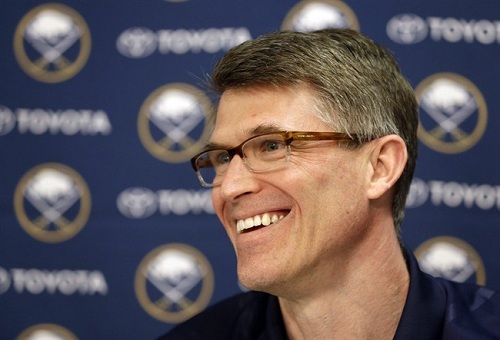 His wealth of experience coaching college hockey and developing younger talent, along with his style of coaching that demands structure and playing to a system is what has given Regier reason to bring Rolston in as full-time head coach.
"The veterans were impressed with the job that he did when he came in," Regier said. "The respect was throughout the dressing room."
Buffalo's missed the playoffs for the second consecutive season and has only made them twice in the past six years.
While his title now gives him more stability than he's felt in the past few months, he knows the city of Buffalo won't let him relax too much because they're eager to see their team win sooner rather than later.
Nonetheless, today will be a day that he will remember for the rest of his life.
"It's exciting and humbling to be able to coach a team that I grew up a fan of," Rolston said. "I'm looking forward to a challenge."