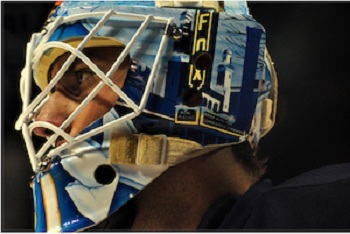 Tomas Vokoun is headed to the Steel City. The Penguins acquired the goaltender from the Washington Capitals earlier this week via trade and then signed him to a two-year contract, worth $4 million. For Penguins' General Manager Ray Shero, the move will offer peace of mind, confidence, and ultimately augment the club's on ice capabilities. "We still believe in Marc-Andre Fleury. He's one of the better goalies in the league," Shero said. "But the position is demanding, both physically and mentally. If you can get a quality guy like this that has a track record like Tomas has, mentally it will give Marc a break, but it also challenges him. It challenges Tomas as well. This is the best goaltending tandem we've had in a long time."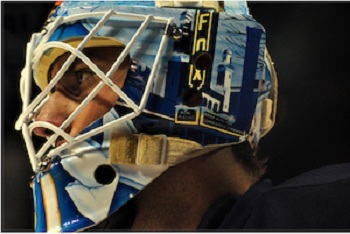 While the Penguins are gifted offensively, as evidenced by the 2011-2012 campaign, goaltending was akin to an Achilles heel. However, the blame should not rest solely on the shoulders of Marc-Andre Fleury, a young star that has earned the unwavering support of the franchise. Rather, the issue is rooted in Fleury's supporting cast—an enigma that the Penguins desperately needed to solve.
Fleury appeared in sixty-seven games during the regular season, twenty-three of those were consecutive from December 5 to January 3. While Fleury's workload was intense, it was not fruitless: a ten game win streak from February 18 to March 17, a thirteen game unbeaten streak (12-0-1) from mid February to mid March, and second overall ranking in the NHL among goaltenders with forty-two wins. The 2011-2012 campaign marks the fifth season Fleury has appeared in sixty-two games or more. Howbeit, pressure and fatigue began to affect the quality of Fleury's game in key areas such as rebound control, puck handling, and the ability to make split second decisions. As the season concluded and the playoffs began, it became increasingly apparent that the Penguins' netminder needed a short vacation from his crease.
Brent Johnson, Fleury's backup, had a limited number of appearances during the regular season, due to injuries and illness. Of his sixteen starts, the thirty-five year old won only six games and recorded a .883 save percentage—the lowest of his past six seasons. His last five games of the 2011-2012 campaign were equally vapid, with an average save percentage of .808. Johnson entered the organization on July 21, 2009 as an unrestricted free agent, showing promise, fortitude, and skill. As Johnson's prowess waivered, it was time for the Penguins to look elsewhere.
Another viable option presents itself in Brad Theissen—or so the Penguins believed. Theissen, a twenty-six year old netminder for the Wilkes/Barre Scranton Penguins of the AHL, began garnering positive attention during the 2010-2011 season which saw him participate in the AHL All Star Classic and became the third Penguins goaltender to record thirty wins in a single season. February 26 marked Theissen's first NHL game against the idle Columbus Blue Jackets. Penguins' fans will recall this game was featured in the James Neal edition of NHL 36.
Despite Theissen's accomplishments, one fact still remains: his lack of experience at the NHL level puts him at a disadvantage and in turn is not a suitable mentor for Fleury. The Penguins are in pursuit of a well-rounded goaltender whose contributions to the roster stretch beyond a sixty-minute stretch. It is illogical for one to expect Theissen to instruct and advise Fleury while trying to navigate through new territory, transition into the NHL, and deal with increased pressure and accountability. Flowing from this logic, Fleury ends up mentoring Theissen and ultimately ignores the concern the Penguins had to begin with. The same logic can be applied to the myriad of other young netminders suggested for the job. For Shero and the Penguins, the ideal candidate is a marriage between experience and athleticism.
Enter seasoned netminder Tomas Vokoun, a native of Karlovy Vary, Czech Republic, who recently completed his thirteenth NHL season with the Washington Capitals. Drafted in the ninth round (226th overall) by the Montreal Canadiens, Vokoun boasts a career record of 287-284-78, a 2.55 goals-against average, .917 save percentage and 48 shutouts in 680 games during stints with Montreal, Nashville, Florida, and Washington. Over the last four seasons, the 6 foot 1, 210 pound netminder earned a .923 save percentage. The 2011-2012 campaign with Washington saw Vokoun record a .917, 2.51 goals-against average, and four shutouts. His resume also includes a gold medal at the 2005 World Championships and a bronze medal at the 2006 Olympics in Turin. With the Penguins organization, Vokoun enters the 2012-2013 campaign with 287 career victories—ranked sixth overall among active goaltenders.
Vokoun's impressive resume, experience, grit, and fluidity with the puck are all assets that the Penguins feel will add depth to their roster. His veteran status will be useful off ice—in offering advice and counsel to Fleury. Shero echoed this as he addressed the media: "To have a tandem like that really gives the coach options. … To have two guys that can play and win games for you and to have a guy like Tomas that can also serve as a bit of a mentor as well with Marc is good. We feel good about our goaltending today."
Goaltending tandems often form strong ties within the team dynamic, akin to the bond between defensive pairings. It is through this bond that confidence is built and maintained, criticism is offered, and personal experience is shared. The Penguins organization achieved this with the club's forwards and defenseman—with acquisitions such as Richard Park, Steve Sullivan, and Brooks Orpik. With recent acquisition Vokoun, the Penguins hope to apply the same formula and framework to goaltending.
The expectation is Vokoun will conduct himself in a mature and professional manner. Past experiences, mostly in Florida, have revealed Vokoun in an unflattering light. However, Vokoun is familiar with Shero and the manner in which he conducts the Penguins organization. Vokoun and Shero worked together in Nashville and both recall the experience as amicable and pleasant. Couple this familiar territory with his eagerness to join the Penguins and increased maturity that comes with age, one can conclude that Vokoun will take his new role seriously and assist Fleury in all ways possible. It is too early to be skeptical of how Vokoun will address his responsibility to both Fleury and the Penguins.
Since joining the Penguins organization, Ray Shero has made sound and logical decisions that has benefited the club tremendously. It would be unfounded to assume that this situation would differ from any other. Albeit, there are risks involved—as is with every deal—but as the Penguins faithful say, in Shero we trust.