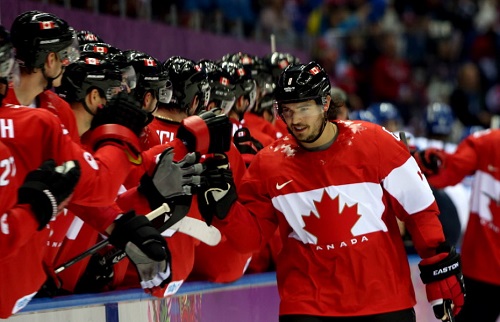 Defense took center stage in Sochi, as Team Canada bested Finland with a final score of 2-1.
The low scoring contest was marked by tight defense, mastery between the pipes, and short, quick passes—ultimately leading to overtime. Canada failed to clinch the top seed, settling for third instead.
The victory secures a spot in the quarterfinals for Canada and two days of rest before resuming play on Wednesday. The Canadians will play the winner of the Switzerland (sixth-seed) and Latvia (eleventh-seed) matchup in the qualification round, slated for Tuesday.
Drew Doughty, reprising his role on the blue line from the 2010 Olympic Winter Games, scored both goals for the Canadians. He has scored four goals thus far in the tournament.
At 13:24 in the opening frame, Doughty carried the puck to the left circle and found a gap in the left corner. Sidney Crosby and Shea Weber were credited with assists. This was the game's lone powerplay marker. The powerplay unit featured Crosby, Jeff Carter, John Tavares, Weber, and Doughty.
Erasing a modest Canadian lead, the Finns rallied back in the second period with a deflection in front of Carey Price.
However, Doughty and the Canadians prevailed—scoring the game winner at 2:32 of the extra frame.
Price made fourteen saves on fifteen shots, offering confidence and support for the Canadian offense. Despite a plethora of opportunities on Tuukka Rask, the Finnish netminder who struggled in an 8-4 victory against Austria, the Canadian offense was unable to cash in. The Finns remained patient, sitting back and waiting to jump on mistakes committed by Team Canada. To their dismay, mistakes were few and far between.
For Canada, focus turns to the next challenge. With renewed focus, talent, and grit, Switerzland has worked to establish itself as a genuine medal contender. At the 2010 Olympics, Switzerland played an incredibly physical and fast game against Canada, but fell in the shootout thanks to a goal by Crosby. Since then, the Swiss have snagged a sliver medal at the 2013 World Championship. The Swiss roster features a mix of NHL players (32%) and European players (68%), making the big ice surface in Sochi feel just like home.
Lativa, on the other hand, is a less challenging opponent. The roster has no NHL players and has no obvious edge over other teams in the grouping. Passion alone will not secure the team a medal at Sochi, but experience is invaluable.
Notes:
Team Canada's Martin St. Louis, P.K. Subban, and Mike Smith did not dress for this game.