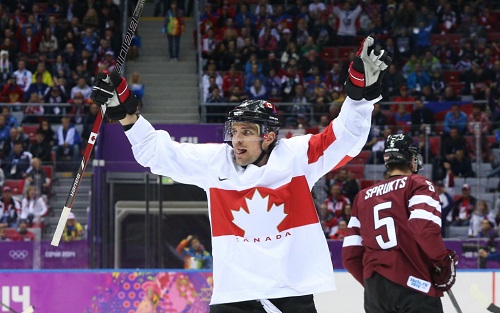 A thunderous slap shot from Shea Weber was the deciding goal between Canada and Latvia, giving the Canadians an edge and securing a 2-1 victory in Sochi.
Netminder Carey Price made fifteen saves. The Canadians will lock horns with rivals Team USA in a semifinal slated for Friday.
Patrick Sharp led the Canadian charge early on, scoring the contest's first goal in the opening period. Unable to garner momentum over a gritty Latvian squad, the Canadians allowed Lauris Darzins to even the score on a breakaway that started in the neutral zone. Canadian defensemen Jay Bouwmeester and Alex Pietrangelo were unable to chase Darzins, whose back-hander found a gap over Price's right pad.
In the final frame, fighting nerves and doubt, Weber riffled the puck through traffic from the point and lifted the Canadians over their opponents. Canada peppered goaltender Kristers Gudlevskis, with a flurry of shots—outshooting the 11th seeded Latvia 57-16.
For Canada, the victory is bitter sweet. In the second period, forward John Tavares was hit by Artus Kulda and collided with the end boards. Tavares was able to skate off the ice under his own power, returning to the Canadian bench and favoring his knee. After a brief period, he headed for the tunnel. This would mark the end of the game for Tavares. According to early reports, Tavares will no longer continue to play in the tournament. Details of his injury remain unclear.
In the absence of Tavares, Martin St. Louis—Canada's thirteen forward—was shuffled around, playing with Chris Kunitz and Sidney Crosby. Patrice Bergeron was moved to the fourth line, flanked by Sharp and Rick Nash.
Team Canada inches closer to gold and defending their gold medal from the Vancouver Olympic Winter Games in 2010. The host Canadians snagged a victory against the Americans in overtime with a goal by Crosby. In a rematch between two titans of the game, Canada needs to be ready, fast, and confident. Puck drops Friday at 12pm EST.
Notes:
Matt Duchene and P.K. Subban were Canada's healthy scratches