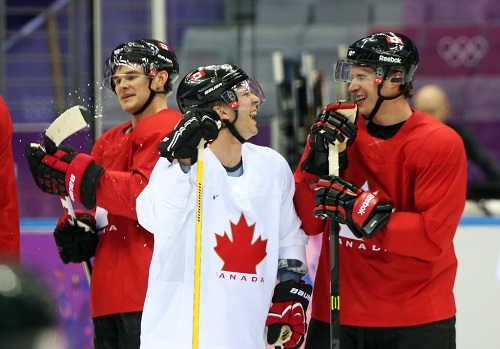 Team Canada will lock horns with Norway on Thursday for the club's first test in Sochi. An elated and anxious group of Canada's finest, led by forward Sidney Crosby, arrived Sunday night and began practicing on Monday.
The Canadians took the ice again today, which saw coach Mike Babcock stick to the same line combinations. The squad's first line center is Crosby, flanked by Pittsburgh teammate Chris Kunitz and Jeff Carter.
Team Canada plans to reprise their golden victory from Vancouver and send the nation into a frenzy. Domination in the tournament hinges on two key factors: speed and precision. Hockey is a game of inches and Team Canada will battle zealously for each faceoff win, cycle of the puck, and shot on goal.
The ice surface proves challenging—measuring an additional 15 inches wider than North American surfaces—and requires superb hockey sense, leaving no room for error or nerves. Strong puck movement and management are requisites for the entire tournament, particularly against European squads who are accustomed to and effectively utilize the larger space. Unlike the Canadians, Norway boasts a squad with a considerable number of KHL players.
In light of this, Babcock will incorporate truncated shifts for each player: from 45 seconds by NHL standards to 40 seconds. In doing so, Team Canada can provide unrelenting pressure in the attacking zone, outskating opponents while pushing them to the periphery—away from the play and opening shooting lanes. Fatigue threatens performance at both ends of the ice.
The decision also benefits special teams situations, where the Canadians have no shortage of skill and experience. Special teams will make all the difference in Sochi, with a valiant and organized effort from explosive skaters securing victory.
Crosby, Patrice Bergeron, and Jonathan Toews are among Canada's assortment of two-way players and can clock minutes on both the power play and penalty kill. Shorter shifts will only augment their performances and allow for precise and quick decision-making. Russia's Evgeni Malkin and Pavel Datsyuk are among the tournament's elite, thus Canada's shutdown line must be fleet of foot and energized as well.
Perhaps Canada's weakest area is goaltending. Despite experience at the previous Olympics in Vancouver, Roberto Luongo has struggled with confidence. Should Luongo succumb to nerves, Carey Price and Mike Smith are experienced in international competition. With a plethora of talent between the pipes, namely Finland's Tukka Rask, Sweden's Henrik Lundqvist, and America's Jonathan Quick, Canada cannot afford a lackluster effort.
Notes:
Babcock's line combinations:
Forwards:
Chris Kunitz—Sidney Crosby—Jeff Carter
Patrick Sharp—Jonathan Toews—Rick Nash
Patrick Marleau—Ryan Getzlaf—Corey Perry
Jamie Benn—Jonathan Tavares—Patrice Bergeron
Defense:
Duncan Keith—Shea Weber
Jay Bousmeester—Alex Pietrangelo
Marc-Edouard Vlasic—Drew Doughty