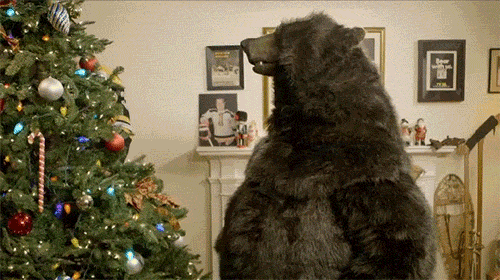 In light of the most recent and tragic losses undertaken by the Boston Bruins over the past few weeks, us here at Hooked on Hockey think everyone deserves a dash of joy and warm laughter to help ring in the New Year.
We're pretty sure that getting a win on New Year's Eve this year would have been much better than getting kissed at midnight by our nonexistent lover and drinking ourselves into a delicious drunken stupor to drown out the rest of 2014, but hey, we digress.
With that being said –
From the creative minds behind Bruins College Life and NHL Superstars as Superheroes, here comes the latest and greatest installment of Bruins parody's in which we take everyone's favorite B's and put them in the nostalgic and warm hearted world of classic Christmas characters *Jingle Bells intensifies in distance*.
Carl Soderberg "The Bumble", Rudolph the Red Nosed Reindeer
Hell. Yes. The One-Eyed Swede has been transformed into the biggest, somewhat baddest, antagonist in Christmas history (but not really). Imagine this guy in all of his glory, storming around the North Pole with a hockey stick in one hand and a torn and tattered Montreal Canadien's jersey in the other wreaking havoc upon anyone who comes between him and the prized Stanley Cup. It's a bit of a disappointment that just taking out his teeth would stop him though and turn him into a no-so-terrifying cuddly snow-monster-thing that puts the star on the top of the tree with the rest of Santa's minions. I Christmas like Carl.
Patrice Bergeron "Kris Kringle", Santa Claus is Coming to Town
Who else would play the happy-go-lucky, Christmas hero of young Santa Claus other than Patrice Bergeron? Hell. A simple flash of his damn smile is enough to spread more Christmas cheer throughout the Greater Boston area than most mall Santa's can do the entire month of December. How absolutely dashing would Bergy look in a soot covered red coat as he climbed down your chimney to put presents under your Christmas tree? But if we're going to be honest with ourselves here, having a soot covered Patrice Bergeron under our Christmas tree would be a definite Christmas dream come true.
Brad Marchand "Topper", Santa Claus is Coming to Town
Ah yes, Kris Kringle's trusty penguin side-kick. Boston's pest has now claimed the title as Santa Claus' second in command, hopping around with him all over Somber Town to deliver presents to the children with a tiny black and gold scarf wrapped around his neck and showing the big bad Winter Warlock *cough*Peter Chiarelli*cough* how to strut his stuff all the way to the Stanley Cup Playoffs. Honk! Honk!
Torey Krug "Hermey", Rudolph the Red Nosed Reindeer
I wanna be a dentist! It's hard not to crack a smile when imagining our tiny, little, and quite frankly adorable defensemen representing thug master Santa Claus with an elf hat and trusty pointy shoes, exclaiming at least ten times a day that he doesn't want to make toys, but become a dentist in his nasally, high-pitched voice. But hey, he does take down Carl-Bumble so who can really complain at the end of the day?
Milan Lucic "Burgermeister Meisterburger", Santa Claus is Coming to Town
Goals?! GOALS?! THERE WILL BE NO GOALS SCORED TO B-TOWN. Now, Looch isn't the kind of guy you would see tripping over toys in a blind rage, but he may trip over his own two feet trying to snag the puck away from the dastardly Habs and their sneaky little ways. He strikes fear in the heart of most when they see him rushing down the ice with that classic hunchback of his, trying to anyone's plot of scoring on his beloved goalie to ruin. There will be no goals scored against the king!
Zdeno Chara "Ebenezer Scrooge", A Christmas Carol
Just imagining the scowl on this man's face with the mere mention of losing the Cup Finals is enough to make our holiday's much jollier. The Ghost of Playoff Past (T-Segs), Present (Henrik Lundqvist), and Future (Peter Chiarelli's face looms up from the depths of hockey hell) help scare this big guy (and the rest of his little black and gold minions) to pick up the pace and bring the Cup back home to good ol' Boston Town. Bah Humbug!
Tuukka Rask "The Grinch", How the Grinch Stole Christmas
Tall, furry, green, and a brain full of spider with some garlic in his soul. Tuukka Rask is more than the perfect Grinch (considering all the sass he gives the media). We aren't talking about the old school cartoon Grinch. Oh, no, no. We are talking about the Jim Carey Grinch. Sidney Crosby? I HATE YOOOUUUU. Pierre McGuire? I hate you. Hate, hate, hate. Hate, hate, hate. Double hate. *Canadiens fan enters Garden* LOATHES ENTIRELY.
David Krejci & Dennis Seidenberg "Heat and Snow Misers", The Year Without a Santa Claus
Now, we aren't saying that Seids and Krejci hate each other; we just think that they'd be the perfect fit to fight over snow in South Town. It's hard not to see The German Hammer as the little red guy with some serious anger management problems and cool, calm, collected, sweet David as the chill Snow Miser (with Claude as Mother Nature, of course).
Dougie Hamilton "Baby New Year", Rudolph's Shiny New Year
Don't even pretend like you weren't thinking it either. The cutest youngster on the Bruins is now the cutest Christmas character there ever was – ginger locks and all. We can't say that his ears are as big as Baby New Years, but he is equally adorable and innocent (and he does always get picked on). Plus, we can't seem to win a game without him and there isn't a New Years without this tiny fella.
Reilly Smith "Rudolph". Rudolph the Red Nosed Reindeer
Just like Bergy, Smitty has definitely proved himself over the past few weeks as the kind of guy who really saves the day with a shiny red nose to prove his efforts. Put the two of them together and we saved not only Christmas, but the Bruins losing streak by finding a way through all the haze and fog. You'll go down in hiiisstooorryyyyy.
Daniel Paille "Yukon Cornellis", Rudolph the Red Nosed Reindeer
GOLD. Well… not really since the Stanley Cup is silver buy same idea. Pies is one of the most underrated players on the B's this season since he does usually play a key role in the playoffs nearly every year. Then again, he doesn't seem to have much luck this year nor in the North Pole *licks end of hockey stick* Nothin'.
Gregory Campbell "Ralphie", A Christmas Story
Big blue eyes, blond locks, and an undying desire for the latest and greatest hockey stick – We mean, Red Ryder BB Gun. His eyes will forever gleam with Christmas Spirit. You'll shoot your eye out, kid! But who cares? He'll do anything to get his dirty little paws on a shot at the cup without knocking Papa Claude's leg lamp off the window sill and decoding Little Orphan Annie's secret message. Don't forget to drink your Ovaltine!
Love Reading About Hockey?

Subscribe to keep up-to-date with the latest and most interesting hockey news!
| | |
| --- | --- |
| | We hate spam just as much as you |