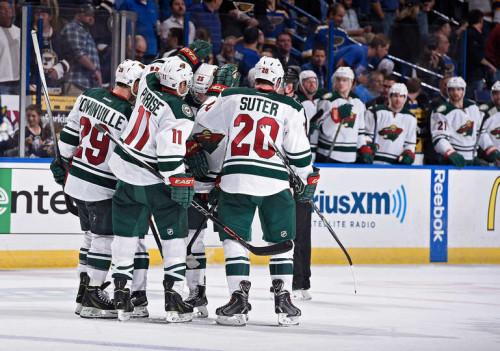 Hello, my fellow Wild fans!
How you feeling after that exciting win in the opening game of this series? I know I'm feeling great!
Coming in to this, I knew that the Wild would have the advantage with starting off on the road since they went on a streak of winning 12 in a row on the road. This will only prove to be helpful for us.
The Wild executed everything almost flawlessly in that last game. They had a pretty solid start, they didn't collapse in the 2nd period, and their power play and penalty kill were pretty good. In that game, we were 2 for 4 on the power play, and the only little hiccup our PK had was letting up that short-handed goal late in the final period.
But, the important thing is, the Wild came out with a 4-2 victory to open up this playoff series on a high note. This is the first game 1 the Wild have won in the playoffs since 2003, their first ever playoff appearance.
The Wild continue their quest for the cup as they have game 2 in just a matter of hours from now. They need to come out just as strong as they did Thursday night because the Blues are going to be hungry for goals after their game 1 loss on Thursday.
Puck drop for game 2 today will be officially at 2:20, and will be televised on NBC.
Who's ready for another Wild victory?