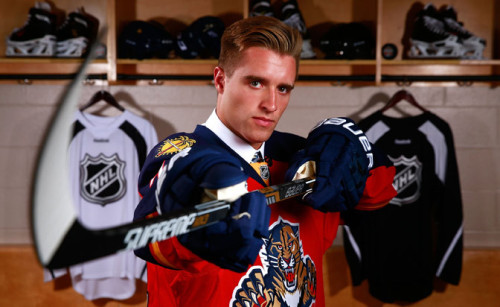 Things were going so well for the Florida Panthers; they made some quality signings in the infant stages of free agency. They convinced their RFA's to stay with the club. The traditional flurry of relocation rumors swirled in the summer breeze. Hell, it even stopped raining in Sunrise for a while. Things were going oh, so well. Well, kind of.
Alas, like that one dude once said, all good things must come to an end; falling victim to the ever-worrying "upper-body injury", first-overall pick Aaron Ekblad was sent home from the Canadian World Junior camp. Per Fox Sports-and in a shocking bit of clarity in the medical world of hockey-the 6'3″, 216-pound defenseman sustained a concussion in the heat of an exhibition game with the Czech Republic. Scrambling after a loose puck in the neutral zone, Ekblad extended his frame to reel in possession; unfortunately, the only thing he came up with was a faceful of shoulder pad. Meeting the burly Canadian at the blue-line was 5'11", 161 pound rearguard Lukas Klok, who floored Ekblad and sent the blue-chip prospect to the dressing room in what was essentially garbage time. Here's a GIF of the collision: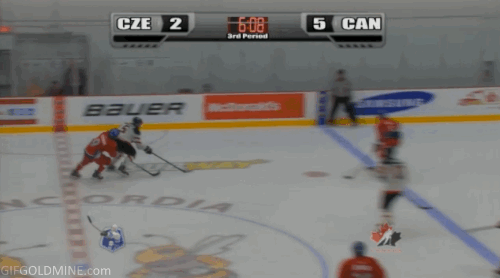 After the defecation hit the rotary oscillator, Ekblad was said to have been wobbly on his skates, lending credence to reports of a concussion; it was a horribly awkward hit-everything seemed to fall apart in slow motion-but it was evident that the Panthers' bright young star got knocked into the wrong end of a black hole. As a precautionary measure, executives of both Hockey Canada and the Cats have agreed to hold out the talented youngster for the rest of summer development camp.
Man, I'm praying to Korean Jesus that he has a speedy recovery-basically, the exact polar opposite of what kept Sidney Crosby on his ass for the better part of two seasons. Just one thing has me a bit concerned; other than the obvious consequences of a concussion scare, Ekblad sustained this injury at the hands of someone that yielded four inches and 55 pounds to him. Once again, it was an awkward hit, a sort of flukey, freaky chain of events-I just hope this isn't an omen, in however an obtuse way, of things to come.