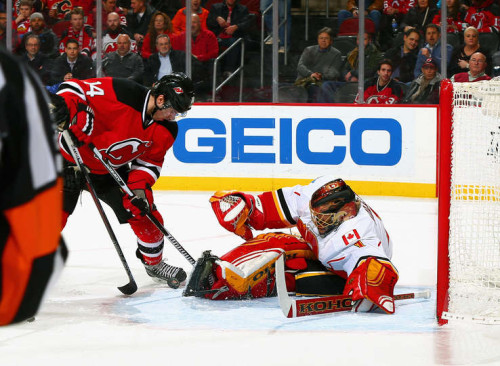 The Devils have won their last two games, Mike Cammalleri returned from injury, and they are a strong competitor for the Wild Card position in the Eastern Conference (a way better position than many projected for this team). They are also only three points behind the division rival New York Islanders, and four points behind the New York Rangers, sitting (at the time of writing) in the fourth place spot in the Metropolitan division. They play the Rangers three times and the Islanders once in February, and play the 5th place Metropolitan team, the Pittsburgh Penguins, in their last game before the All-Star break. Cory Schneider was also recently named an NHL All-Star. It is an exciting time to be a Devils fan right now.
It is also an exciting time to be Adam Henrique, who notched his 100th career assist in a 4-2 victory over the Calgary Flames. He passed to Cammalleri, who passed to Stempniak who potted the Devils' second goal of the game. The first line is back, and they're taking no prisoners. Check out the goal below:
He hit the post on a beautiful shot in the first period, and also laid out this beautiful hit against Dennis Wideman. He was on the penalty kill, too, and had just fooled Mark Giordano with a pretty puck drag:
Henrique has been getting increasing media attention this season, including a few appearances on NHL Network:
He also was mentioned for that same Christmas suit by Canadian legend Don Cherry, who decided he liked the jacket a touch too much (Cherry discusses it around the 2:04 mark):
Finally, he was featured in a Bloomberg News segment that saw NHL players rock the season's best investment coats. This had less to do with his NHL skill and more to do with his dapper sense of style, but he'll take it. Check out the article here. He's also got his own bobblehead.
What a time to be Adam Henrique. And, judging by this video-bomb, he's revelling in it.
When you don't get the goal but you get the 100th career @NHL assist. Congrats @AdamHenrique! #CGYvsNJD pic.twitter.com/oSvrGGLZJy

— New Jersey Devils (@NJDevils) January 20, 2016