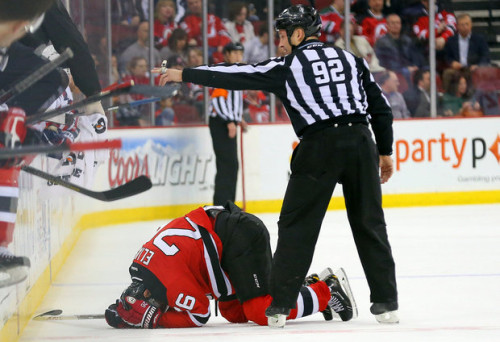 Just when things were looking up and Jiri Tlusty, Tuomo Ruutu and Patrik Elias returned to the Devils' lineup, they all three returned to the injury list, taking Jacob Josefson, Mike Cammalleri and John Moore with them.
Elias began the season with a knee injury, and was once again placed on the injured reserve list beginning on December 20, 2015. His injury is listed, again, as a knee injury. His linemate, Jacob Josefson, was injured a week later, placed on IR on December 27, 2015. He is described as having a lower-body injury. Tuomo Ruutu broke his leg in early October, returned for a few games, but was added to the growing list on January 7 with another lower body injury, the same day as breakout defenseman John Moore, who is listed as day-to-day with a lower body injury. Jiri Tlusty also sustained a lower-body injury, and his name was added to the IR list on January 9. Finally, superstar forward Mike Cammalleri was placed on the injured reserve list on New Years Eve 2015, with an injury that is also vaguely described as a lower-body injury.
With the continuous, devastating blows, Coach John Hynes has been forced to call up many Albany Devils, including Joseph Blandisi, Paul Thompson (who made his NHL debut January 8), Jim O'Brien and Marc-Andre Gragnani, and no longer has the luxury of rotating the bottom two defensemen from his starting lineup (regularly, he rotates Jon Merrill, Eric Gelinas and occasionally David Schlemko).
John Moore and Mike Cammalleri have been, arguably, the biggest losses to this Devils team, who finally snapped a three game losing streak in last night's 2-1 win over the Minnesota Wild. Moore has been a surprising success story for this year's team, scoring huge goals when they matter most (overtime, usually) and playing a solid defensive game. Cammalleri is the Devils' leading scorer and first-line right winger, collecting 35 points (14-21-35) in 38 games.
Despite the adversity and injuries though, the Devils sit fourth in the Metropolitan division with 47 points in 43 games (21-17-5), and are, at the time of writing, 8th in the Eastern Conference.
The Devils will continue their 4 game road streak (the longest of the season) tomorrow night against the St. Louis Blues.