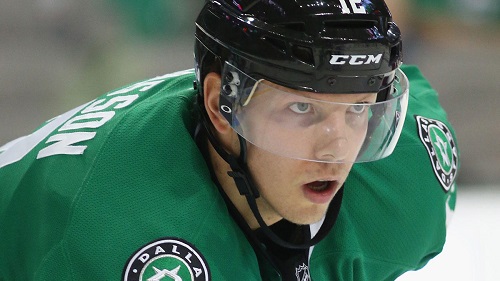 If you've been watching the Dallas Stars this season then you've probably noticed that one of the key players this season has been the Alex Chiasson, a rookie currently on the Stars second line. He has put up points in every game this season and shows no sign of stopping anytime soon.
Chiasson (pronounced SHAY-sahn), currently 23 years old, was born on October 1, 1990 in Montreal, Québec, Canada. Alex began skating at the age of 4 at the suggestion of his sister and has been a lifelong fan of the Montreal Canadiens. He went on to play with the Des Moines Buccaneers in the USHL in the 2008-2009 season under the direction of J. P. Parisé before enrolling at Boston University in 2009 and playing for the Boston University Terriers, a team that Alex says he enjoyed due to the close knit nature of the team.
Chiasson found himself being drafted in the second round, 38th overall, by the Dallas Stars in the 2009 NHL entry draft. He signed his first contract with the Stars organization for three years on March 26, 2012 and was assigned to their AHL affiliate, the Texas Stars. The Stars first pulled him up from the AHL towards the end of the lockout-shortened 2012-2013 season, and Alex scored his first NHL goal in his second professional game on April 5, 2013 against the Anaheim Ducks.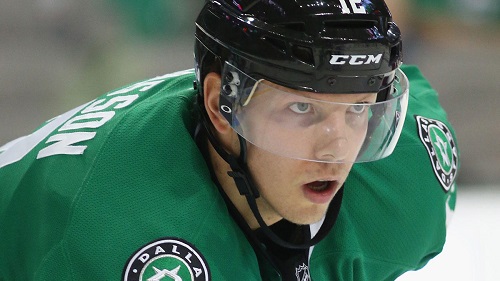 Alex Chiasson has come into the 2013-2014 season ready to win and doing his best to make sure his team does. He has quickly become on of the Stars' offensive leaders alongside players like Jamie Benn, Tyler Seguin, Ray Whitney, and several others. Chiasson has scored a goal in 3 of the 4 games the Stars have played this season and has 2 assists to go with with that, a total of five points in four games. I think that Alex Chiasson is definitely one of, if not the best rookie in the NHL at the moment and is certainly a contender for the Calder Memorial Trophy, a trophy given "to the player selected as the most proficient in his first year of competition in the National Hockey League." He is currently playing on a level that is most often found in players several years older than him and more experience of professional play under their belt. At this rate, Alex Chiasson can easily become the face of the Dallas Stars and a beacon of hope for the Stars when it comes to playoff play. He is one of the several players that show that the new and current Stars lineup is much stronger and quite possibly the one that will take the Stars to the next level that they haven't quite been able to reach in recent years.
A new star is rising in Dallas