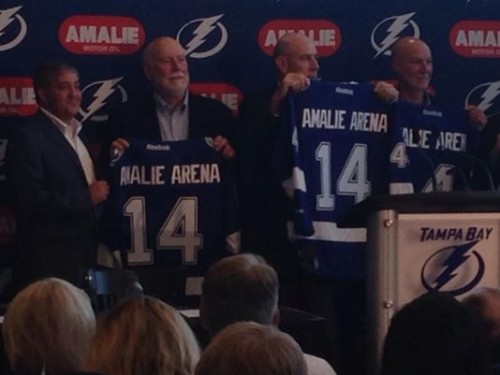 That came out of nowhere.
The building that I will probably always think of as the Forum (just as some people will always call it the Ice Palace) quickly became something else entirely on Wednesday.
The Tampa Bay Lightning announced a new partnership with Amalie Oil Co., meaning the Lightning's home games will now be played in Amalie Arena.
Here's the Times' description of Amalie Oil's role in the Tampa Bay area:
"Founded in 1903, Amalie Oil has been located on 30 acres in Port Tampa Bay since 1977 and has 250 employees. The family-owned enterprise supplies motor oil and industrial lubricants to international oil companies, automotive retailers, distributors, retailers, mass merchandisers and private label customers in 50 states and more than 100 countries."
For more on Amalie Oil, be sure to check out the rest of the Tampa Bay Times piece.
As for the Times, CEO Paul Tash said that the previous naming rights deal had reached all of the business goals that originally drove it. That deal has been cut short, as it was to run through August 2018.
The Times will remain involved with the team as an exclusive print and in-arena sponsor.
The most likely reason for the Times' detachment probably has more to do with the state of the newspaper industry than anything else, although the Times reportedly gained more than $1.3 million in media exposure during the 2012 Republican National Convention that took place at the Forum.
The money could undoubtedly be going to other places, and Tash admitted as much.
"Is there a better purpose to which we can now spend some of those resources? Probably so," he said. "But the decision is not based on that."
Regardless, while the change may bother sentimental idiots like me who have grown to know and love the Tampa Bay Times Forum, this is probably a good thing for all involved parties. It will boost awareness in the Bay Area for Amalie Oil Co, cash flow for the Lightning, and the spirit of Times employees (more money coming their way!).
So when the Lightning open on Oct. 9, it will be in the Amalie Arena. Stay tuned.