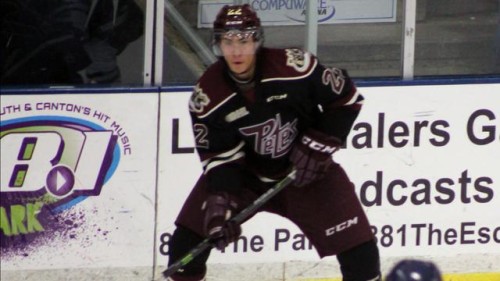 Recently I caught up with Peterborough Petes forward Jonathan Ang and discussed his rookie season. After overcoming a slow start to the season and being scratched on multiple occasions, Ang has secured his spot in the lineup as the Pete's 3rd line center and hasn't looked back since. With 16 points in 47 games, Ang has slowly been adjusting to the bigger bodies and quicker pace that is the Ontario Hockey League. Growing up as a Maple Leafs fan, Jonathan also looked up to Sidney Crosby as a role model in hockey as he loves his drive to win and his off-ice commitment to the game.
The Markham, Ontario native was selected in the 1st round, 9th overall by the Peterborough Petes in the 2014 OHL Priority Selection draft. Ang was named as one of the top academic players of the month in January in the OHL. School has always played a large role in Ang's success as he has put just as much effort into his academics as he has his hockey, "I just try to work hard in school. If you don't really try in school and then you come to the rink, you're going to have a similar mindset and not put in the right amount of effort." Jonathan's parents were a key to his success as he noted them being the two most influential people in his life when it came to trying to live out his hockey dream, "They were really important to my success. They drove me everywhere to practice and my Dad enrolled me in hockey at such a young age." Well Ang credit's his family, he wouldn't be where he is today without his hard work, dedication and training.
Not just in hockey, but also in life, people need to take the necessary steps to achieve success. Whether you are looking to run a marathon or get hired as an attorney, we all need to work hard and develop the necessary skills in order to achieve the end goal. Along with on-ice training every day, Ang completes off-ice work out's three times a week.
Early in his hockey career, one of the memories that has stuck most for Jonathan was his experience representing Canada at the U17 hockey challenge in Sarnia, Ontario, "It was unbelievable. Representing your country and playing against other countries was a really good feeling, it was incredible." Qualifying for the quarter finals was Ang's favorite memory from the tournament, "As a team we came together really well and we just knew what it took to be a winning team" said Ang. Ang represented Canada White in the tournament and they were able to cap off a solid showing with a 5th place victory against Canada Red. Ang scored a goal to help lead a come back from being down 2-0.
Ang has had an exciting start to his playing career in Peterborough and looks forward to taking the next step. He had enjoyed his stay in Peterborough and looks forward to whats ahead, "Peterborough has a long history in hockey, they've been here for a while. It's really good for me because my parents live close by and are able to catch every game". Having his parents at games helps to stimulate his on-ice play and contributes to Ang pushing himsef more.
Heading into the season, Ang quietly didn't have high expectations, but instead kept his goals in sight. "I just try to give it my all and give it 100%. I want to play the best I can night in, night out."
I asked Jonathan if he had any advice for a young player and he had this to say, "Keep working hard. Things will come. It might not be right at the beginning, but if you set goals and stay with it, I think it will work out. You need to go out with the right mindset and tell yourself you are going to win those puck battles and that you want it more than them."
With a few noted scratches early in the season, Jonathan looks to improve some facets of his game, "I need to get stronger, the guys out here are big and I need to get stronger and be able to compete better in battles".