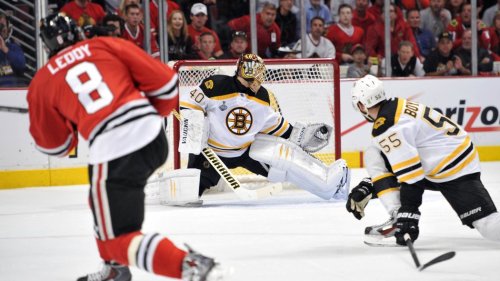 Johnny Boychuk (!!!) and Nick Leddy are Islanders after Saturday's trade that sent a bunch of garbage minor leaguers, 2nd round draft picks and the rights (?) to Anders Nillson packing. If you want the full trade scope go here.
Garth Snow did an admirable job solidifying his offense and defense this summer. Discussed in my preview of the Islanders, I mentioned how virtually every aspect of the Islanders' team had improved. The one that really hadn't was the defense. Well, now it has.
Johnny Boychuk
Johnny Boychuk has posted rock solid defensive stats since affirming himself as one of the Bruin's key shutdown defencemen. Since becoming a regular, Boychuk has boasted an average +/- of +14 including a +31 season last year. No Islander even came close to that last season. I mentioned in my preview how the Islanders needed to have someone eat up the 20:00 minutes of ice time that Visnovksy was playing: Boychuk is that player. Boychuk also has posted a 55% CORSI in his career. Not to mention a Stanley Cup win and a visit to the Stanley Cup finals. Boychuk adds depth and leadership to an Islanders blueline that needed just that.
Nick Leddy
Nick Leddy is coming off arguably his best season in Chicago. Outside of Duncan Keith and Brent Seabrook he was probably Chicago's most important defenceman. He is an excellent zone entry defenceman and is a product of Scottie Bowman's system in Chicago. Underutilized on the powerplay in Chicago, Leddy boasts a powerful shot and should be a welcoming addition to a powerplay unit that finished 17th in the league a last year.
What we lost
Who cares?