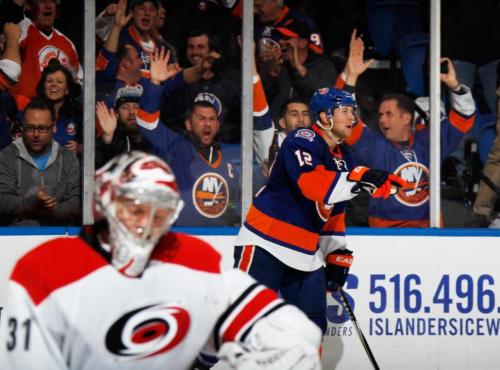 NYI 5 @ Carolina 3
Carolina 3 vs. NYI 5
The first two games of the Islanders season could not have gone better (well the Rangers could have lost all three of their games, but oh well).
Two games, two wins. Albeit we were up against a weak Hurricanes team who for some reason decided to play Cam Ward in the first game. But hey a win's a win.
Boychuk racked up 5 points in the two games. He's now on pace for 205 points, just saying. Grabovski also scored a goal in the 5-3 win against Carolina on Friday. Nice to see the new players doing their parts.
But the real star here is Brock Nelson. 6 points in two games, the sophomore has really come out of his shell early this season.
"There are a few areas we need to clean up, but we had a good power play and couple of big penalty kills," Nelson said. Nelson scored the goal that led to the Islanders winning 4-3 Saturday night at the Nassau Coliseum. In Raleigh Friday night he had two goals and two assists.
The thing I love about Nelson is he plays a defensive game that allows him to create offensively for himself. He is a hard worker and could be a Selke candidate later on his career. If these first two games are any indication this could be an excellent season for Nelson and co.
Defensively the Islanders did a respectable job. It was nice to see them allow under 30 shots for once (and hold a lead going into the damn third period). Boychuk and Leddy are clearly making their marks.
Halak was a little shaky allowing 3 goals on 24 shots in both games, but it's early and if things go awry we do have Johnson.
Next up the New York Rangers at home on the 14th.