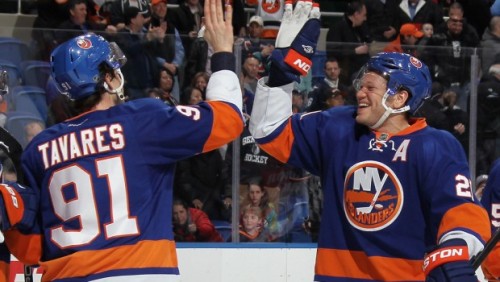 Goaltending
From Russia with Glove is gone (Evgeni Nabokov) and so too is the platoon of Poulin and Nilsson's and their combined .893 save percentage. In their stead is Jaroslav Halak and Chad Johnson. Both huge upgrades over the aging Nabokov and pylons that were Poulin and Nilsson (seriously I cannot get over how bad they were).
However, there are some catches. Halak has a history of injury. He's a phenomenal goaltender, but if he goes down we have a less than reliable Johnson waiting on the bench. Johnson, who has exceled in the backup role before, including last year's stint with the Bruins, where he posted a .925 save percentage and a 2.10 GAA, has had his struggles in the AHL including a 3.00 GAA season as recently as 2013. If Halak gets sidelined what Johnson are we going to get? And if Johnson goes down? Fold the team.
A healthy Halak and a consistent Johnson are keys to the Islanders goaltending. Providing they aren't being shelled with shots, both will help the Isles record this season.
Defense
The Islanders allowed 30 shots per game good for 16th in the league. We certainly weren't the Toronto Maple Leafs (who allowed over 35 shots per game) but we very well could have been. Despite allowing less shots the Islanders allowed more goals than the Leafs. This should improve with our upgraded Goaltending core, but the defense is also to blame.
The main defensive core is aging. Lubomir Visnovksy who at 38 isn't the player he once was, was injured for the better half of last season. Despite age, digression in production and injury problems he still racked up 20:00 minutes of ice time per game. If the defense is to improve Visnovksy needs to improve, or somebody needs to fill his 20 minutes of ice time. The nearly $5 million cap hit doesn't bode well either. This isn't the same man who scored 67 points in 2010-11.
Along with Visnovksy's injury troubles, a concussion injury to Travis Hamonic doesn't bode well. A promising aspect of the Islander's blueline, will he be the same player he was before the injury? Hamonic has posted excellent Corsi numbers in his time with the Islanders, he needs to continue that trend.
No Islanders defenseman had a +/- above -1 besides Hamonic who was a +2 and Thomas Hickey at +5. Typifying the Islanders defense was the useless Matt Carkner who had a -10, despite being in the penalty box for 149 minutes. Somebody urge this man to an early retirement.
Despite aging defensemen, the Islanders have a lot of promise in young defensemen, especially in Hamonic and Hickey. Another season should see these young D-men develop further. With better goaltending they'll be let off the hook for their mistakes more often too.
Offense
The Islanders were busy this offseason adding depth to the offense. The signings of Kulemin and Grabovski were arguably the savviest of the summer. Garth Snow added two of the best puck possession forwards in the game. Snow didn't overpay either with Kulemin earning $3 million this year and Grabovski earning $4 million. Kulemin who has been seriously undervalued in Toronto the past couple of seasons will be an effective second liner winger, with Grabovksi to anchor the second or third line. Grabovski is also a more than capable powerplay man.
Many were concerned when John Tavares went down last season and what it meant for this season. Concerns should be laid to rest as Tavares is perfectly healthy (hell he could've skated in May).
Okposo had a huge season with the Islanders with 69 points in 70 games. Despite never putting numbers up like this before the numbers are easily explained – more power play time and playing with Tavares. He should see more powerplay time this season and expect him to play on the wing with Tavares once again. There's no reason he shouldn't put up similar numbers. Advanced stats indicate this season was no fluke.
Guys like Ryan Strome and Anders Lee need to be given a chance. They're young, but also insanely good. Drop the veterans and the "tough guys" (I'm looking at you Eric Boulten) and let the kids play.
The Verdict
With the Islanders improving literally every facet of their team they should strive towards a better season than last year. There is no reason for them not to compete for a playoff spot.
W: 41 L: 31 OL: 11 PTS: 93