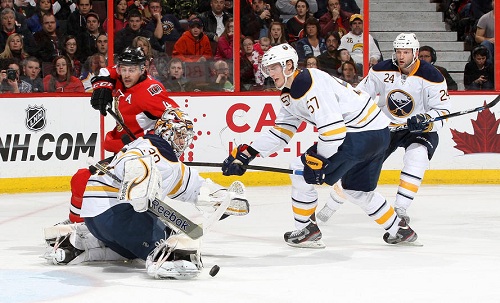 Craig Anderson stole the show stopping 42 shots for a shutout win over the Buffalo Sabres at Scotiabank Place.
Erik Karlsson was the guy to watch out for on the ice tonight – and for good reason. He saw the opening after a solid pass from Milan Michalek; he went for it and fired a short-handed bullet past Ryan Miller at 15:20 in the second.
"That's Karlsson," Anderson said. "Enough said. Period. End of story. He's just one step ahead of everyone else."
Erik Condra extended the Senators lead less than two minutes later off a scramble in front of the net.
Miller has been on fire since Buffalo's 3-2 win against the New York Islanders last Saturday. He was outstanding in the Sabres' 3-1 loss to the Bruins on Sunday and he carried that solid play into tonight's game.
He made an incredible sprawling save off a shot by Kyle Turris at 13:45 in the third.
Miller has blocked 106 of the 112 shots he's faced in the past three games.
Buffalo outshot Ottawa 13-7 in the first period and 15-7 in the third, but were unable to capitalize. Jordan Leopold and Thomas Vanek led the team, each with five shots on goal.
Drew Stafford is one player in particular who can't seem to capitalize. He is 0 for 40 in shots this season. The only Sabres player with more shots than Stafford is Vanek. Vanek, however, leads the NHL with 11 goals and 23 points.
Offense continued to be a struggle for the Sabres tonight. Tyler Ennis has had the lone goal in the past two games.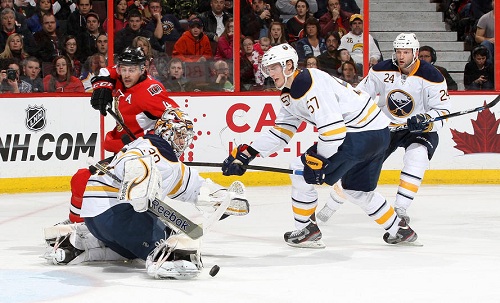 The man-advantage was a struggle for both teams. Ottawa was 0 for 8 and Buffalo was 0 for 4 on the power play. The lack of discipline from the Sabres needs to change according to Head Coach Lindy Ruff.
"We can't put ourselves in that position," Ruff said. "We used a couple of our better players killing penalties and they emptied the tank there."
That tank has already been emptying steadily as the Sabres have approached their 14th game in 24 days. They now have a few days off before they face Boston on Friday at First Niagara Center.
Miller had 29 saves in tonight's game. He now carries a 2.89 GAA and a .915 save percentage.
The Sabres are now 5-8-1.
Three star selections:
1. Craig Anderson
2. Erik Karlsson
3. Erik Condra
NOTES:
• Mikhail Grigorenko had 1:58 on the PP.
• 800th NHL game for Jochen Hecht
• 600th NHL game for Leopold
Love Reading About Hockey?

Subscribe to keep up-to-date with the latest and most interesting hockey news!
| | |
| --- | --- |
| | We hate spam just as much as you |