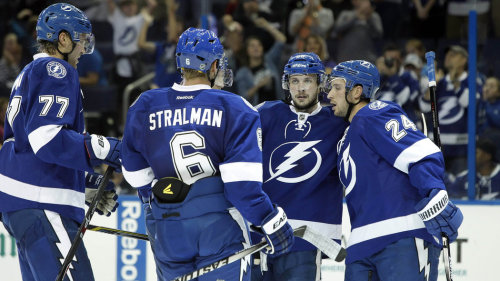 As first impressions go, Anton Stralman made an outstanding one in his Tampa Bay Lightning debut. His two goals were a big factor in the teams 6-3 thumping of the Dallas Stars Friday night.
Working alongside 2009 second overall pick Victor Hedman, Stralman didn't seem a bit out of place despite the new surroundings. He was responsible defensively, yet knew exactly when to jump in offensively. That was evidenced by his team-high plus-4 rating and five shots on goal (he very nearly had a hat trick from my vantage point) while averaging close to 22 minutes of ice time, second only to Hedman's 25.
Signed to a massive contract this past offseason by Lightning general manager Steve Yzerman, Stralman hasn't disappointed. His communication with Hedman seems to be on target, aided largely by the fact both are Swedish. And as a result, both are playing some wonderful hockey. In fact, it's worth noting that the veteran has surpassed his goal total from last season, when he was with the New York Rangers.
Now, I realize it's only preseason. Things can change. Players might perform above expectation in exhibition games but fall flat once the regular season begins. While all of those are good points, I believe Stralman will continue his good play. The main reason: He's coming off a loss in the Stanley Cup finals and wants more.
For the Lightning, the addition of Stralman strengthens a defensive corps that struggled at times last season. One which got pretty much owned in their season-ending playoff sweep against Montreal.
Could his presence bring another Stanley Cup back to hockey paradise? While I'm not ready to make such a prediction at this time because hockey's a team game, there's no denying Stralman will play a huge role in determining just how far the 2014-15′ Lightning go.