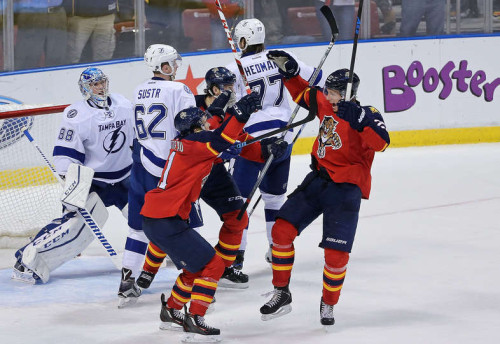 What a difference a year can make.
Last season, the Tampa Bay Lightning shocked many in the hockey world by making it all the way to the Stanley Cup finals before falling short against the more experienced Chicago Blackhawks.
Coming into the new season, hockey analysts everywhere had them predicted as being Atlantic Division champions and it wasn't supposed to be close. Some even went as far as to label them Presidents Trophy winners.
Not a huge surprise considering what this team accomplished only a year ago, displaying an uncanny sense of resiliency at every turn. This was seen best in their ability to quickly put defeats in the rearview mirror, something evidenced by the fact they never lost three games in a row until they reached Game Six of the Cup finals.
This year, however, things have taken almost a complete 180 after 20 games.
Offense, a strength in years past, has gone silent. The Lightning have been shut out four times (yes, FOUR!) and scored one measly goal in the remaining five games. As a result, the team sits in a difficult position with a record below .500 (8-9-3) for the first time in awhile.
Putting aside the offensive woes, injuries to key contributors have hurt from the standpoint of building cohesion among linemates. Players such as Victor Hedman, Tyler Johnson, Jonathan Drouin, Cedric Paquette and Brian Boyle have all missed games due to various ailments. Monday in South Florida the Lightning were without Johnson, Paquette, Drouin and Ondrej Palat, who is out 3-5 weeks nursing an ankle/leg injury.
Heading into Thursday nights matchup with the Eastern Conference-leading New York Rangers, the Lightning received news on Wednesday that forward Ryan Callahan has joined the ranks of those walking wounded and may not be available to play. For those wondering, that means four of the teams top six from opening night (Callahan, Drouin, Palat, Johnson) could be missing when the Rangers come to town for an Eastern Conference Finals rematch.
Luck and bounces have also played a role, though not as much as people might lead you to believe. By that, I mean players must put themselves in positions to score. While improved, the Lightning have not done that on a consistent basis thus far. Crashing the net or getting in front of the opposing goaltender creating a screen are effective ways of scoring.
For the Lightning, it's about getting down and dirty. Forget the pretty goals (those will come soon enough), instead focusing on what will bring favorable results. That may involve shooting where you want to pass or getting under the skin of an opponent, but when everything's said and done it will prove worthwhile by leading to wins.
Ultimately, that's what teams are judged on. If you don't win, there's no shot of making the playoffs and if you don't make it to the dance, championship hopes fall by the wayside.
As talented as the Lightning are, missing the postseason shouldn't be an option. Minus a prolonged winning streak, this slow start might make it become reality though.