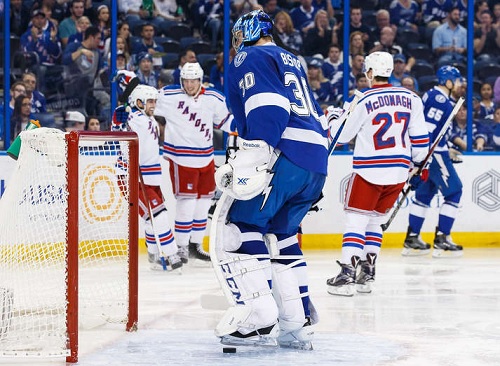 Seven months and three days ago the Tampa Bay Lightning were flying high, having captured the Eastern Conference crown and a berth into the 2015 Stanley Cup finals.
Fast forward to now. The Bolts currently sit three points out of a playoff spot after losing three of their past five games inside the friendly confines of Amalie Arena. That includes two straight against the struggling Montreal Canadiens and New York Rangers.
Unacceptable is one of many words used to describe the first two and a half months of a season which had high expectations written all over it.
Offense has been a struggle, evidenced by the fact an AHL callup-Jonathan Marchessault-has more goals than veteran Valtteri Filppula. Ryan Callahan has been absent from the scoresheet a lot this season as well, though to be fair he's more of a grinding type of player who's better at wearing out opponents than scoring.
Lately, the defense has also been on vacation. Take the first goal scored in Wednesday's game against the Rangers for example. Dan Boyle (remember him Bolts fans?) received a pass from Keith Yandle and had all the time in the world to pick a spot, release the puck and beat Ben Bishop. Oh, and that goal Dale Weise scored to tie the game and send it into extra time Monday night, giving away two important points? Defense failed there too.
Special teams is another issue that sticks out like a sore thumb. Currently, the Lightning sit 17th in the league on the man advantage. While better in the past three games (hence the climb from 24th up to 17th in the rankings), the 1-for-10 effort in a loss to the Vancouver Canucks less than 10 days ago stings badly for a team that needs two points nearly every game from here on out just to make the postseason.
Before everyone jumps me for picking on the team, I'll admit injuries haven't helped. Tyler Johnson, Ondrej Palat, Cedric Paquette, Jonathan Drouin–those are all integral guys to our success so yes, them missing multiple games due to one injury or another hurts.
In saying that, every team deals with injuries. Maybe not as much as the Bolts have this season, but they do. Heck, the Canadiens are without last season's NHL MVP, Carey Price, yet they're finding ways to stay in the playoff picture. Same goes for the Rangers, who were without their top two defensemen for a period of time, but still managed to stay in the playoff hunt.
Maybe I'm reading too much into things considering it's only the end of December, but this Lightning team's habit of giving away points like candy in a candy store sure doesn't bode well for their hopes of getting on a long winning streak.
As the calendar flips to 2016, the Lightning need to find a way to start winning games. If they don't, missing the playoffs will be more than just a dream. It will instead become the harsh and unacceptable reality for a team that came two games away from capturing their second championship in team history not too long ago.