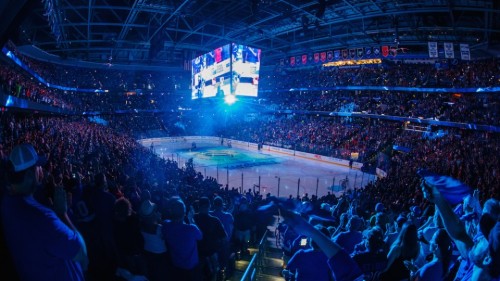 For the Tampa Bay Lightning, the 2015 offseason was much shorter than it's been in previous years. The Bolts exceeded expectations by winning the Eastern Conference, yet fell a tad short in their quest to capture the greatest trophy in all of sports-Lord Stanley's Cup. In 2015-16′ they hope to finish what they began last postseason. If that occurs, they'll be the first team since the 2009 Penguins to win the title one year after losing it. Short of major injuries to key components (or a distracted captain but we'll get to that later), the Lightning will be a virtual lock to make the playoffs. Getting back to the same spot, however, will be the ultimate challenge because of the parody seen within the NHL.
Even though the Lightning begin the season inside the friendly confines of Amalie Arena, they will be forced to endure one of the more daunting October schedules in recent history. That includes road trips to Nashville, Chicago, Boston, Buffalo, Detroit, Winnipeg and St. Louis. Five of those teams made the 2015 postseason, with the Hawks defeating the Bolts in six games to capture their third championship in six seasons. The team which takes the ice Thursday night is eerily similar to the one last seen trudging off the United Center ice last June, but there's a few new faces.
Forwards:
Veteran Brenden Morrow is gone, with former Ottawa Senators forward Erik Condra signing a multi-year deal to take his place in the bottom six. Captain Steven Stamkos will again don Bolts blue (let's hope this isn't the last time we see him wearing that color), and he'll be counted on to provide the type of offense expected from a two time Rocket Richard Trophy winner. He'll also be relied upon to give a still young team the leadership needed to overcome any obstacles presented as they battle to meet, or exceed, the expectations set forth by many within the organization. The much hyped Triplets line consisting of Tyler Johnson, Ondrej Palat and Nikita Kucherov must continue to build upon last season's breakout campaign, one that saw them finish one, two, three in team plus/minus and points. Johnson's 72 points were enough to tie him with Stamkos for the most points on the team a season ago. He then finished the postseason tied with Chicago's Patrick Kane for the most goals, something that might have won him the Conn Smythe Trophy had he not fractured his wrist during Game One of the Cup finals, limiting his ability to perform at the level wanted and needed in June.
Valtteri Filppula needs to improve upon last years subpar performance (12 goals, 48 points in 82 games) this season. Vladislav Namestnikov has officially graduated from the AHL and will likely start the season on the fourth line. He can also fill in for any one of the triplets should injuries occur (crossing fingers they don't but considering the short offseason, it's good to have insurance when needed). A good majority of chatter has surrounded Jonathan Drouin who, after a strong preseason, will start on the top line alongside Stamkos. His four goals and 32 points last year were disappointing, but not entirely unexpected given the fact he missed all of training camp and the first 12 regular season games due to a thumb injury. With that behind him now, I'll be interested to see whether he's indeed the playmaking winger Stamkos has lacked since the departure of future Hall of Famer Martin St. Louis. Ryan Callahan will also need to duplicate last seasons 54 points (24 goals). Brian Boyle, Cedric Paquette, J.T. Brown, Namestnikov and the new arrival Condra will be counted on in bottom-six roles.
Defensemen:
Five of the seven defensemen on last season's opening day roster and six of the seven who saw some action during the 2015 postseason return. Mark Barberio, a frequent healthy scratch for most of the playoffs, left for the Montreal Canadiens as a free agent. Taking his place is youngster Nikita Nesterov who impressed in several brief stints last year. The Lightning's top four of Anton Stralman, Victor Hedman, Jason Garrison and 2015 trade deadline acquisition Braydon Coburn are as steady as they come these days, with Hedman a legitimate Norris Trophy contender if he can remain healthy. Andrej Sustr and Matt Carle make up the teams third pairing.
Goaltending:
Ben Bishop will begin his third season as a NHL starting goaltender and there's no reason to believe it will be one of his last. His 40 wins in 60 starts last season were phenomenal, setting a new franchise record. While not as outstanding as the previous year where he finished third in Vezina Trophy voting, his 2.32 goals against average and .916 save percentage ranked in the top tier of all starting goalies. In the postseason (his first), he stepped his game up to a whole new level by pitching two Game 7 shutouts (three overall) to lead the Bolts all the way to the Stanley Cup finals. Touted prospect Andrei Vasilevskiy will miss the first month or so recovering from surgery to remove a blood clot from his shoulder area. During his absence, Kevin Poulin (or Kristers Gudlevskis if he's tearing it up at AHL Syracuse) will be expected to fill in for Bishop on the rare early season back-to-backs. Vasilevskiy should be ready to rejoin the Lightning in early November if all continues to go according to plan (fingers crossed), and has the potential to appear in approximately 20-25 games.
Special Teams:
The Lightning power play was not considered to be a strong point last season. It finished in the bottom half of the league, a real mystery considering all of the offensive firepower they possess. So far during the preseason, they've tried different combinations with little to show for it. Steven Stamkos remains a threat from the left circle, but opposing goaltenders know how to shut him down by this point. This team can be dangerous, but that will only happen if they shoot more than pass. The Bolts penalty kill finished 11th, a big upgrade from previous seasons, but head coach Jon Cooper expects more. The goal this year is to crack the top 10 and go from there, with the possibility they could finish in the top 5 or close to that. Adding Erik Condra will certainly help them attempt to reach that goal.
Bottom Line:
The Lightning's Stanley Cup run last season was largely unexpected given the youth, but nobody will be surprised this time around. With the majority of last years roster still intact, it shouldn't be too difficult to find a groove. However, a short offseason coupled with an extremely difficult schedule could make winning games a bit more challenging than they've been in past years. If they struggle early on, the chances of winning the Atlantic Division dwindle a little but not enough to miss the postseason altogether. Put simply, the Lightning are a bona fide contender, but anything short of a deep playoff run will be viewed as disappointing in the eyes of some.