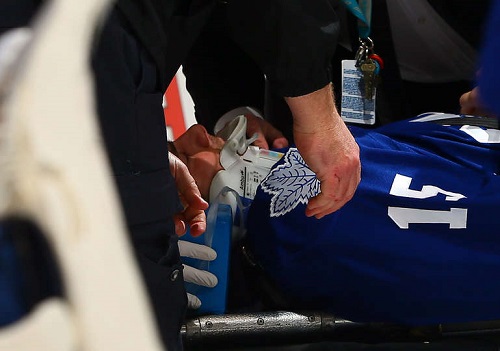 Anyone who has ever seen the Leafs play at the Air Canada Centre could tell you that the crowd on game night is rarely ever quiet. Wednesday night's game against the Tampa Bay Lightning was one of the few times you could hear a pin drop in the arena.
With less than 10 seconds left in the first period, Tampa's Alex Kilhorn boarded Leafs' D Paul Ranger, sending him head-first into the glass, then onto the ice, where he didn't move for what felt like an hour. Ranger was taken off the ice on a stretcher, at which point the noise-level went back up; a standing ovation and applause for Ranger, and a chorus of boos for Kilhorn.
While Kilhorn was given a boarding penalty and game misconduct for his hit, the NHL announced yesterday that there would be no disciplinary hearing for the 24-year-old Halifax native. The announcement sparked massive Internet controversy, and fans have been arguing the decision on social media. On the surface, the debate is about one specific incident, but in reality, it goes far deeper than that.
Physicality in the NHL has been a popular topic of discussion in the hockey world, especially in the last few years. People have been debating every aspect with extreme attention to detail: what level of violence should be allowed, how severe punishments should be for certain hits, who is at fault when a player is injured, the consistency of punishments given to players, and everything in between.
Consistency of punishments given is one of the most difficult of the subtopics to debate, because it's written right in the NHL distribution and severity of penalties and game misconduct charges are greatly dependent on the Referees judgement.
Section 6: 41.1 says of boarding calls: "There is an enormous amount of judgment involved in the application of this rule by the Referees. The onus is on the player applying the check to ensure his opponent is not in a defenseless position and if so, he must avoid or minimize contact. However, in determining whether such contact could have been avoided, the circumstances of the check, including whether the opponent put himself in a vulnerable position immediately prior to or simultaneously with the check or whether the check was unavoidable can be considered. This balance must be considered by the Referees when applying this rule."
Take, for instance, Washington Capitals' forward Tom Wilson's hit on Braydon Schenn of the Philadelphia Flyers this past December. The hit wasn't identical to the one on Ranger, but there were many similar aspects. Schenn's back was turned to Wilson when he was hit into the boards, as was Ranger's, and both players saw the hit coming right before it happened. While Schenn was hit in the shoulders, both players were sent head-first into the boards. Both Wilson and Kilhorn were given five minute majors and a game misconduct. However, Wilson was given a hearing by the NHL.
So, what made these two similar circumstances different enough that only one players received post-game discipline? Neither Schenn nor Ranger had any serious or career-threatening injuries as a result of the hits, both players had their backs turned on contact, and both Wilson and Kilhorn were ejected from the game for their actions. It is this type of inconsistency in the NHL that needs to be corrected. While best judgement will always have to be used in certain circumstances, it would make sense that physical fouls with such similar qualities should be treated equally as such.
No matter what, the hockey world is always going to argue amongst itself when it comes to checking, injuries, and all things related. Fans are never going to simultaneously agree on where the blame of a physical foul should be placed – that's just how sports work. People debate these issues with no resolution in sight, and that's part of what makes sport so interesting.
Whether you think Kilhorn should have received a disciplinary hearing, or that Ranger was 100% to blame, what's obvious is that there needs to be a more structured system that determines what constitutes a hearing… at least one more structured than "the Commissioner may, at his discretion, investigate any incident that occurs" (Section 4, 28.1). Because guys… c'mon… It's Bettman (at least we can all agree on a good Bettman joke, right?).