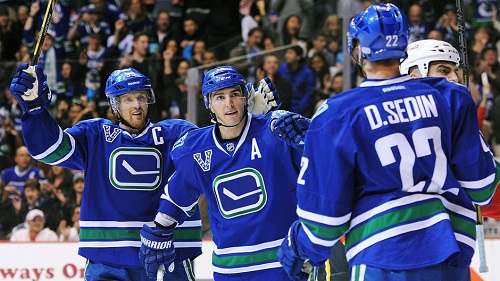 Let's face it: The twins are getting older.
They're in a tougher division and conference now too. The competition has become more intense and the need to win is the Vancouver market is ever so increasing. Putting that aside though, are the Sedins in a downward decline to their careers?
Yes, I believe they are.
Why? Well here's the scoop: Each brother is on pace for one of the lowest scoring seasons of their career, there's a lot of questions to be answered. Did the Canucks make the right move paying them big money at such an old age? Is either player deserving of the money the Canucks dished out to them? Can either player adapt to a new strategy and revive their declining play? Or could it be that John Tortorella is using every ounce of energy they have in each game a little too often and finally age is catching up to them?
The biggest problem the Sedins have is one go to strategy and each team has caught on to it.

Years ago when they started doing the cycle behind the net each game and making the opposing team's defenders scramble more than my mom scrambles her eggs, it was exciting. Now, when you see Henrik or Daniel, you automatically assume the strategy they will go to and the teams have caught on to it.
Henrik only has 15 points in his last 25 games and Daniel only has 18 in the his last 25. Sure Henrik was just 2nd in points two months ago, and yes they might be in a slump, but slumps for players like the Sedins shouldn't last as long as they have. A couple games, fine. Two months? I'd put red flags on that. They aren't necessarily in a scoring slump but, they're in a slump where they aren't effective enough in each game and that's not helping the team at all right now while they're on a 5 game losing skid.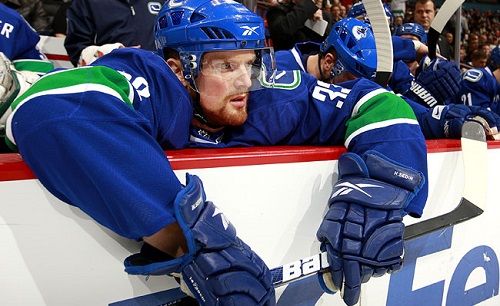 Don't get me wrong, both players are still very effective and work their butts off each night. But, in my opinion, neither player is as effective as they used to be. I haven't seen many games this season where I am saying "Wow! Look at the Sedins!" Now I say something different after games, "Where are the Sedins?" Just look at the stat sheet some nights and you'll see why. They've been really streaky this season, and not in a good way either.

Could the answer to their slump be Alex Burrows? Possibly. He's been injured for the majority of the season with separate injuries that have only let him play a limited amount of games. There's a report going around that an unknown Canuck is playing with an injury that will need some sort of surgery sooner the later. Is it Henrik or Daniel? And if it's either of them, I'll put my money on Henrik. I think he's trying to protect his ironman streak and also be too much of a leader in front of a new coach.
Speaking of Henrik, there are reports that he has a wrist injury that could require surgery, but he is currently battling through both that and a finger injury right now which led him to not take a single face-off last night in their 5-4 shootout loss to the Pittsburgh Penguins.
The Sedins will need to get out of this funk they're in and hopefully get more effective on the ice in the second half of the season. If they can be more effective on the ice, the Canucks will be a better team. If they can't then the Canucks will continue to slide down the standings and through the cracks.