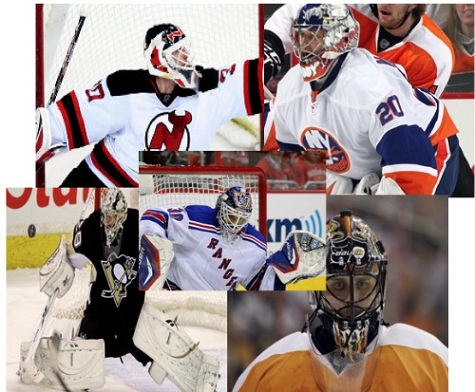 In our breakdown of the Atlantic Division, we've already looked at the top 5 forwards and the top 5 defensemen. We'll wrap up our breakdown of the Atlantic Division by looking at the top 5 goaltenders in the division. Now, more than likely with each division we look at, each team will get 1 goaltender on the list, but this list is focused on the actual ranking of the goaltenders. We know that it's highly likely that each team gets a goalie, but let's see who's actually the best goaltender in the Atlantic Division.
Instead of doing an honorable mention, we'll rank the backup goalies in order and then rank the starters. I won't offer projections on the backups because it's too difficult to predict how many starts they will get, and for the starters, I will project their stats based on the number of starts they received last season. First the backups:
5. Michael Leighton, Philadelphia Flyers
After stepping up big in the 2009-2010 playoffs and helping the Flyers get to the Stanley Cup Finals, Michael Leighton's career has gone nowhere. In 2010-2011, Leighton had back surgery and was only able to play 1 game for the Flyers. Also, due to the emergence of Sergei Bobrovsky and Brian Boucher, Leighton was sent down to the minors. The same was true for the 2011-2012 season as Leighton spent nearly the entire season in the minor leagues, getting just 1 start in the NHL. Now, Bobrovsky is gone and Leighton is getting his shot as Bryzgalov's backup. We have no idea which Michael Leighton will show up and he wasn't exactly dominant in his 86 games in the AHL, going just 42-38-4 with a 2.45 GAA. With Bryzgalov's inconsistencies, Leighton may actually get a shot to be the starter later in the year, so hopefully he's found his game by then.
4. Rick DiPietro, New York Islanders
Many forget that the much maligned DiPietro actually used to be good before all of his injuries. In 2008, DiPietro was actually an All-Star…and then he hurt his hip in the shootout competition. He was Team USA's starting goalie in 2006. Now? DiPietro has played a grand total of 47 games in the last 4 years…and he hasn't even been that good in them, going 14-24-7 with a 3.34 GAA. Now, DiPietro may actually get a chance to be a starter later in the season depending on the play of Evgeni Nabokov, but it seems that every time DiPietro gets a chance to be the starter, some freak injury happens to derail his season. We'll see how he holds up this year, but for his sake, we hope that he can make it through a full season injury-free.
3. Johan Hedberg, New Jersey Devils
The "Moose" as he's affectionately known, turned in one of his better seasons last year, going 17-7-2 with a 2.23 GAA and a .918 SV%. He was excellent in relief of Martin Brodeur and almost always provided the Devils with quality starts. Unlike the first two backups we looked at, Hedberg doesn't have a realistic shot at becoming the starting goaltender, but he may be called upon a bit more this year if the Devils choose to give Brodeur more rest during the season. Hedberg is getting up there in age, now 39, but he can still be counted on to deliver when called upon.
2. Martin Biron, New York Rangers
Last year, Martin Biron posted solid numbers in relief of Lundqvist, going 12-6-2 with a 2.46 GAA and a .904 SV%. However, Biron had started the season on fire, going 10-2-1 with a 2.05 GAA and a .918 SV%. He slowed down towards the end of the season, but Biron definitely proved that he is a more than capable backup. In years past, the Rangers had been reluctant to play their backups, but Biron managed to play well enough to earn Coach Tortorella's confidence, which let Lundqvist get plenty of rest during the season. Hopefully Biron can keep it up for next season and allow Lundqvist to get plenty of rest during the season.
1. Tomas Vokoun, Pittsburgh Penguins
When he was with Florida, Vokoun was always regarded as one of the more unappreciated goaltenders in the NHL, always having to face an incredible amount of shots and always having a high save percentage. Last year, he got his chance in Washington, but fell flat on his face, eventually losing the starting job to Braden Holtby. Now, Vokoun is playing for the Penguins and is going to be the backup there. Maybe Vokoun will embrace his role as a backup and rediscover the form that made him a top-10 goaltender a few years ago. The Penguins could certainly use it as there is a bit of uncertainty heading into the regular season after Marc-Andre Fleury had trouble stopping a beach ball during the playoffs. However, Fleury is the unquestioned starter and Vokoun would be best served embracing the backup role and performing the best he can in the 20 or so starts he will get.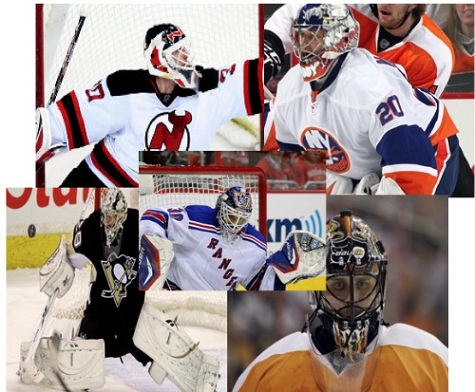 And now, it's time to look at the starters:
5. Ilya Bryzgalov, Philadelphia Flyers
Boy what a difference a year makes. After being one of the hottest commodities after the 2010-2011 season, Bryzgalov turned in a horrendous regular season. Aside from a 5 game stretch in March where Bryzgalov posted a 5-0 record, a 0.39 GAA, a .986 SV%, and 4 shutouts, Bryzgalov was terrible. If you remove that 5 game stretch, Bryzgalov's numbers become a 28-16-7 record, a 2.68 GAA, and a .901 SV%. He got even worse in the playoffs, posting a 3.46 GAA and a .887 SV%. After being heralded as the potential difference maker for the Flyers at the beginning of the year, Bryzgalov became the potential reason as to why the Flyers did not advance further. If the Flyers have any chance of advancing this year, Bryzgalov will have to find his game.
Last Year: 33-16-7, 2.48 GAA, .909 SV%
Projection: 31-19-6, 2.52 GAA, .906 SV%
4. Evgeni Nabokov, New York Islanders
After trying to orchestrate his comeback to the NHL by signing with the Red Wings, Nabokov was claimed off waivers by the Islanders and ended up staying with the team. In the 2011-2012 season, Nabokov posted decent numbers for the Islanders, going 19-18-3 with a 2.55 GAA and a .914 SV%. Heading into this season, Nabokov is favored to be the starter after the departure of Al Montoya and the uncertainty of Rick DiPietro. We know that Nabokov can be the starter and that he can be a damn good one, but playing behind the Islanders defense makes all that much harder. We'll see how well Nabokov can play, but I think he'll be better. For Nabokov, I'll project out his numbers based on playing 55 games since he will no longer be splitting time with Montoya like he did last year.
Last Year: 19-18-3, 2.55 GAA, .914 SV%
Projection: 26-23-6, 2.48 GAA, .916 SV%
3. Martin Brodeur, New Jersey Devils
After struggling a bit in 2010-2011, many wondered if the winningest goalie of all time was finally losing a step. He proved all of them wrong, leading his team back to the Stanley Cup Finals for the 5th time in his career, but the first time since 2002-2003. While Brodeur's regular season numbers weren't as stellar as they used to be, he made the big saves when he had to. In the playoffs, he took his game to another level, dropping his GAA from 2.45 to 2.12, and raising his save percentage from .908 to .917. However, at some point we have to expect a little drop off right? I mean the guy is 40 years old! He truly is a living legend and a once-in-a-lifetime goaltender. His two-pad stack is legendary. However, I do think we will see his numbers drop a little bit this year. For that reason, I slotted him at 3. I wrestled with this decision for a long time, but ultimately felt that at this stage in his career, I would take the two guys above him for the course of a regular season. Now if we are talking just one game, I might be more inclined to lean Brodeur's way over the next guy, but over the course of the season, I'll go with the other two guys. This is no knock on Brodeur, who is arguably the greatest goaltender of all time, just trying to be realistic about his abilities at the age of 40.
Last Year: 31-21-4, 2.45 GAA, .908 SV%
Projection: 29-22-5, 2.49 GAA, .905 SV%
2. Marc-Andre Fleury, Pittsburgh Penguins
As mentioned before, this was a very difficult decision made only harder by Fleury's massive struggles this past postseason. However, if we ignore the postseason for just a second and focus on his regular season, we see that "Flower" had one of his strongest regular season campaigns. Fleury posted the 2nd best GAA of his career (2.36), the 3rd best SV% of his career (.913 SV%), and a career high 42 wins, which was 2nd best in the NHL. We also have to look at the fact that Fleury is just 27 years old. Now…let's look at the bad. Last year's postseason against the Flyers was horrendous. Fleury had a 4.63 GAA and a .834 SV%. He gave up 26 goals in the 6 games he played. To put that in perspective, Jonathan Quick of the Stanley Cup Champion Los Angeles Kings gave up 28 goals in the 20 games he played. Ouch. After being a brick wall in the 08 and 09 playoffs, Fleury has regressed the past couple of years in the playoffs. However, I'm more inclined to think that last year's postseason was an aberration for Fleury and that the presence of Tomas Vokoun will push Fleury to be better. I think we'll see a better Fleury next year.
Last Year: 42-17-4, 2.36 GAA, .913 SV%
Projection: 41-16-6, 2.33 GAA, .916 SV%
1. Henrik Lundqvist, New York Rangers
This one was pretty easy. King Henrik is one of the most dominant goaltenders in the NHL right now and is arguably the best goaltender in the NHL right now. He is the reigning Vezina Trophy winner and is poised to get even better as he's still only 30 years old. Last year, Lundqvist posted one of the best seasons by a goaltender in the last 10 years, going 39-18-5 with a 1.97 GAA and a ridiculous .930 SV%. With the emergence of Biron as a solid backup, Lundqvist has been able to reduce the number of games he plays and has been able to stay fresher throughout the course of the season and thus his numbers have been better the past two years. I expect his win totals to be even better this year as the Rangers have a legitimate chance at winning the President's Trophy this year.
Last Year: 39-18-5, 1.97 GAA, .930 SV%
Projection: 41-15-6, 1.95 GAA, .933 SV%
So there you have it. That's our ranking of the top goaltenders in the Atlantic Division and this wraps up our breakdown of the Atlantic. Tomorrow we'll start working on the Northeast. Don't agree with our selections? Comment below!