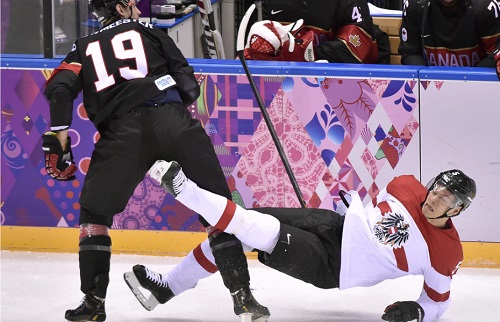 While Austria dropped their first game to Finland, they were able to take an early lead and show signs that they could go toe-to-toe in the international tournament. Austria's second game, against Canada, erased any positive impressions from the Finland loss.
Canada doubled Austria's shots 46-23, and handed out a stellar 6-0 win. Nobody is surprised that the favorites took the win from Austria, nor is anyone surprised of the one-sided scoreboard.
The Austrians did force Roberto Luongo to make some difficult saves, but he did come up big. They also had a four-minute power play against the Canadian powerhouse. Sadly, the man-advantage time was for not as they weren't able to capitalize at all on the surge. In fact, the Canadians put in their sixth goal while shorthanded.
Austrian Oliver Setzinger did have an exciting breakaway in the game, but wasn't able to take advantage of the rare opportunity.
Canada's pounding of Austria was just a flat speed-bump on their way to the end of the tournament. But Austria needs to take the loss as a learning experience. Austria has three NHLer's on the roster while Canada's roster is nothing but NHL superstars. But it's true that one way to improve is to face opponents more talented than you. Austria had that experience against Canada, and hopefully they can see areas to improve, ways to keep up with stronger teams, and look at the brief moments when they had the upper hand.
Austria's next game is against Norway. While Norway is not the powerhouse that Canada is, Austria still needs to look at their strengths and apply them to help snag an Olympic win.