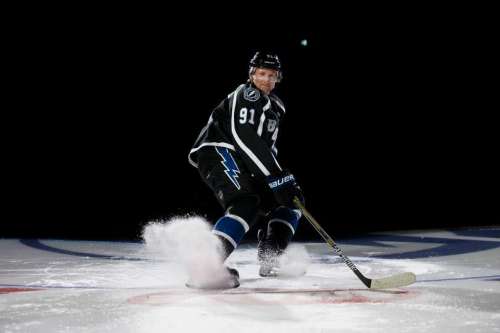 Winning.
That's my first thought after seeing the Tampa Bay Lightning's new third jersey, revealed by captain Steven Stamkos at Saturday's Fan Fest event.
Vague as that probably sounds, it's true. The Lightning wore black back in the old days, including the year in which they captured their first (and to this point only) Stanley Cup. So yeah, traveling back to some of this organization's best days is a great idea.
Fans love linking things together, especially when your team's experiencing a transition. They get that with this brand spankin new jersey, as it uses both the black from years ago and the blue used most recently.
Dave Andreychuk, captain of the Bolts last championship team shared some of his thoughts on the new jersey by saying this:
"The black really signified that team," he said. "…That jersey is going to be an icon forever because we won the Stanley Cup. Hopefully the black is going to be good luck for us."
More information, including quotes from owner Jeff Vinik and Stamkos regarding the new look can be found in this piece by Lightning beat writer Bryan Burns.
Also, for those who couldn't make it out to Fan Fest for one reason or another, check out this video.
Personally, I feel this is the right move for an organization trying hard to regain swagger. One that longs to be competitive year in and year out. It at least has to boost confidence that the team's much-maligned past might really be a thing of the past.
Whether that actually occurs will be left up to the team on the ice, but there's no doubting this Bolts team will look like winners night in and night out.
Is there anything better than that?