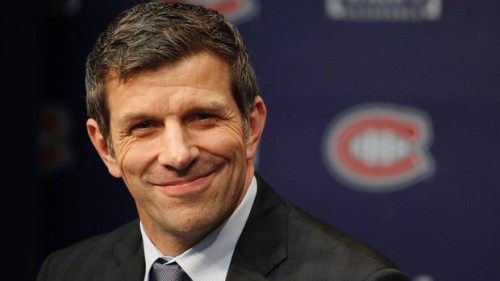 Marc Bergevin went into the 2015 trade deadline on March 2nd with a goal in mind. That goal, was to set a price and stick to it. Marc was not going to be taken advantage of by other general managers, or over pay for marginal talent due to it being a sellers market. The Canadiens general manager has a plan, and that is to build through the draft and develop young talent, and add pieces along the way through free agency and trade. The biggest difference between this era of the Canadiens and past era's is not trading away futures for marginal talent that will help you now and hurt you in the near future.
Look no further then when Bob Gainey dealt Ryan McDonagh in a package for Scott Gomez. That right there is the difference between Bergevin and past Canadiens general managers this decade. Bergevin is a fantastic talent evaluator and has one of the best head scouts in the NHL in Trevor Timmins. Timmin's was a big McDonagh fan, and the rumor that goes along with this is that Gainey went to see him play a game and didn't like what he saw so he threw him in the package. What kind of a general manager gives up on a prospect so early in his development, especially a defenseman? Bergevin has a plan, and hes going to be patient and look at the big picture in regards to how he goes about his business and builds his team.
The Canadiens dealt a 2015 second-round pick and a conditional fifth-rounder to Edmonton for Jeff Petry who has the option to become an Unrestricted Free Agent on July 1st if the Canadiens don't extend him. The fifth-round pick will become a fourth-rounder if the Canadiens win one playoff series and a third-rounder if they win two play off rounds. Petry will be a very solid addition to the Canadiens backend, and Bergevin made sure he didn't overpay for his asset. He set a price and made a deal for a player that will likely be able to help the Canadiens make a deeper playoff run. Petry will shore up the Canadiens 2nd pair and should play with either Nathan Beaulieu or Tom Gilbert. Veteran Sergei Gonchar will likely slot in on the 3rd pairing and limit his minutes.
If the Canadiens can lock up Petry this summer, they will have a future top 4 defense of Subban-Beaulieu-Petry-Tinordi, which will be a fantastic foundation to build from with Carey Price in between the pipes. Petry is a smooth skating, puck moving defenseman that will not shy away from playing the body, but isn't knowing for being a physical presence. He's known for being a hard worker and it will be interesting to see how he reacts to playing in a winning city like Montreal.
The Canadiens were also able to shore up their forward depth on Monday by adding two Buffalo Sabres, Torrey Mitchell and Brian Flynn. The Canadiens dealt a 5th round pick in 2016 for Brian Flynn and a 7th in 2016 along with prospect Jack Nevins for Torrey Mitchell.
Torrey Mitchell is a fast and hard-working versatile player. He can move around the lineup which Therrien will like and utilize. He's not a big, strong guy but Mitchell is a solid two-way player with 60 games of playoff experience which Beregvin definitely took into consideration. Mitchell's speed is his biggest asset which will fit in nicely with the quick Canadiens. Like Bergevin has said, there are players that get you to the playoffs and players that elevate their games in the playoffs to win cups. The Montreal native will likely make his debut in the lineup on Wednesday in LA.
Brian Flynn is a heart and soul kind of player that the Canadiens brass loves. With 17 points this season, Flynn will be a welcomed addition to a Habs 4th line that lacks scoring depth. He will add speed to the bottom of the Habs lineup and will likely contribute to the Canadiens penalty kill. He has valuable defensive skills and will be a marginal upgrade over Malhotra on the 4th line.
Marc Bergevin had a goal in mind on Monday's deadline and that was to add some solid pieces to his lineup, but not to give up futures for them. By adding Petry, Mitchell, and Flynn, the Canadiens improved their club at the deadline and Bergevin can be happy that with the insane market prices that were out there, that he got his pieces for exactly what he wanted.
Love Reading About Hockey?

Subscribe to keep up-to-date with the latest and most interesting hockey news!
| | |
| --- | --- |
| | We hate spam just as much as you |