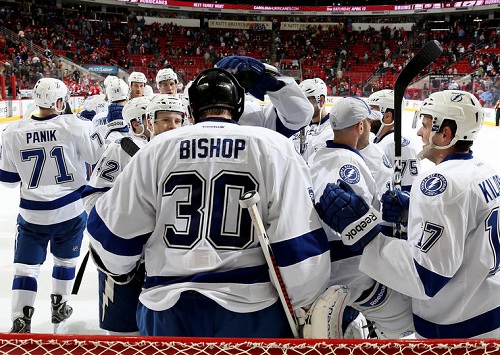 The difference that a good goalie can make in a hockey game is amazing. I've been saying for a few games that the only thing really holding the Tampa Bay Lightning back from winning games consistently was the play in net.
Anders Lindback proved he is not ready to handle the duties of a number-one goaltender, and now he's sitting on injured reserve with a sprained right ankle. Mathieu Garon has just been plain awful, allowing countless soft goals and costing Tampa Bay points.
Thursday night, in goalie Ben Bishop's debut against the Carolina Hurricanes, the Bolts showed everyone what they are capable of when they have brick wall playing behind them.
Bishop, acquired from the Ottawa Senators on Wednesday for forward Cory Conacher, made all 45 of his save attempts in the game, becoming just the second Lightning goalie to have a shutout in his debut with the team. Dwayne Roloson was the other, beating the Washington Capitals 1-0 on January 4, 2011.
Bishop was impressive, shutting down Carolina's offense for long stretches early in the game and giving the Lightning offense a chance to score goals. In the end, the Lightning didn't need that much of Bishop's help, beating Carolina goalie Dan Ellis five times in the game.
Five different goal scorers helped lead the Lightning to a 5-0 victory, their first road victory since March 12 against the Florida Panthers.
Despite being outshot 45-30 for the game, the Lightning offense really looked sharp. After a scoreless first period, Teddy Purcell (8) scored less than 30 seconds into the second period to break the tie.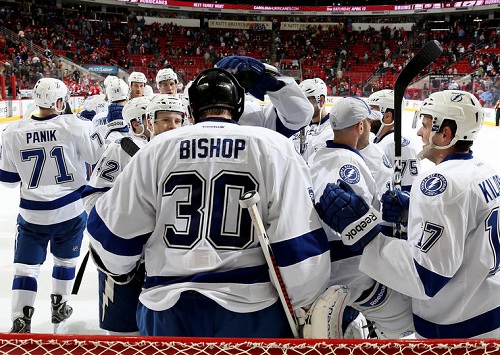 Tom Pyatt (8) deflected a goal in, and Keith Aulie (2) scored a long-distance wrist shot to give the Lightning a 3-0 lead heading into the final period.
And all the while, Bishop was making save after save, not giving Carolina a chance to get back in the game.
"They always say your best penalty killer is your goaltender and [Bishop] was there," Purcell said of a five-on-three Tampa Bay faced in the second period. "He's athletic, a calming influence, and he was there to make the big saves."
In the third, it was even more Tampa Bay, as Martin St. Louis (9) scored a beautiful one-time goal that he could have been credited with an assist for after his no-look pass to Benoit Pouliot led to an easy goal. Pouliot (7) closed the scoring on a one-timer of his own from Steven Stamkos, who had two assists in the game.
The Lightning can only hope Bishop's performance in net is a sign of good things to come because general manager Steve Yzerman basically risked his job betting on Bishop in net. It could have been one game against a struggling team (Carolina has lost 9 of 10), or Bishop could be the real deal.
"I tried not to put too much pressure on myself, and I just treated it like every other game," he said. "There was a lot of talk; guys did a great job in front of me blocking shots, so I thought it was a really good effort. The key for me was just to keep it simple."
It may be too soon to tell, but Ben Bishop looks like the future in Tampa Bay. Nonetheless, Thursday night was an exciting one for Bolts fans, as the team kept its slim playoff hopes alive.
"We weathered the storm early, and Bish played really well for us tonight," St. Louis said. "We just kept coming, and we played a strong game. We played the way we wanted to play. It was fun out there."
Tampa Bay now heads to New York for the first leg of a difficult weekend back-to-back against the New York Islanders and the Washington Capitals. Saturday's game against the Islanders will start at 7 p.m. ET.
Carolina, who is desperately trying to keep the wheels from falling off completely, will host the new-look New York Rangers on Saturday at 7 p.m. ET.
NOTES
The Lightning placed Adam Hall on waivers Wednesday almost immediately after reacquiring him from the Hurricanes for Marc-Andre Bergeron. The Philadelphia Flyers claimed Hall, so he may never get a chance to suit up for the Syracuse Crunch of the American Hockey League. Hall, who was also packaged with seventh-round draft pick in 2013, will be an unrestricted free agent following the season.
Forwards Dana Tyrell and Brett Connolly were recalled from Syracuse on Wednesday to join the big club. Forwards Mike Angelidis and Ondrej Palat, along with defenseman Andrej Sustr and goaltender Cedrick Desjardins were reassigned to the Crunch.