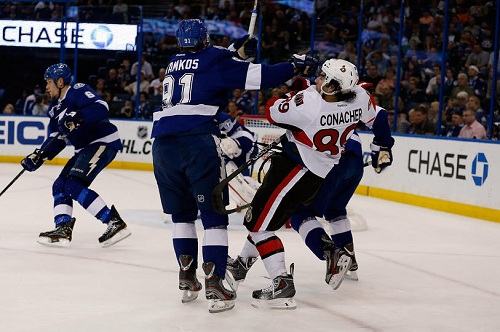 On this night, the Tampa Bay Lightning won the Cory Conacher and Ben Bishop trade.
Conacher and his new Ottawa Senators teammates fell short on Tuesday night, losing to Bishop and the Lightning 3-2. However, Ottawa may have the last laugh in 2013 because they are sixth in the Eastern Conference while Tampa Bay sits six points out of the eighth playoff spot with nine games remaining.
The story here though, was the Bolts overcoming a 33-24 shot disadvantage and winning thanks to Steven Stamkos' third period power-play goal. The goal, his 26th, pulled Stamkos back into a tie with Alexander Ovechkin for the league lead.
The goal came at 14:56 in the third following a controversial hooking call on Ottawa's Sergei Gonchar that Stamkos may have embellished. Nonetheless, a beautiful, quick pass by Vincent Lecavalier gave Stamkos and easy one-timer for the game-winner.
Martin St. Louis also had an assist on the play, his 40th of the season and 901st of his career. He is now 96thon the NHL all-time points list, passing Tony Amonte.
Bishop, who was making his home debut for the Lightning, closed out Ottawa in the end for his second victory since arriving to the team. He made 31 of 33 saves in the game.
"It was a great feeling," he said. "It was a big two points for our team, and it was my first game in this building as a part of the Tampa Bay Lightning, so I wanted to get a big win for the fans, and it was nice that it was against my old team."
Bishop played well in his fourth consecutive start for Tampa Bay, outdueling his counterpart Craig Anderson, who made just 21 of 24 saves in the game.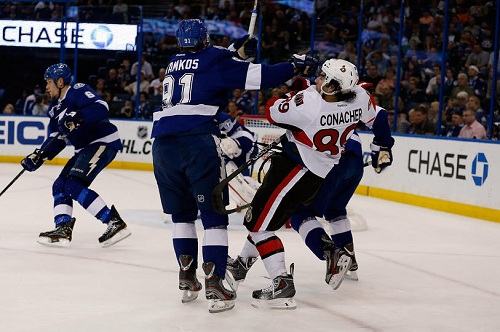 Both goals Bishop allowed came on pucks that floated over his head only to be batted in by Ottawa skaters. Daniel Alfredsson (9) registered the first while Guillaume Latendresse (6) scored the other.
The Lightning picked up a goal from Pierre-Cedric Labrie — his first of the season and of his NHL career – and a Lecavalier goal (9) that came on a five-on-three attempt by the Bolts.
Tampa Bay is now 5-0-1 in its last six home games.
"The boys are learning how to win and what it takes," coach Jon Cooper said. "To see the guys laying out to block shots, you can just see the commitment level that was there the whole time."
The Bolts will prepare for their fifth game in eight days when they host the first-place Pittsburgh Penguins on Thursday night at 7:30 p.m. ET. They might get a chance to learn just how far they have to go as a team.
Ottawa, meanwhile, is trending downward during the wrong part of the season, losers of five straight and winless since acquiring Conacher. They head out to face the Philadelphia Flyers in the fifth game of a seven-game road trip on Thursday night.
The game starts at 7 p.m. ET.
"There was nothing real positive about [tonight] at all," coach Paul MacLean said. "We haven't won a game in what seems like forever, and it's getting hard. We haven't played hard enough in the last five games to produce more than what we see as good opportunities. We need to do more."
NOTES
Ryan Malone returned to the lineup Tuesday night after missing nine games with a shoulder injury. He played for 15:43 and registered a shot, a hit and two blocks.
Defenseman Mark Barberio, who was called up from the Syracuse Crunch of the American Hockey League in exchange for Matt Taormina on Monday, made his debut Tuesday night, registering one shot in 14:12.