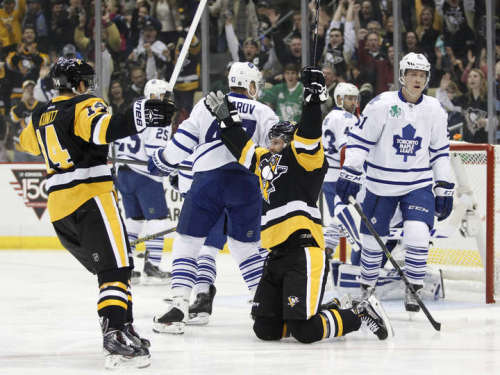 Just a quarter through the regular season, Blake Comeau has already topped his goal totals for the last three years. It's no surprise that his success comes after a hat-trick on a line with Evgeni Malkin and Chris Kunitz. But it just goes to show you what happens when you give a player a shot with the big boys.
No matter how long you wait in line Thursday night/Friday morning, you will not get a better deal than the Penguins did this summer. Signing Comeau to a 1-year, $700,000 deal to round out the team's bottom six, very few would have expected a hat-trick prior to puck drop on opening night of the 2014-2015 season against the Anaheim Ducks. Comeau netted his first in a Penguins uniform late in the second to give the Penguins a two goal lead.
With Pascal Dupuis out for at least six months with a blood clot, Blake Comeau got a shot on the top line with Sidney Crosby. With some line shakeups, he is currently playing with Evgeni Malkin and Chris Kunitz. To say his play has elevated would be putting it lightly.
http://youtu.be/irtBQGBBbM4
Comeau currently has 8 goals and and 5 assists, all at even strength. If he can keep this pace, he may be the one of the best acquisitions of all-time, especially with his value going well beyond the score sheet.
While the Penguins signed Steve Downie to add some sandpaper to the roster, Comeau has filled that role without taking penalties or dropping the gloves every night. He's been one of the more active chirpers on the bench and on the ice. Getting under the skin of Dion Phaneuf prior to his hat trick won't make the highlights, but it's something the Penguins have missed since the days of Matt Cooke.
The Penguins made a few deals in the offseason to bulk up their depth and create a tougher roster to play in the postseason. It's safe to say they got the best of both worlds with Blake Comeau.