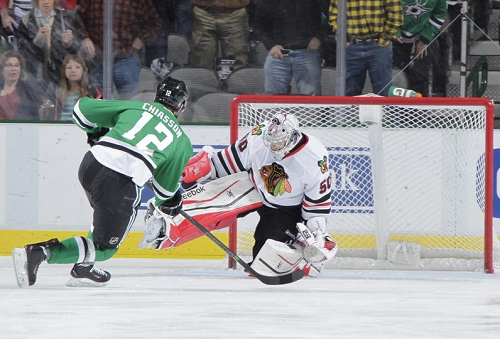 It took eleven rounds and twenty-two shooters, but the Blackhawks held on to get the win in the shootout Friday night against the Dallas Stars.
Ironically, through the first ten rounds of the shootout, the only goal scorers were the players who'd already scored in regulation: Patrick Sharp and Rich Peverley. Thankfully for the Blackhawks, Ben Smith managed to slip another one past Kari Lehtonen in the eleventh round to win the game, saving coach Joel Quenneville from deciding who he'd have chosen to shoot twelfth.
"I told everybody they were number twelve," Quenneville said, laughing. Having already gone through the list of regular shooters – and then some – Quenneville got lucky the shootout ended when it did. The way the night was going, if the shootout had gone on much longer he might've ended up on the ice himself.
(Sidebar – anyone else for letting the goalies shoot on each other once the coaches go through the entire roster? Crawford did say he'd been working on his puck-handling.)
The game was also career win number 100 for goalie Corey Crawford.
"It's pretty big. That's definitely the most important stat," said Crawford, who made 28 saves on the 29 shots directed at him Friday night. "Hopefully there's a lot more to go."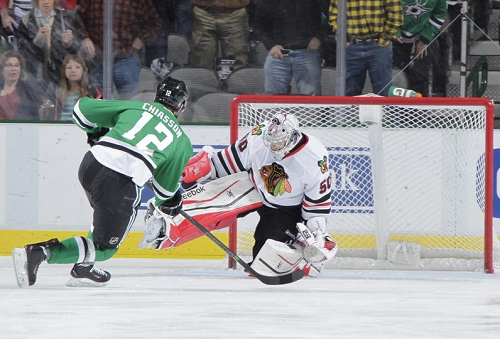 Crawford was phenomenal Friday night. After letting in an early goal to Peverley, he stood on his head for the rest of the game, making several impressive glove saves, including one when he didn't have his stick; and denying Stars forward Alex Chiasson with a terrific kick save on a penalty shot. There were moments when he played quite aggressively, particularly in the shootout, coming out nearly to the hashmarks to meet a couple of the skaters. It was an approach that paid off, garnering him both the win and first star of the game, and putting him in front of all other NHL goalies with 17 wins.
When asked if shootouts like that are fun, Crawford said, "If we win, yeah. Otherwise there's no point in being there."
There was clearly a point to him being there Friday – to save his team from themselves. The win over the Stars is the third in the Blackhawks' last four games that they have managed to win after trailing 1-0 during the first two periods.
"It's pretty remarkable we've had three games out of the last four down 1-0 in the third and we find a way to win," said Quenneville after the game. Remarkable, yes, but also lucky. If the Blackhawks want to keep their spot atop the conference, and the league, they would do well to remember that luck runs out, and not let this trend become a habit.