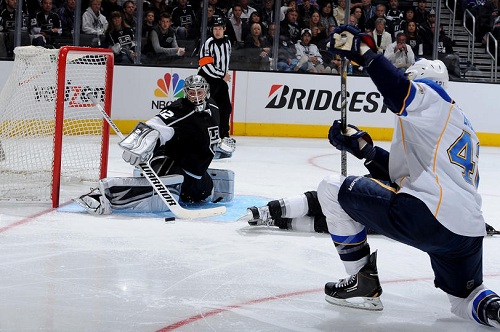 The St. Louis Blues have looked good all season long so long as they were able to stay healthy. Though they did end up in a solid playoff position, they did take longer to lock it up than what was expected with the roster that they have.
But the first two games of playoff contention against the Los Angeles Kings have gone the Blues' way.
The biggest reason the Blues took Game 1 is because Alexander Steen was on the ice. Scoring both of St. Louis' goals, including the one in overtime, Steen was the hero of the night.
Game 2 was won by an unlikely hero in Barret Jackman.
Blues fans have made a hobby out of hating Jackman, citing clumsy plays as evidence of a trade or at the very least a permanent seat on the bench. In Game 1, those nay-sayers were eating their words. Though some fans still feel Jackman is far from redeeming himself for his past mistakes, the bottom line is St. Louis has a 2-0 series lead on the reigning Stanley Cup Champs thanks largely to Jackman. For a guy that's not known for his goal-scoring, he made that one count.
The bottom line is that Games 1 and 2 were both low-scoring games. Uncommon for a high-scoring caliber team like St. Louis, and the defending champs in Los Angeles. What that means is that the goaltending for both teams is doing it's job. Although Jonathan Quick made a costly mistake that is uncommon for a player of his ability, chances are something like that won't happen again. The Blues know that.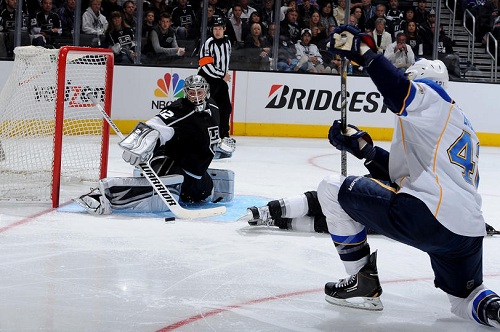 Game 3 saw St. Louis' first loss in the series as the Kings took a 1-0 win. Quick was able to shutout the Blues in a game where the Blues needed scoring more than ever.
So far only seven goals have been scored in total in the three games of the series. The Blues-Kings match-up is the lowest scoring series in the playoffs so far which means the games are being decided in places other than the scoreboard. Battles along the boards, in the corners, in front of the nets, those are the places the Blues are going to have to take over and hold their own against Los Angeles. The Blues offense will also need to find a solution to Quick if they plan on moving onto the second round.